Two of my favourite sewing bloggers, Dana and Rae, are hosting the Celebrate The Boy series at the moment. They've shared some great tutorials already and there's still another week to run. Since I started sewing almost everything I've made has been for my two boys. Some of these were before I started this blog so I thought I'd take a trip down memory lane and share these with you. I've been meaning to write this for ages but now seems like a perfect time. You see, it was discovering the 'Celebrate The Boy' series around two years ago that planted the seed and made me start thinking about learning to sew. Until then sewing was something I'd always tried to avoid after being put off when I sewed a shirt together while replacing a button. For some reason though having my boys to sew for inspired me and changed my mind.
This is what Casper and Rowan looked like back then. Casper was two and a half and Rowan was just 3 months old.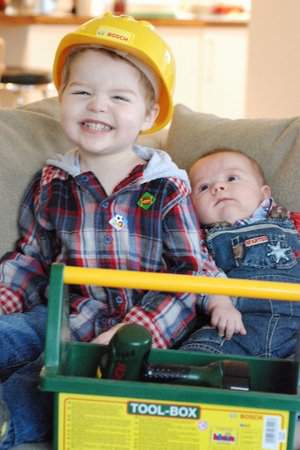 At the start of April 2011 my mum lent me her machine and gave me a lesson to get me started. I didn't end up buying my own sewing machine until about a year later – luckily my mum didn't mind. This meant that by the time I was ready to buy I knew what features I really wanted. The tablecloth below, made with Ikea fabric, was my first project. I'd recommend it for anyone who wants to learn as you're basically just practising sewing in a straight line and hemming.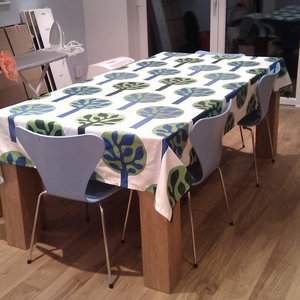 Later that month I made some trousers for Rowan. The pattern was a free download but I can't remember where from. I chose a totally inappropriate home decorating fabric because it had robots on it and I didn't really know where to buy suitable fabric from yet.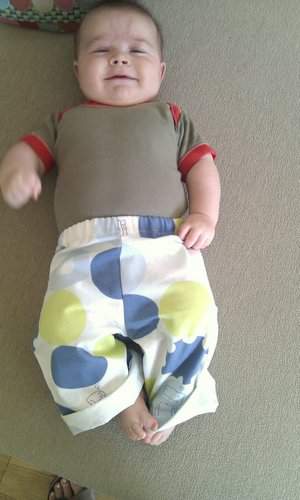 After that I made some more trousers for Rowan. I bought some quilting cotton (Robert Kaufman, Metro Circles) from Etsy and used the same pattern as before. This time I decided to add cuffs and thought it would mean they'd last longer. I sewed them on wrong so the seam allowance showed when they were folded up. I did end up learning the right way to do them though.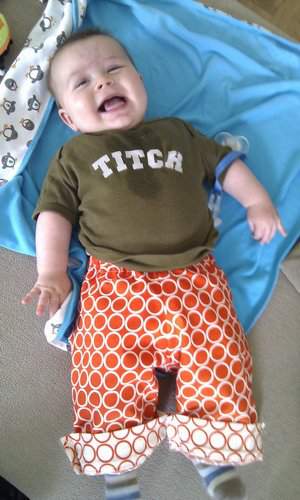 Next I made some co-ordinating shorts for Casper. This wasn't until July so I was hardly prolific but I tried to make sure I was learning something new with every project. I used Dana's Retro Racer's tutorial and adapted the 'Basic Pocket Pants' pattern from Growing Up Sew Liberated. Casper got so much use out of these and was still wearing them last summer. He's bundling my mum in the photo below.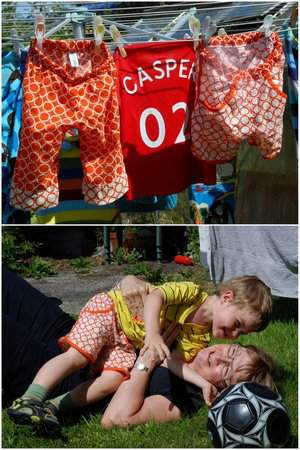 In August I decided it was time to try sewing with knits. I had seen quite a few people making the Heidi & Finn Urban Hoodie and thought it was so cute. I used grey on the outside and a red and white star print for the lining, both from Fabricland. I also covered some buttons with the star print. It took me a long time to finish it and the buttonholes gave me a lot of trouble but I was so pleased with it. It's since been passed onto Rowan and he should get a bit more use out of it yet. It's an oldie but a hoodie.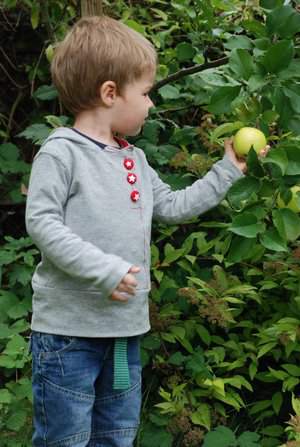 Then in September that year I started this blog. When I initially started I didn't really expect to write that much about sewing. I thought I'd mostly talk about baking with a few sewing posts but as time went on I developed a bit of an obsession with sewing. I think over 50% of my posts are for sewing now.
Next I made this Number 3 appliqué T-shirt. I didn't blog this and never actually sewed the 3 on. If I manage it by next year then Rowan will be able to use it. Casper refused to wear this for his birthday party but did wear it on his actual birthday.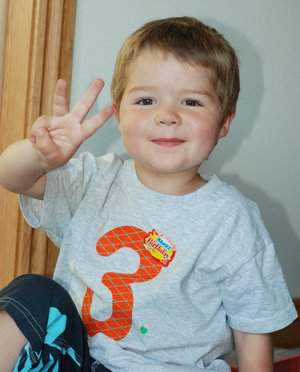 I've written about almost everything I've made since then – you can see an overview at a quick glance on my Sewing page – but here's a brief summary of all my boy projects with a new one down the bottom. You can click on each of the photos to go to the original post.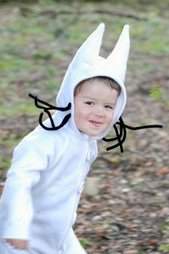 Pattern Testing Max Costume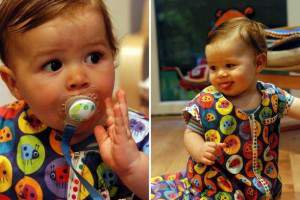 Baby Sleeping Bag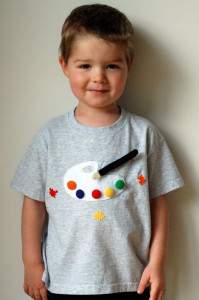 Artist's Palette Appliqué Tutorial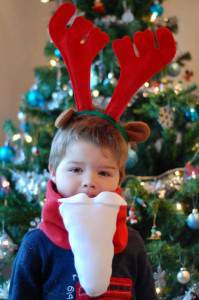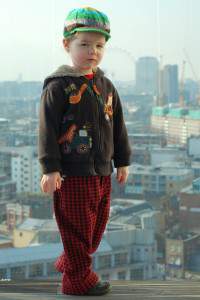 Li'l Heartbreaker Trousers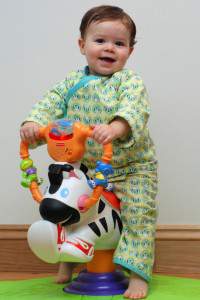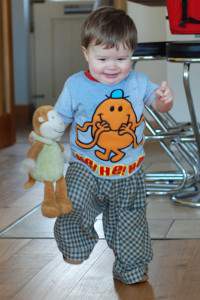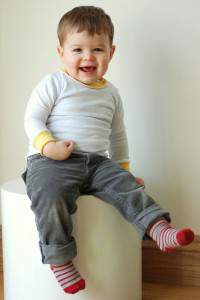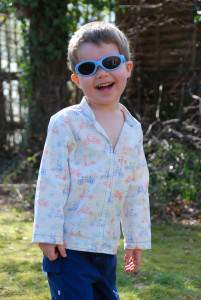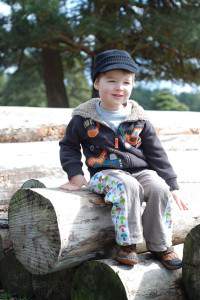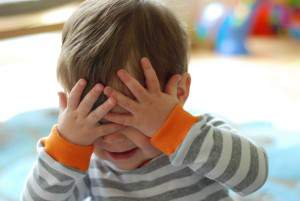 Stripey Jersey Jim Jams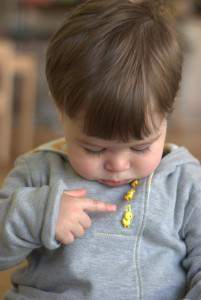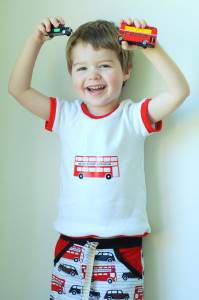 'Next Stop London' Outfit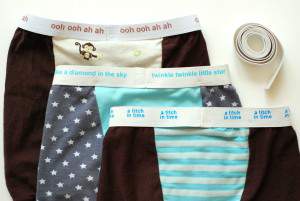 Branded Elastic Tutorial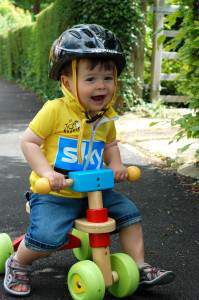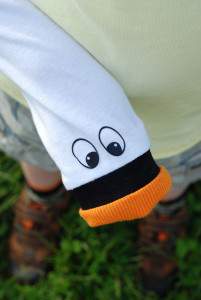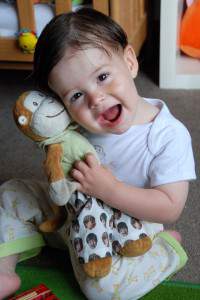 Cartoonify a soft toy tutorial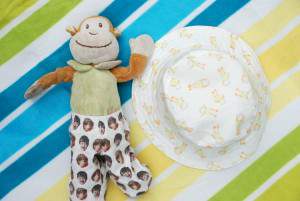 Monkey Bucket Hat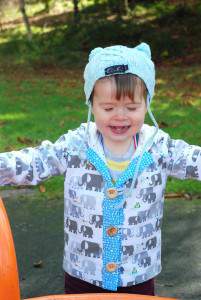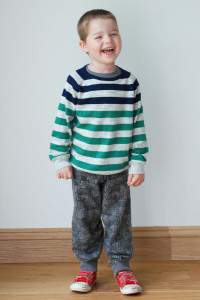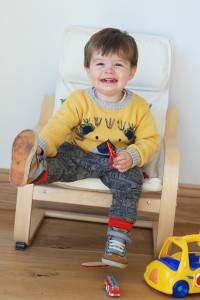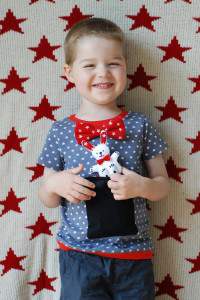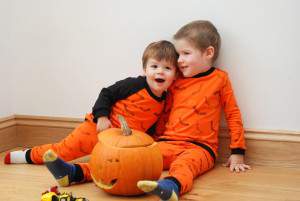 Halloween PJs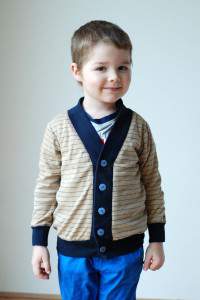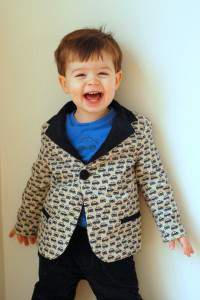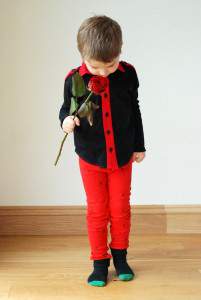 Wearing his heart on his bum
Recently I've been sewing up a lot of these leggings with a bum panel because I've been developing my first pattern for release. The 'Number One' Leggings below were a present for my cousin's son who just turned one.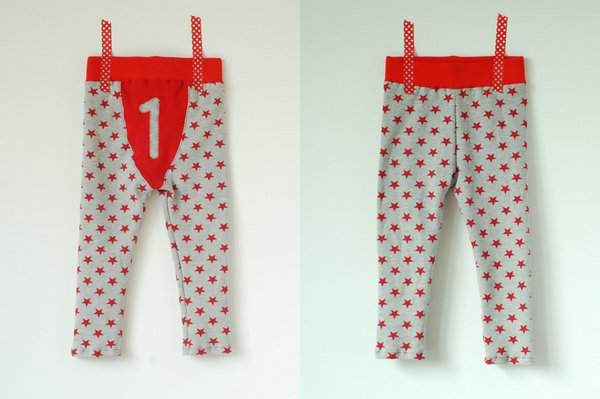 The sizes range from newborn to age 4 and there will be a few different options – leggings or shorts, two cuff styles and two alternative waistbands to choose from. It's very close to being ready for testing so watch out for a call for pattern testers soon. I've written about things I've made with this pattern here, here and here. I haven't forgotten the free pattern for the 2 year old skinny trousers I mentioned recently in this post either – the pattern is all ready, I just need to write up the tutorial. I've also been taking a pattern cutting course at a local college so I have been very busy lately. I find it so fascinating and can't wait to put into practice some of the new techniques I've learned, maybe even sew something for me finally.
So that's pretty much everything I've ever sewn. There were a few unfinished projects along the way and I have a tendency to work on at least five projects at once because I get so excited about new ideas. Learning to sew is one of the best things I have ever done, and I'm still learning all the time. I never expected it to become such a big part of my life but I absolutely love it.