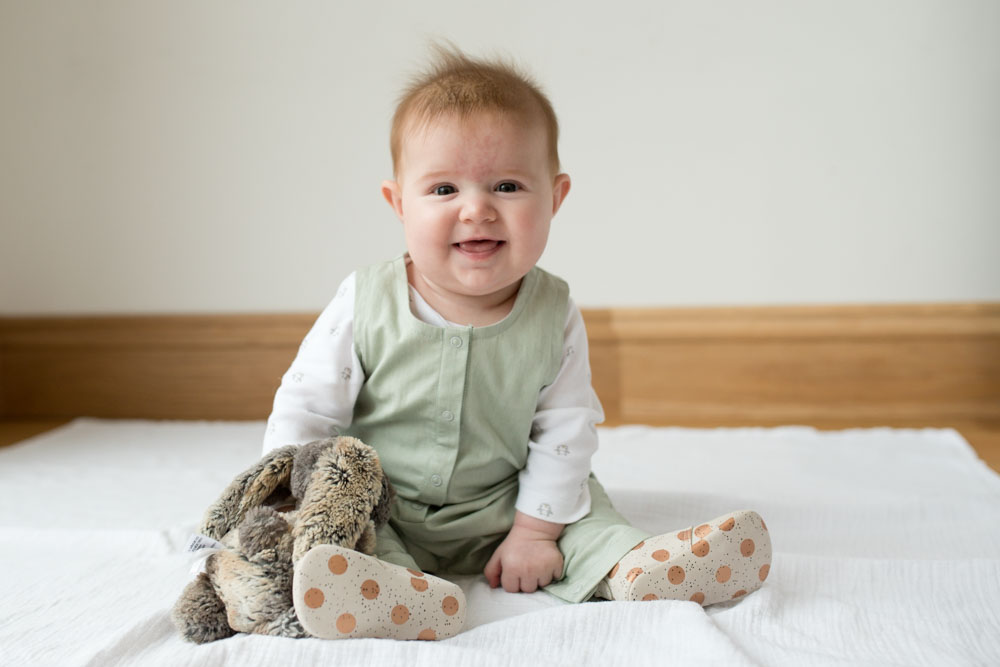 Hello hello! I am very happy to being joining the AGF denim studio tour today, hosted by my friend Karly of Paisley Roots. Art Gallery Fabrics have a whole new collection of denims coming out. There are a few different types – prints, textured solids, smooth solids, a linen blend and a lovey dobby. You can view the whole collection here.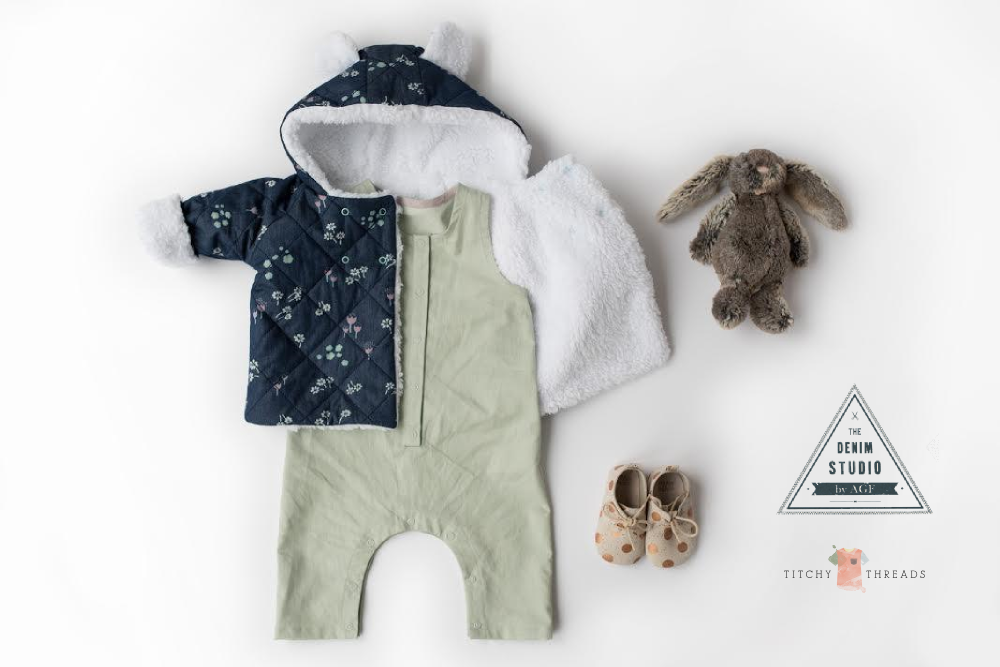 As soon as I spotted the Frosted Sage denim I knew I would sew for Willow. It's one of my favourite colours and is also her middle name (just Sage, not Frosted). I was working on a little woven romper at the time and this smooth denim is the perfect weight for it. I can never resist a ditsy print so the other fabric I chose was the Ditsy Abrasion. I planned to make a little jacket to go with the romper. Once it arrived though, I couldn't get the idea of quilting it out of my head, and I ended up making a cosy, sherpa lined, bear-eared winter coat. Who doesn't love bear ears?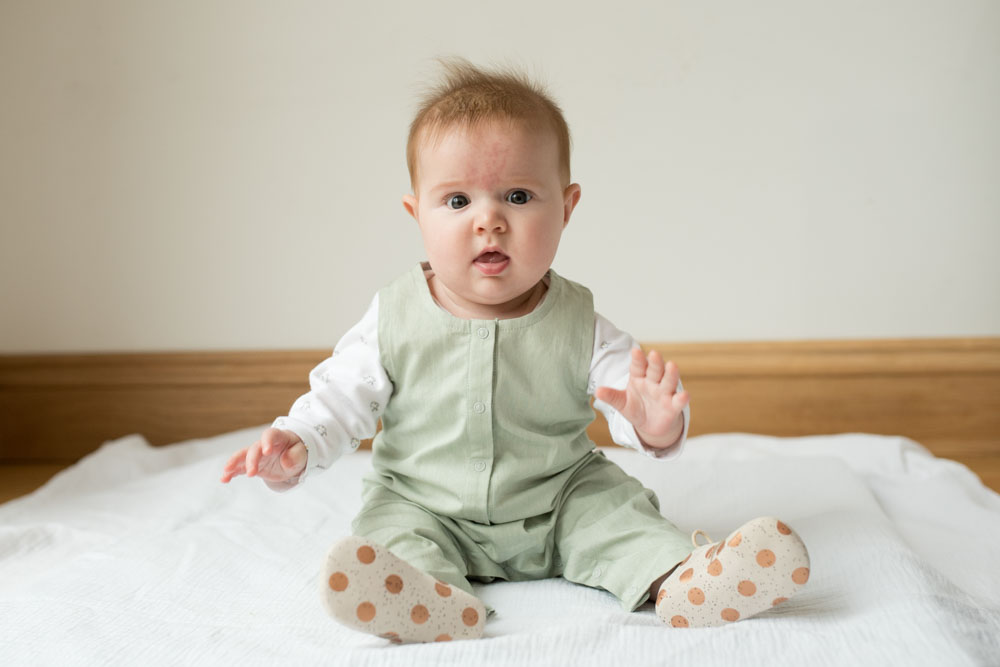 The romper has a front placket, a subtle racer back, French seams and a bias bound neckline and armholes.. There are extra snaps at the legs for easy opening. I got the snaps from Snap Source in a variety of different colours and really love how easy they are to use (except when you try to put them in a quilted fabric with a sherpa lining! more on that later).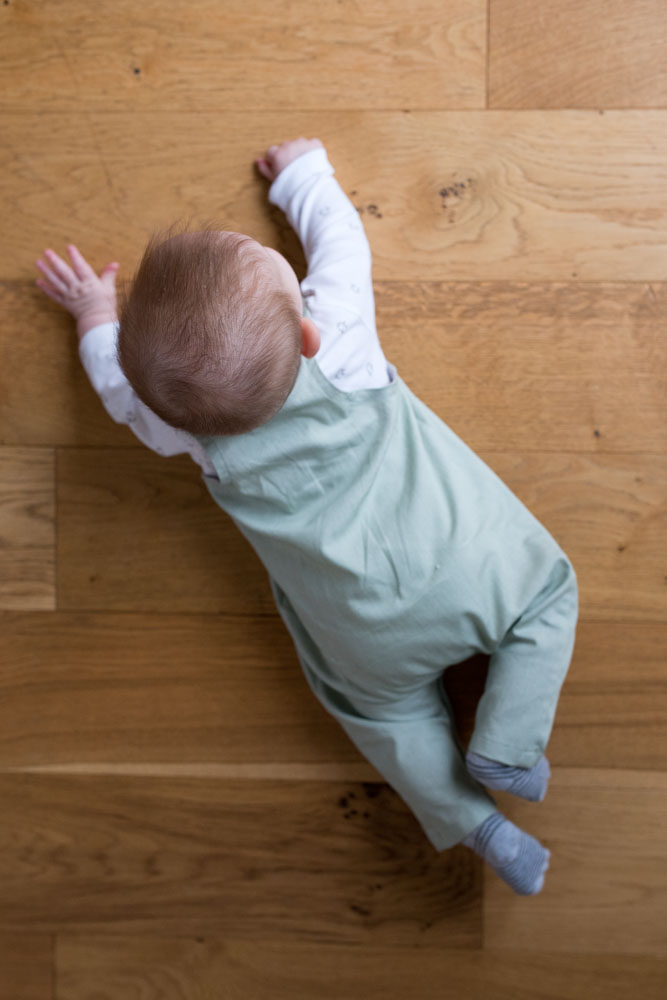 Taking photos of Willow is definitely harder than taking photos of my older children. At almost 6 months she is not quite able to sit up yet (my husband was just out of the picture on any sitting photos) but is constantly on the move. She started rolling over from her back to her front a couple of weeks ago and, while I was taking these photos, she rolled from her front to her back for the first time. I should make more clothes for her quickly before she starts crawling!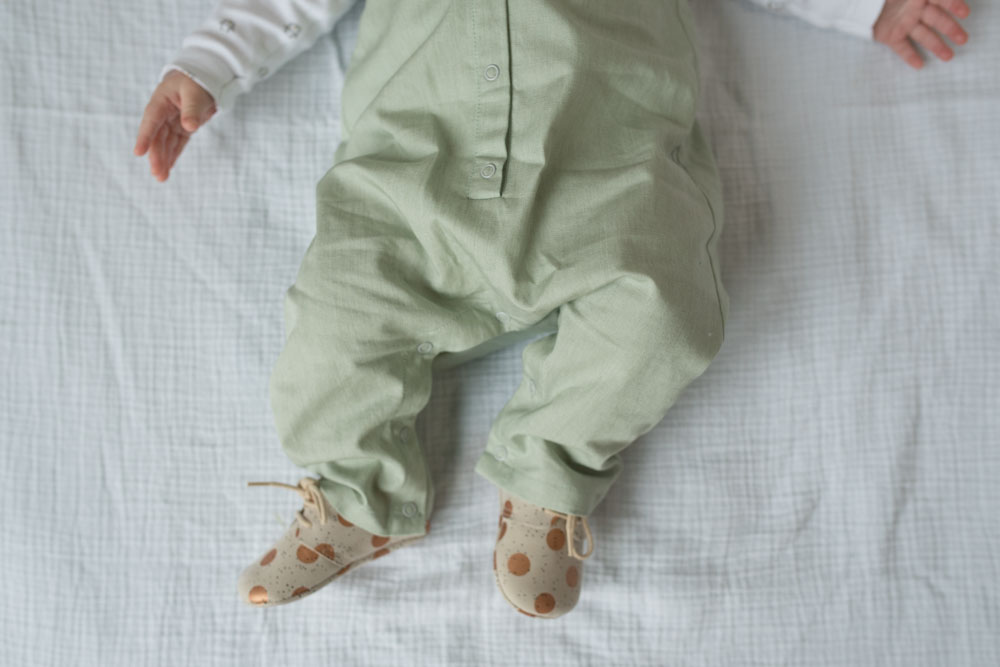 I made this romper a little bit long so she'd get to use it for a few weeks. I absolutely love this denim and the subtle variations of colour running through it. It looks so sweet on her, especially when she's standing up.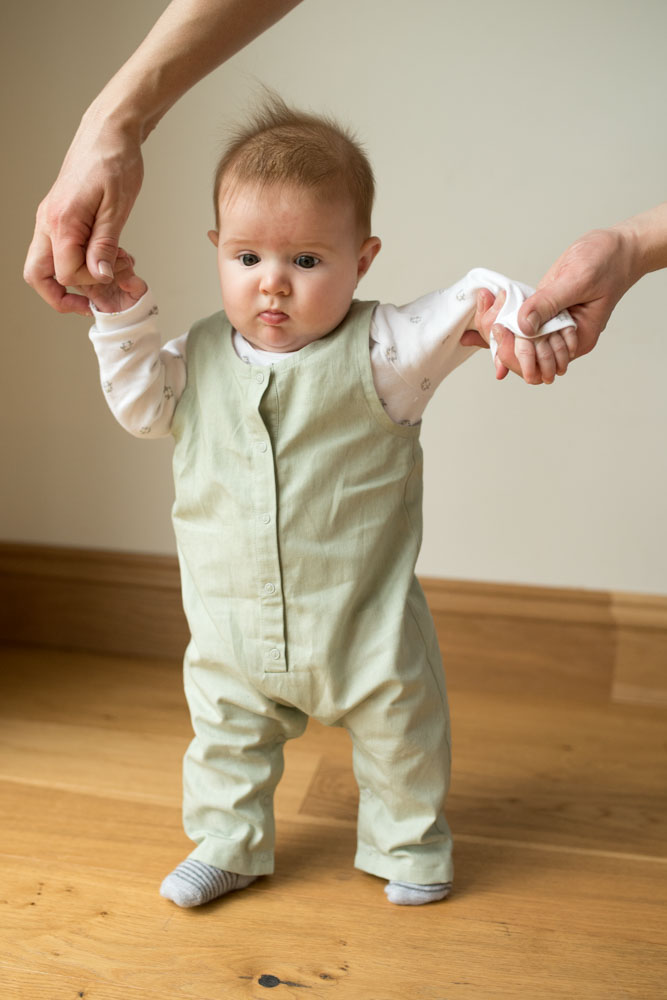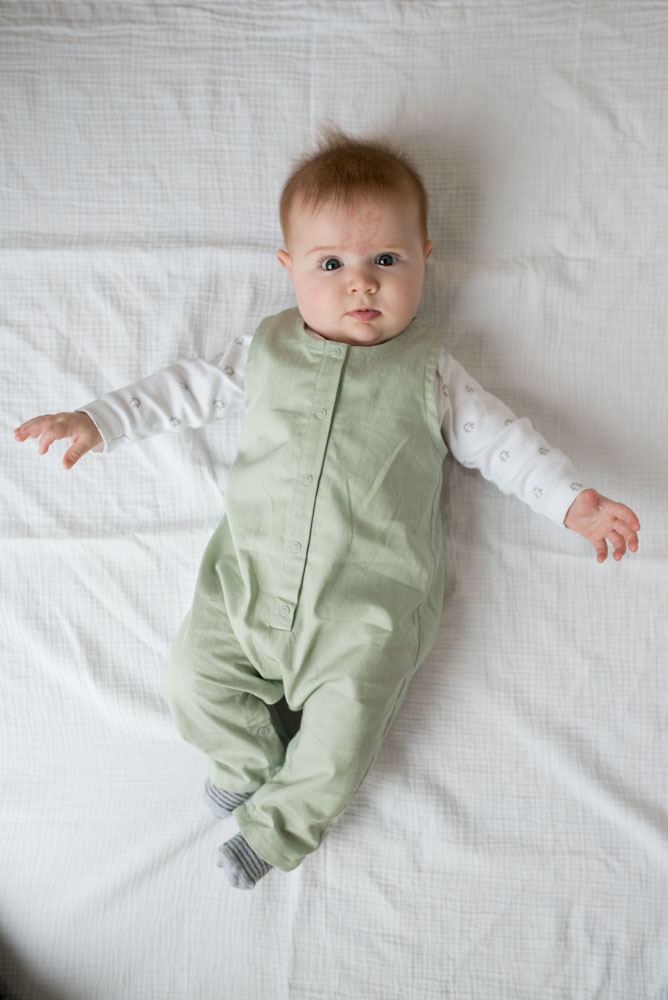 For the coat I backed the denim in fusible fleece and used topstitching thread to quilt the whole yard with diagonal lines 5cm apart. I did this before cutting out the pattern pieces.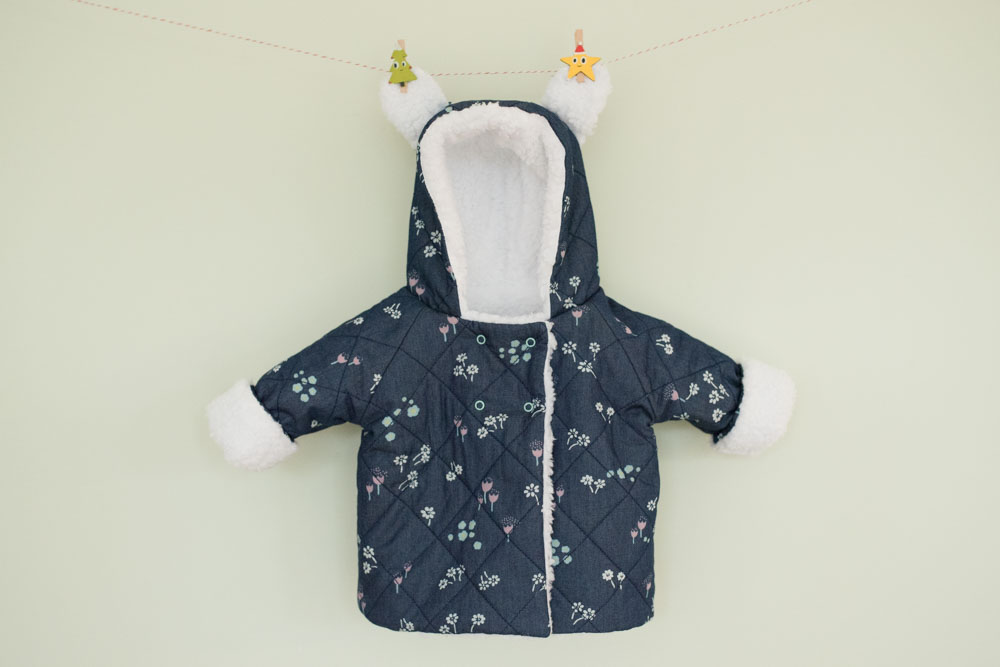 There is a tiny bit of sage in the ditsy print and the two fabrics go so well together.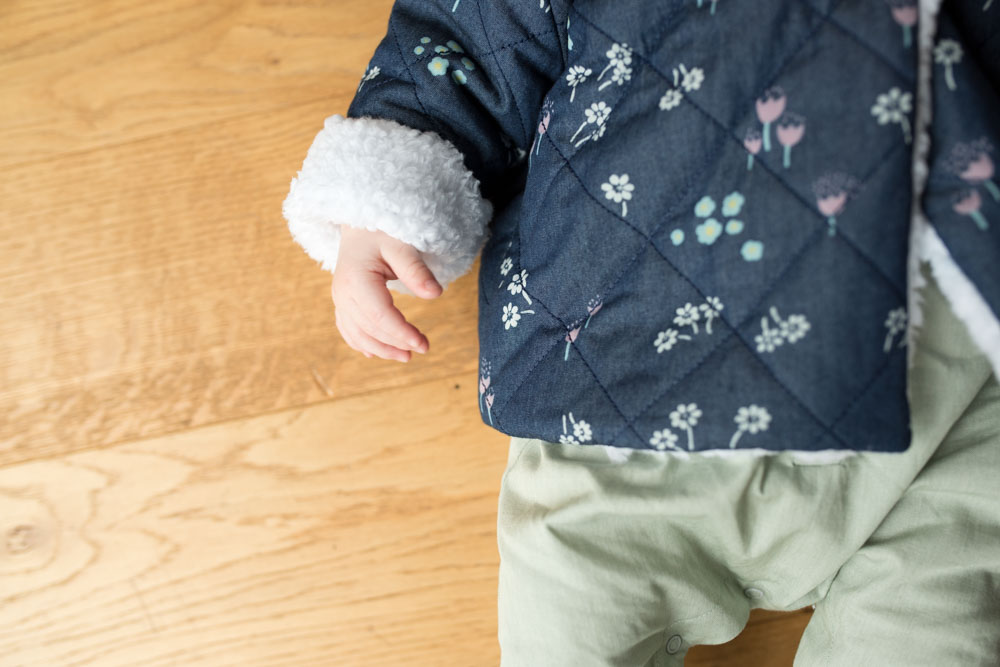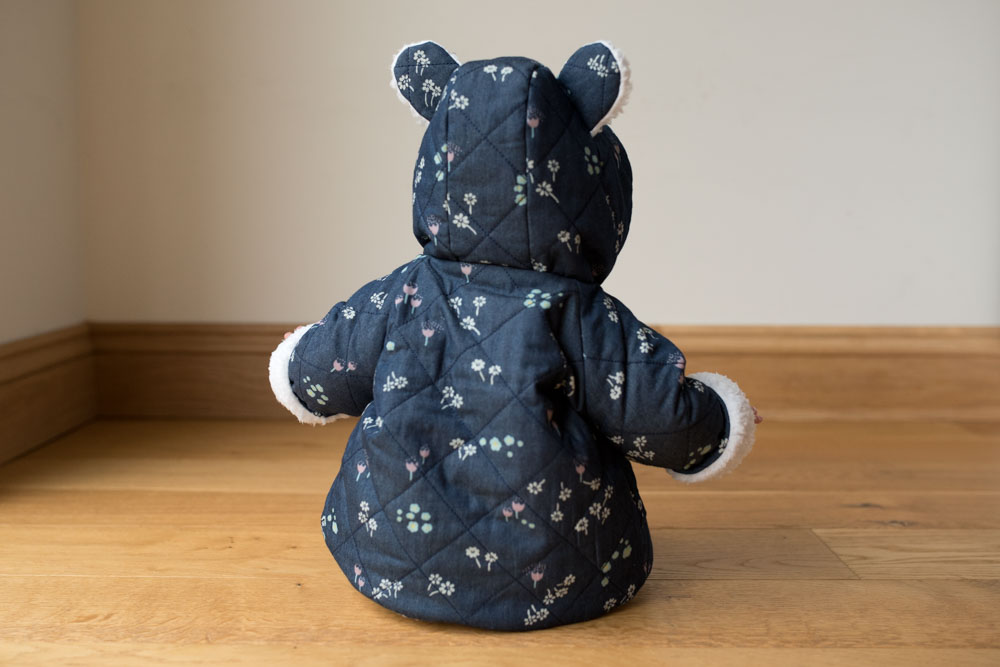 I used the Safari Raglan as a starting point for the coat but adapted it a lot. It all went pretty smoothly until right at the end putting the snaps in. I did a test on some scraps and of course they went in really smoothly but I had trouble getting them to join properly because of the sherpa lining and the bulk of the seams. I found pressing the parts together before hammering really helped here to make them join. It does mean the coat is fully reversible, although I am not sure I'd ever have the white sherpa on the outside.
There are a few things I'd change if I make another one but this coat is one of my favourite things I've ever made. I'm not sure Willow is as happy with it as me though.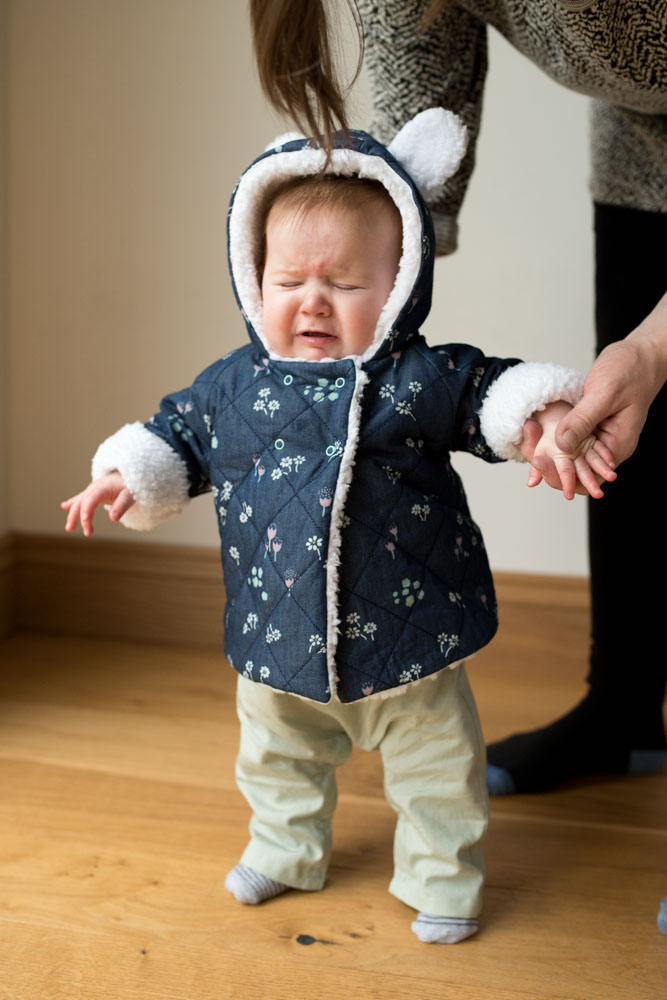 I think she is starting to like it here!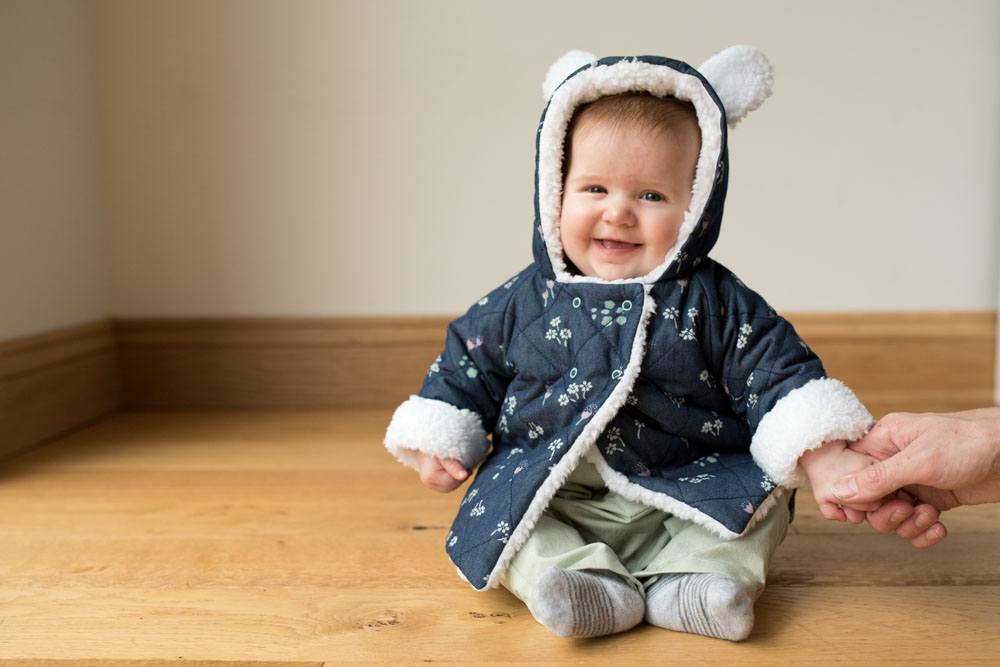 Thank you to Karly and AGF for having me on this tour!
I am the last stop on the tour and the ladies below have all made amazing things with this gorgeous denim.
19- Paisley Roots / 20- Phat Quarters / 21- Because Of Breanna / 22- Phat Quarters
25- Handmade Boy / 26- Petit A Petit / 27- Titchy Threads