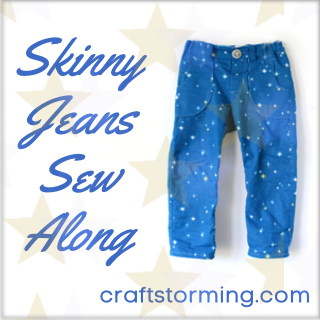 Hello everyone, I am really happy to hear that so many of you plan to join the Skinny Jeans Sew Along and use the free 2T pattern. I have decided to add a fun incentive as well – at the end of the Sew Along I will set up a link party for you to add photos of your Skinny Jeans. I will leave it up until the end of August to give everyone a chance to finish. The person who sews my favourite pair will then receive a copy of the full 'Small Fry Skinny Jeans' pattern when it is available. It is possible to link up photos from Flickr (where you can set up a free account easily) so you don't need to have a blog to join in.
You might be wondering why I'm posting today when the Sew Along is scheduled to start on Monday. Well, someone suggested that it would be better to have the pattern a bit sooner to give people a chance to prepare over the weekend. I thought that sounded like a great idea so I've decided to share it with you today and also go through some of the preparation.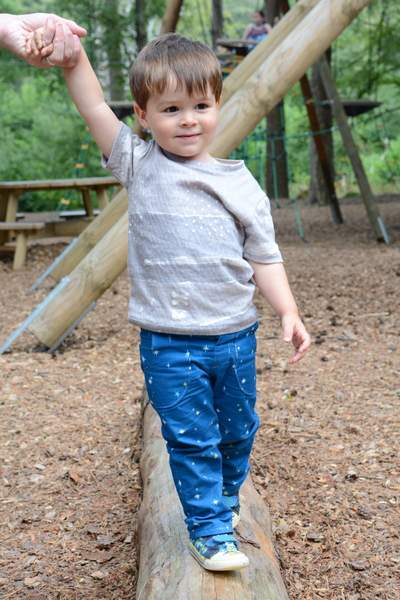 You can download the Small Fry Skinny Jeans for free in size 2T only here. You will need to set up an account on my pattern site, Titchy Threads. This is really quick and easy – you just need to input your email and a password, then you can choose to receive an email when the full pattern is available. Instructions for printing and assembling the pattern are included in the pattern download.
* This pattern is for personal use only. Do not copy or redistribute the pattern pieces or tutorial, instead direct people to my blog.
SUPPLIES
I talked a bit about fabric and other notions that are required in this post so hopefully you've got everything you need. Unfortunately I did forget to mention a couple of things.
1. Interfacing – you will need a small amount of medium weight iron on interfacing for the waistband facing, the fly guard and the fly facings. The interfacing for the fly guard and fly facings is marked on the pattern pieces with grey shading.
2. A fabric marker – a water soluble pen or tailor's chalk. Always test on a scrap before using on your pattern pieces.
Optional extras:
Topstitching thread
Wondertape, a water soluble double sided adhesive tape (recommended)
CUTTING INSTRUCTIONS
I recommend always prewashing, drying and pressing your fabric before cutting. You should fold your main fabric in half (so the selvedges meet) to cut the front legs, back legs, back yokes and pockets.
All of the pattern pieces you need to cut out are shown in the picture below…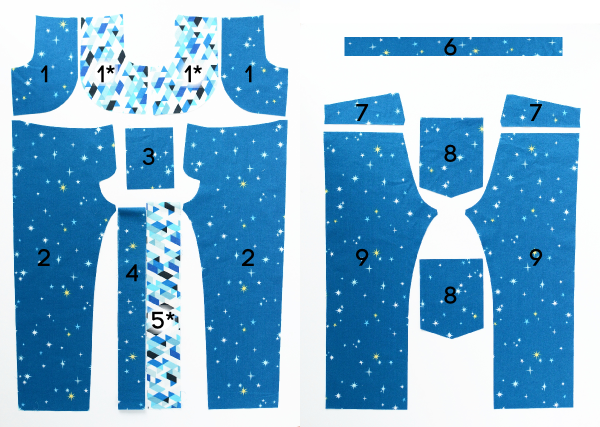 * The star indicates that the pieces can be cut in a contrast lining, if desired.

Interface the pieces below where required – this is indicated by the shading on the pattern pieces:
Fly facings on front leg
Fly guard
Waistband facing
Transfer the pattern markings (using water soluble pen or tailor's chalk) as follows:
Front leg line A – mark onto the wrong side of the right leg only**
Front leg line B and dot – mark onto the wrong side of the right leg only
Front leg fly stitching – mark to the right side of the left leg only**
Front leg pocket markings – add to the right side of the fabric for both legs
Back leg pocket markings – add to the right side of the fabric for both legs
** Mark on the opposite leg if sewing for girls.
That is everything for today. Do let me know in the comments if you have any questions. I will return on Monday to commence the sewing. Have a great weekend everyone.