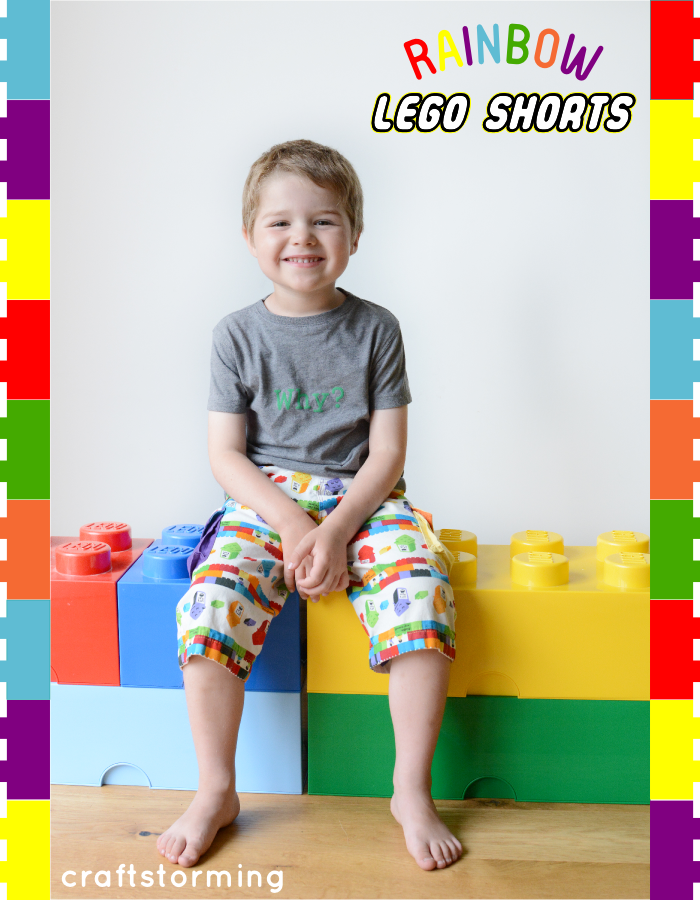 Hello! It's Kid's Clothes Week this week so I thought now was as good a time as any to show you some shorts I finished during the last KCW! It's not exactly shorts weather here anymore but I am sure those of you in the Southern Hemisphere will appreciate some summer clothes.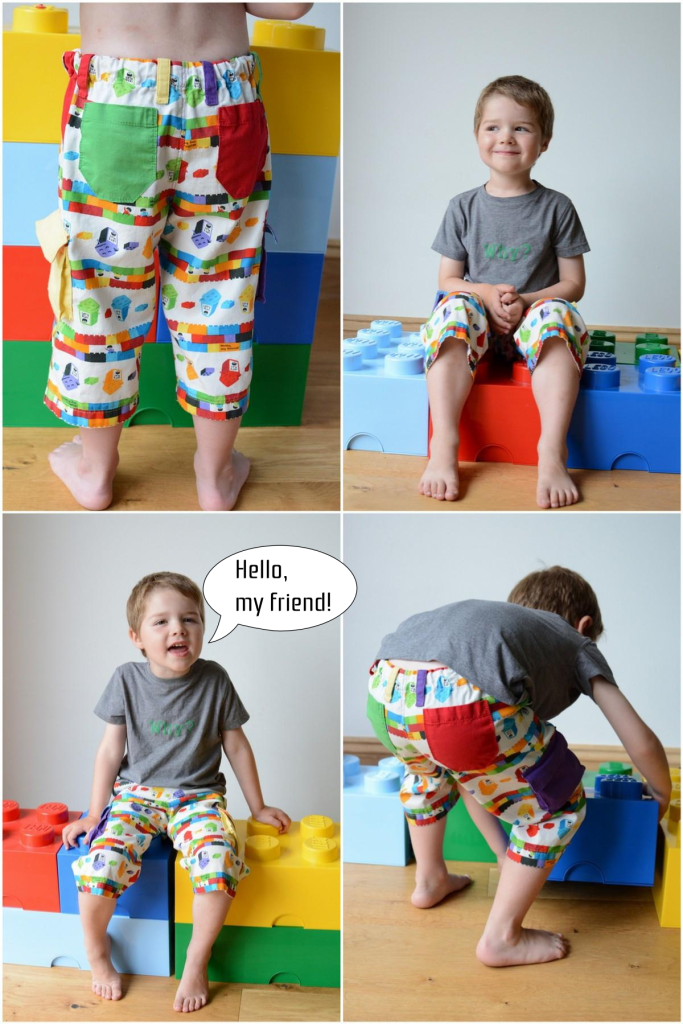 I bought this amazing Lego fabric from Miss Matabi back in March 2012. I've bought a few other things from Frances since and she has the best fabric selection. This print is by Push Pin for Kokka and was made in Japan. I love all the random quirky details on it – the photo below shows my favourite bit where it says "Hello, my friend!". Unfortunately it's no longer available to buy anywhere (I think I got the last of it) – which made me feel some pressure to make something amazing with it.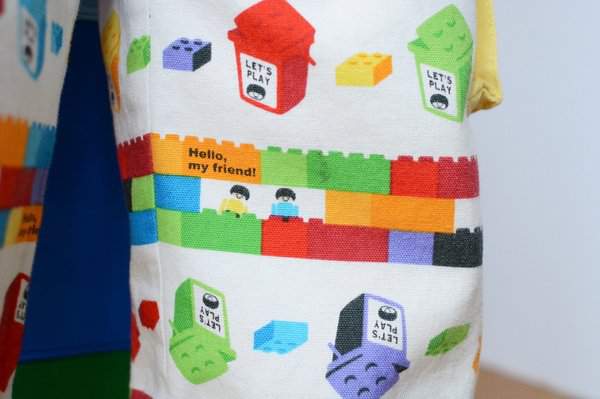 In the end an upcoming trip to Legoland motivated me to cut into the fabric. I was planning to make a pair of shorts for both my boys but the trip was brought forward by a few days and instead I hastily tried to sew Casper's pair the night before we were leaving. The other fabrics I used came from a rainbow set of fat quarters I bought a while ago. We've got every colour of the rainbow in there for the different pockets, waistband and topstitching.
The pattern is the Field Trip Cargo Pants from Oliver + S, which also includes a raglan T-shirt pattern. I wanted something with a lot of extra features and the cargo pockets, belt loops and back pockets were perfect for what I had in mind. I thought Lego shorts should have plenty of pockets to store lego in. The pattern also has articulated knees and pieced front and back legs. I just left those out though as I thought the fabric was busy enough already. I lengthened the top leg pieces to what I thought would be long shorts but they turned out almost like short trousers. At least they should last a while and I also think Rowan might be able to wear them as trousers through the winter!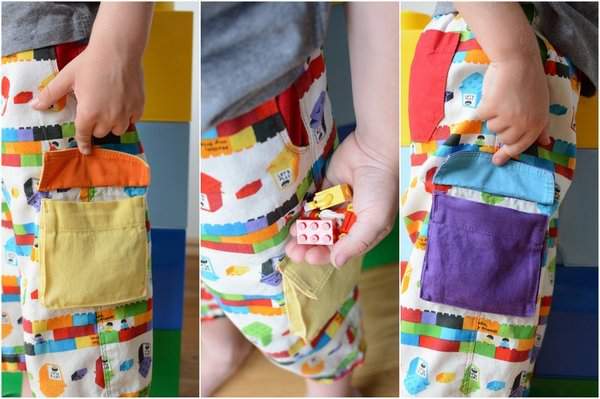 This is a great pattern but not a particularly fast sew – especially if you decide to use several different colours for the details and change thread to match every one. I also added two rows of topstitching everywhere I could – all in different colours as well. I stitched down the sides at the top of each pocket to help keep them in place and if I make them again I'd either add buttons or velcro to help them to stay closed. I continued with the multi-colours for the waistband facing and also adjusted the waistband finish so that it's adjustable – you can see my tutorial for how I do it here.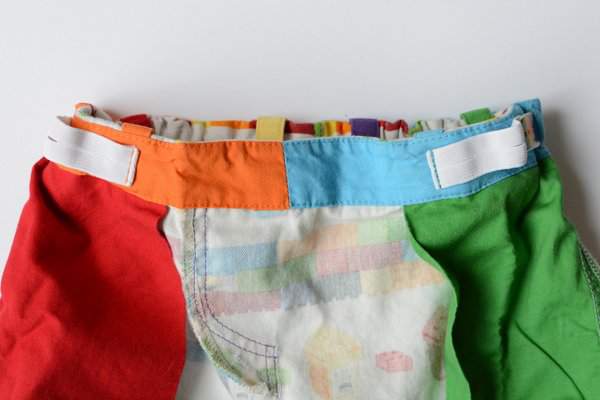 Sadly the shorts took a lot longer than I hoped and didn't make it to Legoland but they have had a lot of wear since. We had a lot of fun with the photo shoot and found a lot of great props.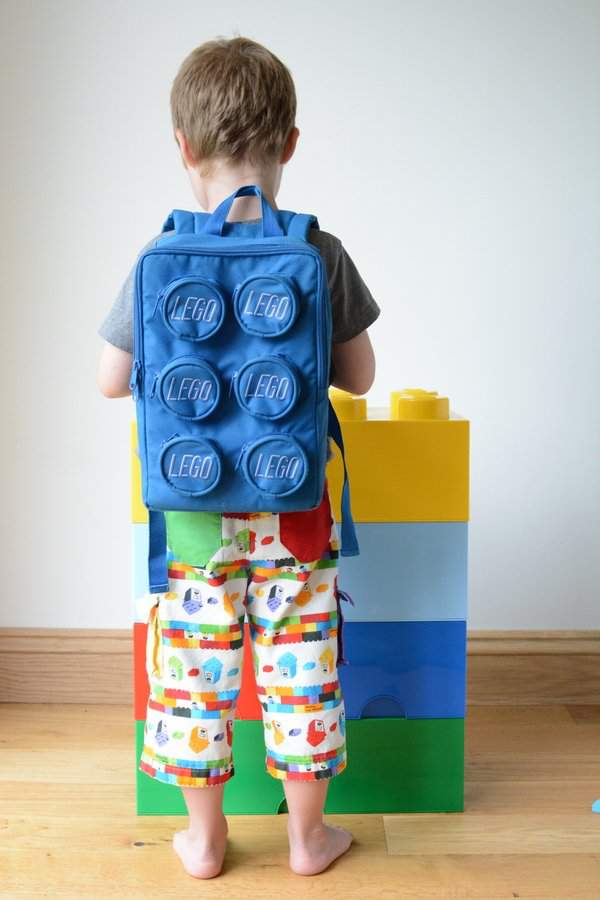 So are you taking part in KCW? I'm working on some skinny jeans now but I'm taking step by step photos for the pattern tutorial so it will slow me down a bit. I'll show you them later in the week, even if it's just some in progress shots. What have you managed to sew so far?