It's the last day of the tour! I hope you've enjoyed seeing all of the T-shirts that have been shared over the last couple of weeks. I will be back with a round up post on Monday. It's not too late to get an exclusive discount by signing up to the Titchy Threads newsletter (here) – the code will expire on Tuesday 25th November.
First up is my talented friend Celina, who writes at Petit à Petit and Family and is also a co-founder of the incredible Stylo magazine. We were very lucky to have Celina and her children come and stay with us for a few days in July. Rowan still talks about them and asks when they are coming back or when we're going to visit them! If only they lived down the road. Celina comes from a fashion design background and really brings a unique voice to a sewing blogs, combining her love of kids' fashion with her skills of a sewing machine. I love the colours in this T-shirt and if you follow her blog then you know she didn't just make one – head on over to take a look.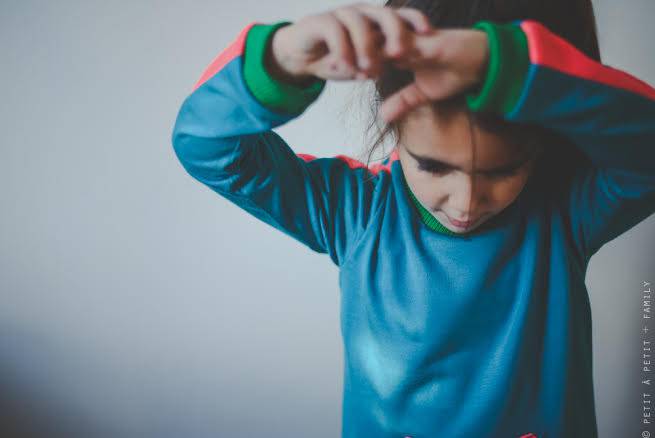 Next is the inimitable Kat from Sew Chibi, who  has a really cool, offbeat and fun style that I really admire. Her Halloween costumes blow me away every year, these Easter dresses are so beautiful and what little girl wouldn't want this stunning light up princess dress! She brings her love of all things geeky to her sewing but often in a wearable way. Kat and her partner in crime Max host a monthly series called Sew Geeky that I am so excited about taking part in early next year. I think Kat has definitely put her own twist on the Rowan Tee pattern and you can find out the details here.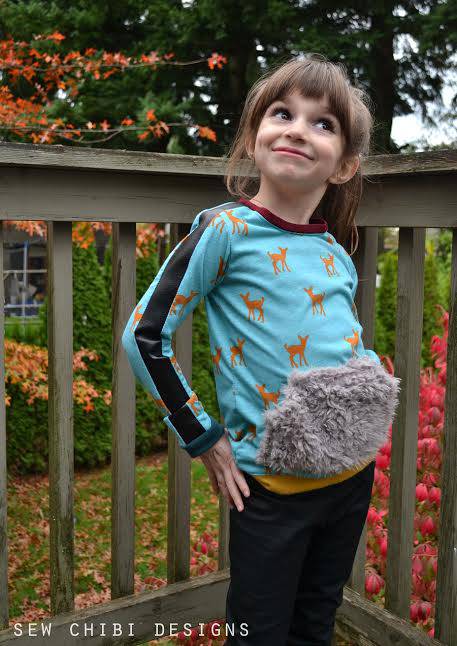 My final guest today, and of the whole tour, is Elisa from Charming Doodle. I first found Elisa's blog when she became a contributor on the Sewing Rabbit and I was drawn to her lovely modern style and gorgeous photos as well. The Halloween costumes she made this year were incredible and I loved this post. She has several patterns including the popular knight hoodie (kids and adult sizes) and a free reindeer head, perfect for this time of year. Elisa made two Rowan Tees today, one of which uses snake print and gold fabric! Doesn't it look cool. You can read more on Elisa's blog.