I have been amazed by all of the different versions of the Fancy Pants Leggings that appeared during the pattern tour. There were leggings, leggings with feet, shorts, swim shorts, and even a jumpsuit. Some people didn't just stick at one version and made two or even three! It really is a very versatile pattern and also quick to sew. Thank you so much to all of the lovely bloggers who joined the tour.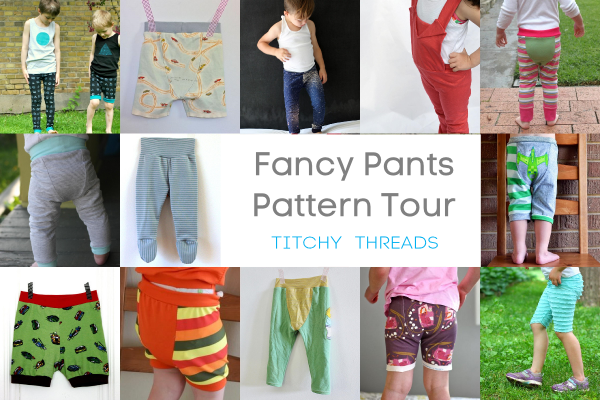 Click on any of the links below to go directly to the Fancy Pants Leggings posts.
Abby from Things for Boys
Rachael from Imagine Gnats
Celina from Petit à Petit and Family
Jane from Buzzmills
Heather from Feather's Flights
Stacey from Boy, oh Boy, oh Boy
Gail from Probably Actually
Jenny from The Southern Institute
Ros from Sew Delicious
Carla from Small + Friendly
Also, the winner of the giveaway for a copy of the Roly Poly Pinafore Pattern by Imagine Gnats was Cassandra of Cass Can Sew who said….
"That butterfly print is amazing!!! I'd love to make one of these for my lil miss who is 2 and another for bubby who is due in August.. I'll just have to wait a little bit until it fits her… but it never hurts to get it done early."
Congratulations Cassandra! It sounds like you will get a lot of use out of it.