I am really excited to bring you an amazing giveaway today. Annie of The Village Haberdashery has very generously offered a bundle of 12 FQs for one lucky reader.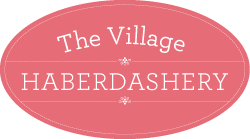 The Village Haberdashery opened fairly recently and is very exciting for us UK fabric addicts. Annie has a wonderful eye and stocks some difficult to find collections and unusual types of fabric. The customer service is fantastic and Annie is absolutely lovely. You can read more about her in an interview here. I'd highly recommend following her blog The Daily Stitch too, as she includes the gorgeous clothes she's sewn, features some fantastic tutorials and also keeps you up to date with the latest arrivals in the shop. I especially love this free pattern for a duvet cover using the Bella collection, designed by Kerry of Very Berry Kerry.
So onto the giveaway, which is a bundle of 12 FQs from the beautiful Field Study collection by Anna Maria Horner. Isn't that amazing? Every time I look at this collection I find a new favourite. There is so much variety in these amazing prints and they could be used for a variety of different projects, including many still to come in the Sew Yummy series. What is even better is that you get to choose your favourite colourway, out of the following 3 options.
It's a tough decision but somebody's going to have to make it. Thank you so much to Annie for this generous prize.
THIS GIVEAWAY HAS NOW CLOSED
How to enter:
This giveaway is international.
1. To enter you need to be a follower of Craftstorming. If you don't already follow you can subscribe using the buttons towards the top of the sidebar.
2. Go and visit Annie's beautiful shop and take a look around. Come back and leave a comment telling me what your favourites are and also which of the Field Study palettes you prefer.
Make sure your email address is included in the comment form. I will close the giveaway this Friday at 8pm BST and randomly select a winner after that time. I'll return on Saturday to announce who that lucky person is. Good luck everyone!