I haven't really written about myself much on here but I thought it would be fun to take part in this 'fill in the blanks' questionnaire hosted by Shannon from Luvinthemommyhood. I don't quite know when I first came across Shannon's blog but she is one inspiring lady and makes so many beautiful things. I also love her gorgeous photos from Vancouver Island, the light and scenery there looks amazing and it makes me wish I'd visited on one of my numerous trips to Canada. One of my favourite places in the world is Big White, a ski resort in British Columbia. If you've been there, you'll definitely be jealous of this picture of me with the Michael J Ballingall. If you don't know who he is, just know that he has the best selection of Christmas knitted jumpers, quite possibly ever.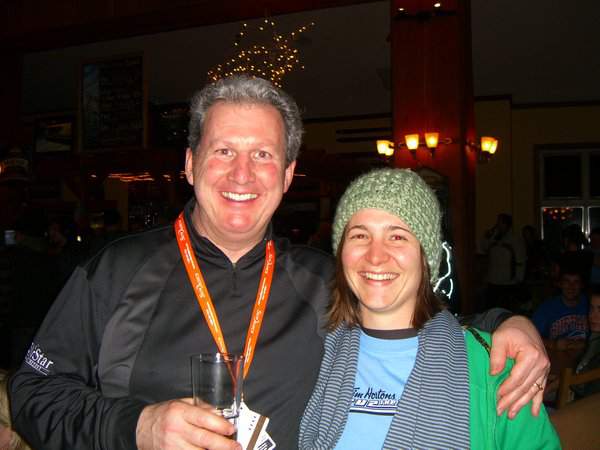 Anyway, I seem to have gone off on a tangent. So here are my answers…
* i'm longing to make "a dress for me" right now.
* i want to try "screenprinting" onto some "plain T-shirts or fabric".
* i wish i could sew with "some birch fabric – I love it all".
* i dream of making "quilts for both my boys – for Christmas. Maybe a bit ambitious as I've never made one before".
* i keep track of my ideas by "writing lists everywhere – in notebooks, on post it notes, in draft emails, in Any.DO, on Pinterest and sometimes just in my head. It's not the best system. Every so often I'll amalgamate it all in a spreadsheet".
* i'm inspired by "my children, I was never really that creative before I had them and started sewing so I could make clothes for them".
* i would love to meet "all my bloggy friends" in person. (Same as Shannon here)
* my favorite fiber is "natural soft fibres".
* i like to sew with "lovely soft cotton".
* my favorite color is "turquoise (if I've got to choose just one) but I also really love grey as it goes with everything" . (Same as Shannon again, well the first bit is anyway)
* i rock at "bad puns".
* i would like to learn how to "improve my photography".
* i like to listen to "6 music" while i "sew / bake / drive etc".
* i bring my "phone and tape measure" everywhere.
* my favorite thing to "sew" is "kids clothes, it's pretty much all I've sewn so far".
* my favorite thing to "bake" is "macarons".
* my crafting space is "currently very tidy – I sew in the dining room of our open plan living space and have a glass fronted Ikea Hemnes cupboard to store my fabric in so try and keep the mess under control".
* if i had my own crafting room it would be "tidy and full of lots of open storage solutions so I could sit and look at all the beautiful fabric".
* i sew with "a pfaff".
* i like to "learn new things" but "definitely don't need any more hobbies right now".
* i can never get enough "time to sew".
* i adore "my children playing together, they are so much fun. They are also really appreciative of the things I sew for them (at the moment)".
* i also enjoy "baking" and "using my digital cutter".
* i like to fill my shelves with "fabric, more fabric, sewing patterns, plus sewing and baking books".
* i create the best when i'm "not jumping around between about 7 different projects".
* i am currently excited for "KCWC – really really excited".
* right now i am "working on a sewing project for the Sew Yummy series, and planning what to make during KCWC".
* i love to watch "nothing" while creating. "It's not worth it as I stop paying attention after a few minutes anyway".
* my guilty pleasure when it comes to creating is "buying fabric and patterns".
* my current favorite music crush to listen to while creating is "Katzenjammer – I saw them live recently too and they are very talented women".
I hope you enjoyed finding a little bit more about me. I found it really interesting to read everyone else's answers. If you'd like to take part too then copy the questions and link up here on Luvinthemommyhood.