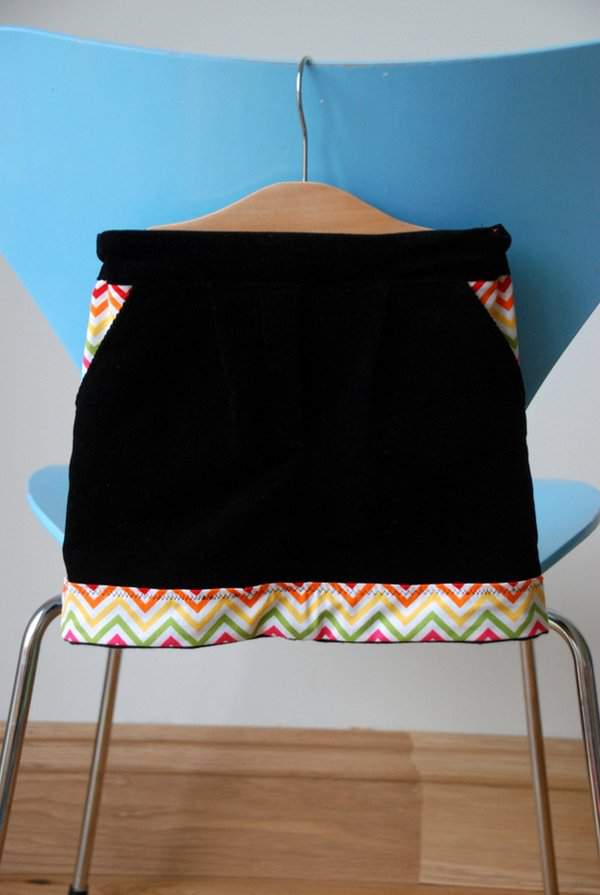 When Casper was born four of my cousins had babies three months either side of him. Three of them live fairly close and it's so lovely seeing them all play together now. One of my cousin's had her second baby recently – an adorable little boy called Charlie. Now you may wonder why this would lead to me making a skirt but, as well as making a gift for Charlie, I wanted to make something for his big sister Holly. The skirt is modelled here by Peppa Pig that I won from Peppa Pig World and is also going to Holly. I thought it was a slightly better option than getting Casper to model it. The other picture is a view of the back.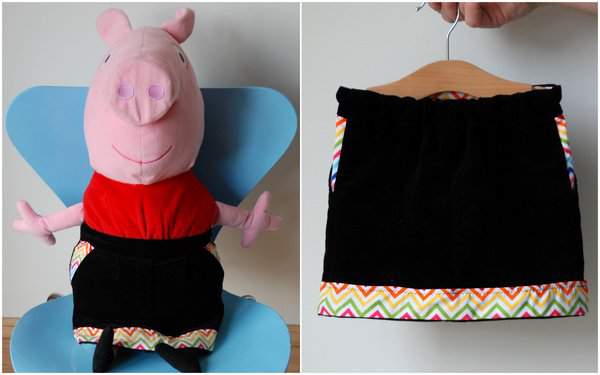 I made this skirt by adapting the 'Little Heartbreaker Trousers' pattern from 'Sewing for Boys'. This may seem a bit odd given the number of patterns available for girls' skirts and the relative lack of patterns for boys but, having made the trousers before , I knew that I really liked all of the details and thought they would make a really cute skirt. I was planning to do a tutorial as well but found that black corduroy and night time sewing does not lead to great photos. It was fairly straightforward though – once I had created my new pattern pieces I mostly followed the instructions in the book. You can see in the next picture how I adapted the pattern pieces.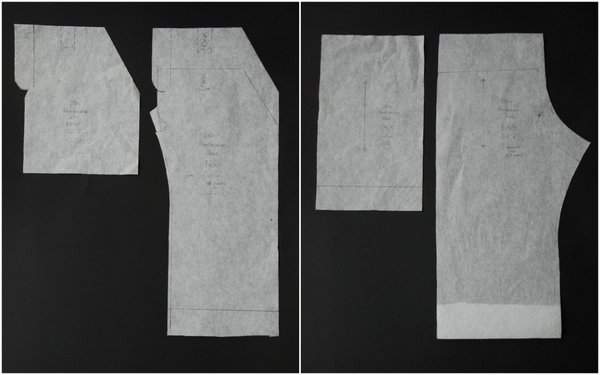 To get the length I held the front piece up to Casper and marked roughly level with his knee. To make sure the back piece would end up the same length I then measured up from the bottom of the front trousers piece to my mark and took the same amount off for the back skirt piece. I did allow some room for error but fortunately the skirt pieces lined up well. For the contrasting hem I just took the same steps as you would to make the cuffs for the trousers. If I make another skirt I will taper this in at either sides as when I came to top stitch the top of it I found it was a bit wide for the skirt. I did remember to reverse the faux fly to the opposite side though.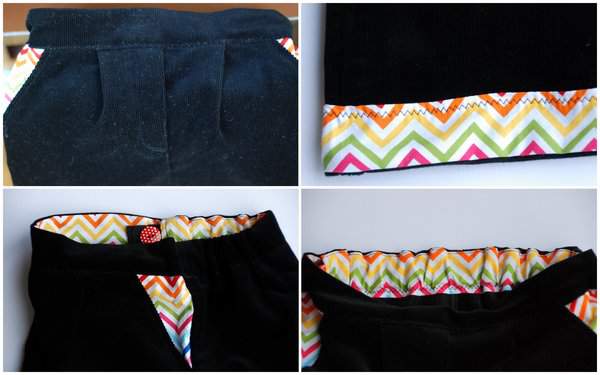 Holly loves Minnie Mouse so I used some Minnie style buttons for the adjustable waistband. I just used normal elastic and serged the ends to stop it fraying. The black corduroy is from my local fabric shop and the Zig Zag Stripe in Bright is from the Remix collection designed by Ann Kelle. I bought this from Hawthorne Threads a while ago and have been hoarding it until now so it was good to finally cut into it, even if I did only use a little bit. It is the first time I have sewn for girls and I'm quite tempted to make one of these skirts for myself now.