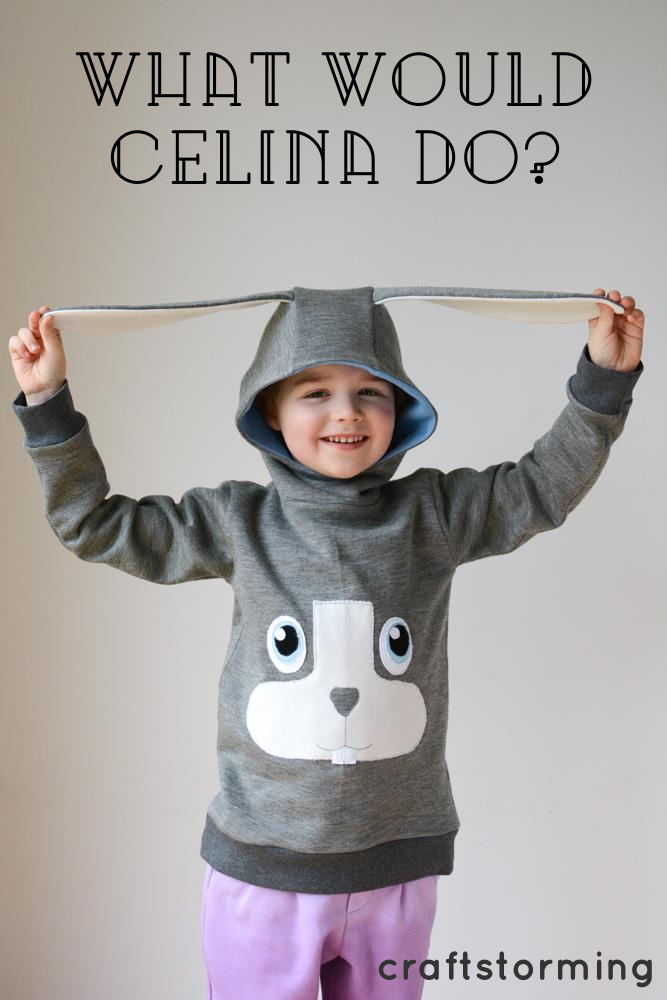 Good morning! I have been involved in a super secret and fun project with some blog friends over the last few months and today we finally get to share it with everyone. I will share more about the outfit you can see in the photos later in the post, along with a free template for the rabbit hoodie appliqué pieces. First I need to explain a bit more about this project.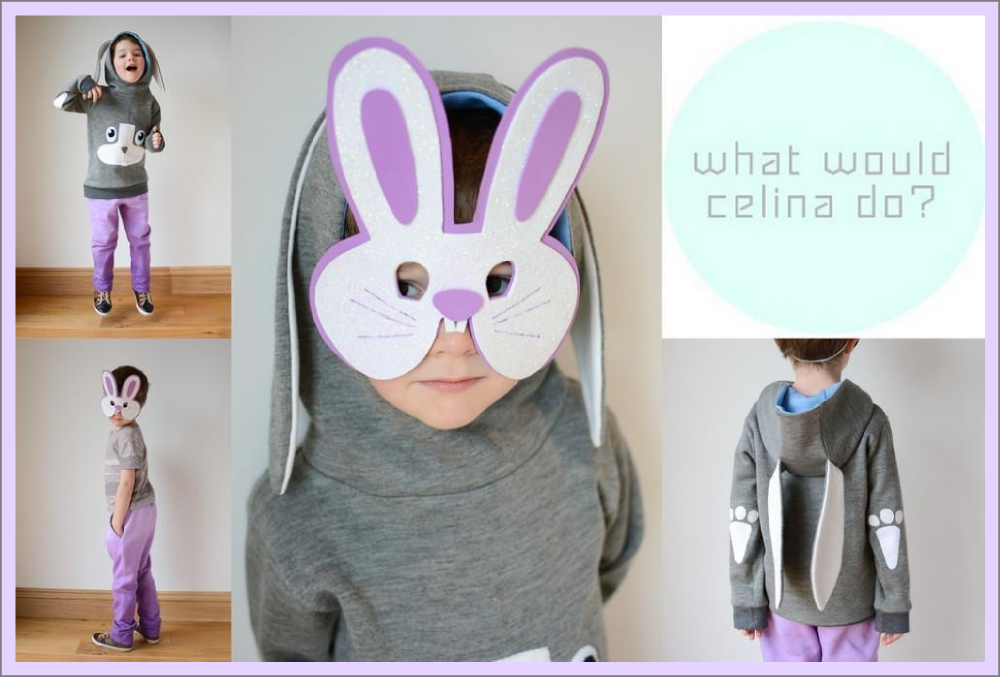 It all started last September when I was chatting with my friend Toni-Maree. Our friend Celina of Petit à Petit and Family had just posted about 8 different posts in one week, all amazing, and we were wondering how she manages it all. I joked that we should make 'What would Celina do?' our new motto and then it dawned on me that we could turn it into a series. I messaged some other people to see what they thought and the reaction from everyone was so positive. There are a lot of people who admire Celina's unique style.
The idea was for everyone to make something inspired by Celina – a pretty general brief that they could interpret in many ways. It could mean following one of Celina's many different tutorials, using an outfit or pattern remix she'd made as a starting point or maybe creating a video tutorial or an animated gif like Celina has in the past. If you were still struggling for ideas then it would be impossible not to be inspired by the first issue of Stylo magazine, which Celina and Jess launched last month. It has been such a pleasure to see all of the photos over the last few days. As you can see from the collage below we all went off in slightly different direction but I think you can see Celina's influence in every single project. You can click on every image below to be taken to that blog (right click if you want to open in a new tab).
We also created a shared Pinterest board that has been private until today. It gives you a great idea of her style at a glance.
I feel very lucky to count Celina as one of my best friends. She is so incredibly talented, yet so humble, generous and encouraging to everyone. This will probably come as a very big surprise to her – hopefully a good one!. We were also a bit sneaky and arranged for her to take part today. Celina was asked to post on her own blog today as part of the Signature Style series that Olga is pretending to run! You can click on the image below to see Celina's own take on her signature style. The image alone shows just how creative Celina is.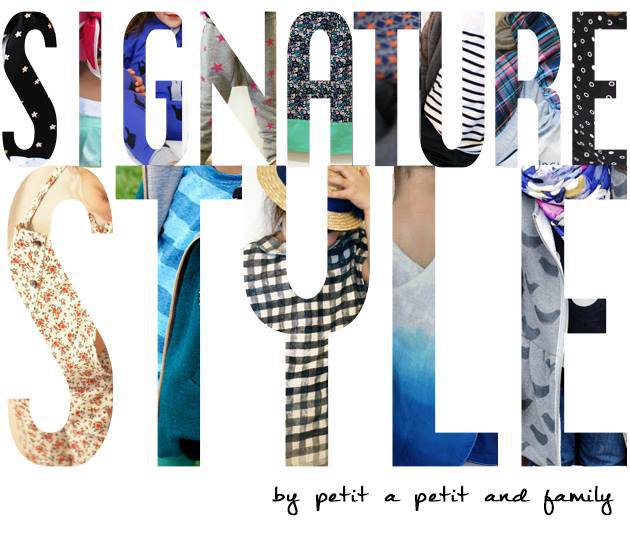 So now I will share more about the outfit I made. I've listed some of the details below.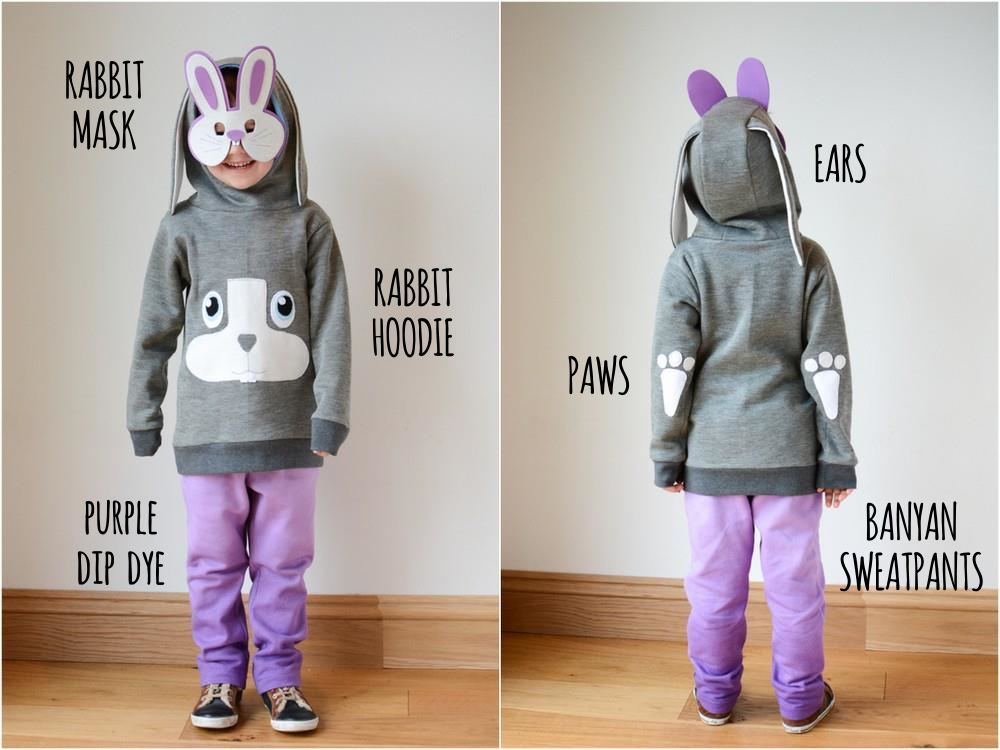 It took me a long time to decide what to make but Celina is the master at pulling things off at the last minute so I didn't mind that. I always wanted to incorporate dip dye into as that is a feature Celina has used a few times (here and here). I used the Banyan Trousers pattern from Figgy's but used sweatshirt fleece – like Celina did in this post where she pulled together 5 outfits! I also made similar adjustments to Celina – I used size 4/5, narrowed at the ankle to a size 2/3 and lengthened to size 6/7. I left the cuffs off and just hemmed regularly. The fleece was white and I sewed or basted all the pieces together, leaving off the contrast inner pocket lining as I didn't want to dye that part. I then sewed the pocket sections and finished off the side seams after dyeing. It was actually the first time I'd ever used fabric dye and I'm not really sure why I waited so long. I would have liked the bottom to be a bit darker but overall I'm pretty happy with them and Casper loves them.
For the other part of my outfit I was inspired by this bear hoodie. Instead of recreating the bear I decided to create a similar hoodie for a rabbit. They are Casper's favourite animal and I wanted to take his preferences into account as then he's more likely to wear what I've made. The pattern is my own and is the kids version of the Jade Hoodie I made for myself recently. The three part hood is perfect for attaching the ears. I just basted them in place on the sides before sewing on the centre section.
I have a free template for you to download, just like Celina did with her post. CLICK HERE TO DOWNLOAD
I don't have a separate tutorial as you can follow Celina's instructions for the Bear Hoodie and just adjust them slightly for the different pieces. The ears on mine are attached a bit differently as I used a different style of hood but you could do them the same way as Celina did. To sew the ears you need to cut one piece in your main fabric and one in the lining fabric for each ear, then sew together along the two curved sides with wrong sides facing using a 1cm (3/8″) seam allowance. Turn through the gap at the bottom. For the mouth and the detail below the nose I used topstitching thread and sewed it on my machine. You could embroider it if you prefer.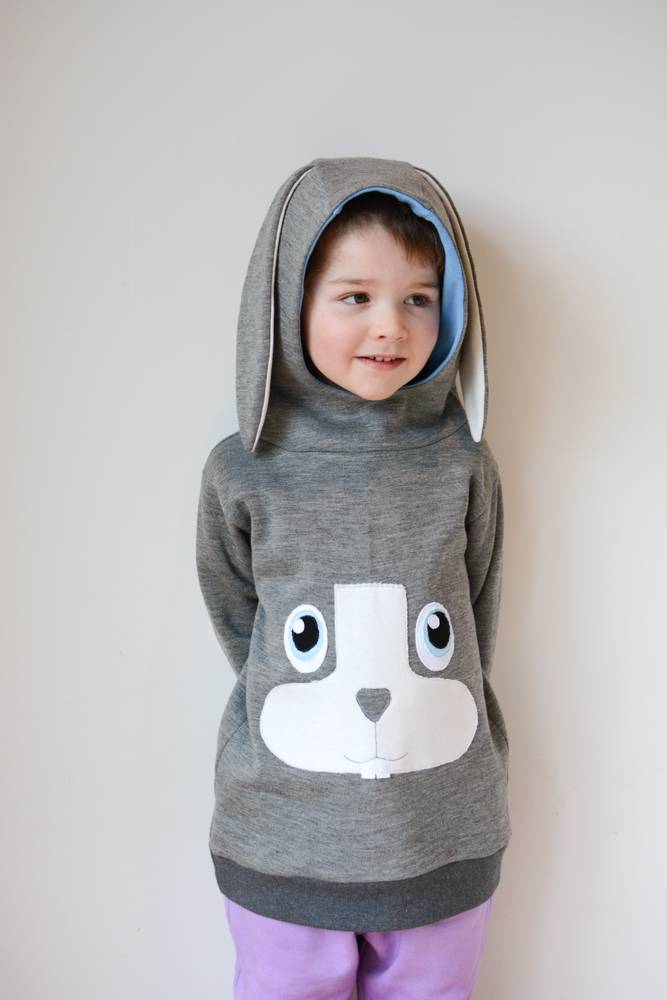 I am so happy with this outfit and it's definitely one of my favourite things that I've made. I really enjoyed being pushed in a slightly different direction.