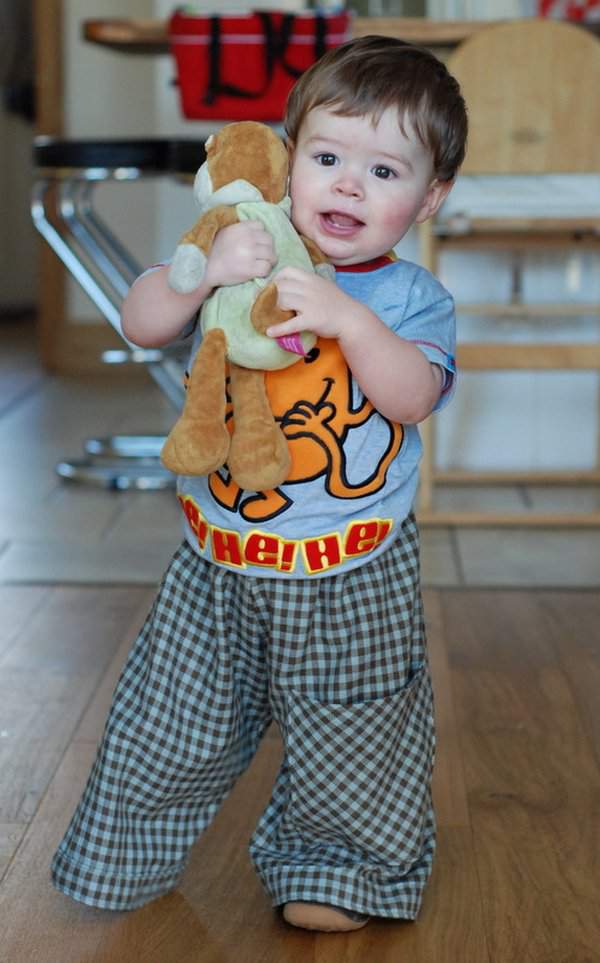 Before Christmas I thought this blog might be turning into a baking blog but due to my Christmas greed celebrating I have stayed away from baking recently. Instead I've been on a roll with sewing and have made another pair of trousers for one of my boys. I do have another baking post planned very soon though, something I've wanted to try for a while. Also, I was very lucky and received a digital cutting machine for my birthday and have a lot of ideas for that once I've got the hang of it.
These trousers are made using another pattern from the fantastic 'Sewing for Boys' book. After I finished my first pattern from this book I found out about a 'Sewing for Boys Sew Along' organised by Stacey at the 'Boy Oh Boy Oh Boy Crafts' blog and thought it would be fun to join in. Each month Stacey picks a pattern the book and the challenge for February is either the 'Mr Two Faced Pants' or the 'Kickin' Back Sweats'. They are very similar patterns – the first is for ages up to 18 months and the second from age 2. Rowan is almost 14 months but has a bit of a belly and his waist measurement fits into the age 2 to 3 category so I used the larger pattern. In fact his waist measurement is slightly bigger than Casper's and they both fit into this pair of trousers, so I'll be able to use it for both of them.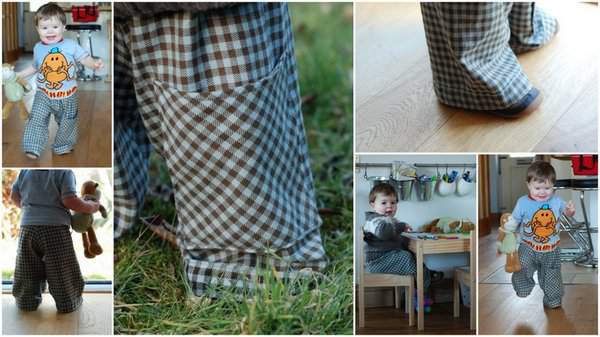 These trousers were really quick to make and have no outside seams – it's the first time I've managed to start and finish some clothing the same day. They would have been even quicker if I had chosen a fabric that didn't have such a small repeat to line up. It's a lovely fabric though – quite thin and really silky soft although a little more difficult to work with than I'm used to with quilting cottons. I bought it a while ago from this shop on Columbia Road in London and it's this fabric here. I love the big pocket on the front and it can actually just fit Rowan's beloved Monkey in it. Initially I was planning to use a constrasting fabric but I decided it would look better to just cut the main fabric on the bias.
Despite knowing they would be too long I made the trousers the full length for a 2 to 3 year old and took advantage of the fact that the fabric is identical on the reverse to make some cuffs. I sewed these on the longest length stitch I could so I'll be able to take them down and hem normally once Rowan is taller. The trousers are still a bit too big at the moment so he was wearing them with a 'Simon Cowell' waist in these photos. Maybe once it's a bit warmer Casper can use them as shorts too. Before I make them again I think I might slim the pattern down a bit or try the 'Mr Two Faced Pants' as the fit is very baggy on Rowan but otherwise it's another lovely pattern from my favourite sewing book.