I recently attempted appliqué for the first time, adding a 3 to a T-shirt for Casper's birthday. Of course, on the day of his party he refused to wear it although he did on his actual birthday. This artist's palette was my second effort and took a lot longer but Casper really likes it, especially the removable painbrush. Hopefully he'll be happier to wear this one.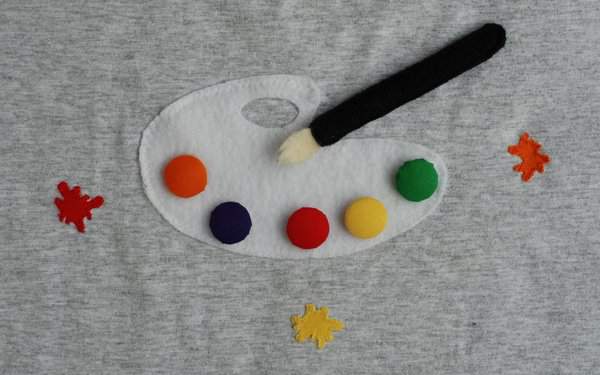 I had the idea for this a while ago but couldn't think of a good way to include a paintbrush and thought it would look unfinished without one. I was delighted when I read this post from Dana at Made and spotted the felt toothbrush she had made. If you haven't seen her blog before head over as she has so many amazing projects and has just announced the release of her first book. I adapted her instructions to make the paintbrush out of felt and added velcro to the back (and to the T-shirt) so it can be removed. Casper really likes painting with it but I need to find a way to attach it loosely, otherwise it's going to get lost soon.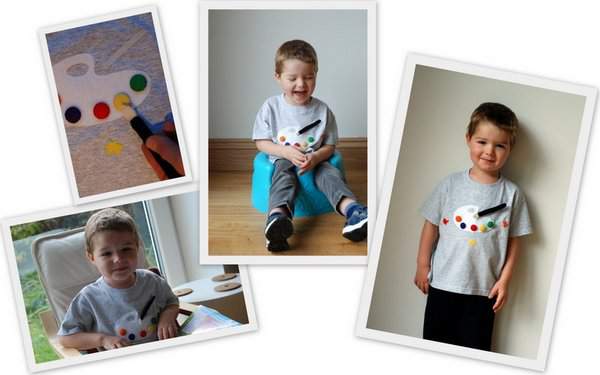 For the other details I used 19mm covered button and covered them in a selection of different quilting cottons. The splashes were made using the same cottons and I hand sewed around the edges. The palette is made of white fleece and I used a zig zag stitch to machine stitch around the edge.
There are plenty of appliqué tutorials on the internet but I thought I'd add a quick picture reference for you. I hope it's useful. I used Bondaweb that I bought from my local Fabricland. Make sure you have pre-washed your fabric before you start and remember to reverse your design when you draw it on the Bondaweb.