Wow, what a whirlwind, I really don't know where the last month has gone. I assure you though that my creative juices have been flowing and I have much to show you.
October is a big month in our house as it marks another year passing as our baby girl Freya has a birthday. When I was a child I loved birthdays and birthday parties and my mum always made a homemade, hand decorated birthday cake for us kids. Now I'm a mother myself I want to keep up this tradition and have to date made both my childrens birthday cakes. Freya is totally into Fairies and Princesses and all things pink (like most little girls her age) so I opted for a fairy theme for her 4th birthday cake. My children are chocoholics like their mother so there was no question what cake she'd want….good old fashioned chocolate cake! I did however stray from the norm, for convenience, and used Nutella spread as the cake sandwich filling rather than butter icing and boy was this a good choice. It balanced out the finished flavour of the cake with its nutty goodness partnered with the sweet icing topping. Yum!

I was so pleased with the finished look. I perched Tinkerbell on the edge of the cake (there was no way I was modelling her out of icing!) and then made the little toadstools, ladybirds and leaves to decorate. The little snail was fun to do, although a little fiddly but Freya loved it especially as she thought it really had eaten a chunk from the leaf!
After the success of the cake and great fun celebrating her birthday, I was able to get back to a spot of sewing.
I'm participating in a Christmas Craft fair next week and hope to sell some of my creations. This has meant that to fill a table top with handmade goodies I've spent many hours over the past month sat at my sewing machine to run up some things. Here are a couple of Christmas decorations I've made,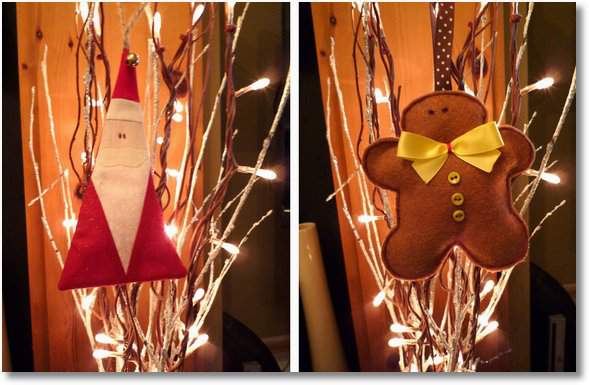 Only sewing in the evenings once the children are in bed just hasn't been enough to fulfill my sewing needs so myself and two dear friends, also mad on sewing found a date for the diary for us to get together (without the children) and spend the whole day sewing. This magical day was yesterday and we had such a lovely time. We met up very early in the morning and had breakfast together before pulling out the sewing machines to begin our day of productivity.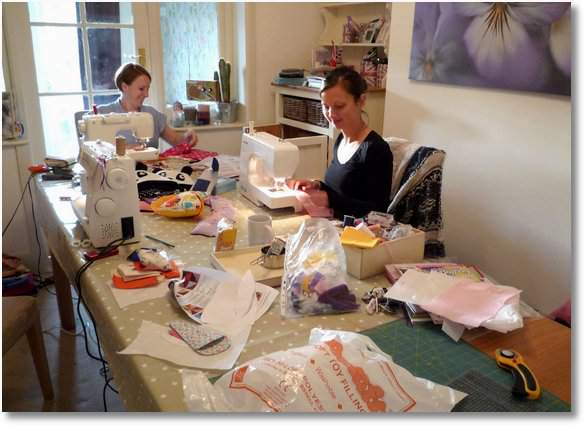 I honestly don't think I've had such fun with my girls in a long time . Our conversations are usually interrupted as we run off in opposite directions to help one of our kids out of a swing or break up a squabble over toys…it's usually all for the children but yesterday was all about us and it was great. We drank tea, ate cake, chatted endlessly about anything and everything and sewed to our hearts content and in the 8 hours we sewed for we achieved a lot!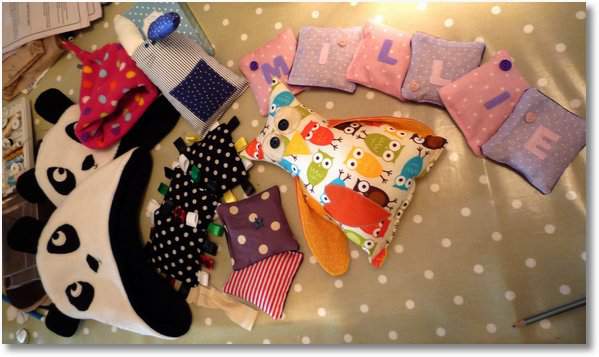 ?This is just some of what we put together. Childrens hats, bean bags, soft toys and bags (not in photo) were run up either for presents or for the craft fair. I'm so proud of us and most definitely want to do it again!
I love that my best friends share my love of crafts especially sewing. It's such a sociable hobby, bringing people together to make not only lovely pieces handmade with love but fantastic memories to treasure forever!