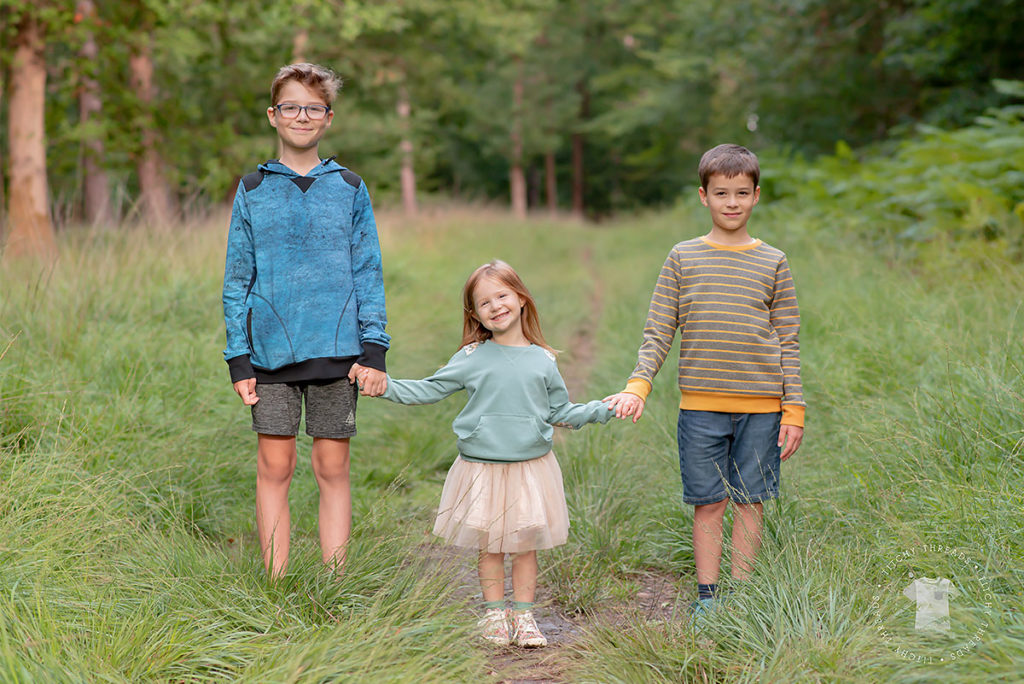 I'm so excited to share that my latest sewing pattern, the Quadrant Sweatshirt and Hoodie, is now available in the Titchy Threads shop. This is a versatile sweatshirt pattern with a variety of options for every taste and sewing level. Available in sizes Tiny Baby up to age 12, it covers a large size range and can be used for everything from a basic sweatshirt to the cosiest hoodie. There are three main views but you can pick and choose your favourite options to design your own unique sweatshirt.
The name of the pattern comes from the contrast shoulder, which has a similar shape to a quarter circle. This was the first detail I included when designing this pattern. The zip pockets, with the outline stitching in a similar shape, were added later to compliment the shoulder detail.
PATTERN DETAILS
The sweatshirt is designed to have a regular fit on the shoulders with a looser fit from the chest down. The tutorial includes information on pattern adjustments and what to consider when combining sizes, depending on the pattern view you have chosen. I'll go into more detail about the pattern views and their different options below.
I have sewn many sweatshirts and hoodies for my children while working on the pattern, and they've all become favourites in their wardrobes. I know they're going to get a lot of use as we head into autumn. For the main fabric I would recommend a stable medium weight knit with at least 25% stretch. Fabrics like French Terry and sweatshirt fleece are ideal. Interlock, double knit and heavier weight jerseys can also be used.
The cuffs for all of the options are tapered slightly towards the wrist, to give a slim fit all the way down. I originally tried this on a sweatshirt I made for myself, as I dislike baggy cuffs. I liked the fit so much I included it in this pattern. The sleeve also has two length options, with the longer one to use with thumbhole cuffs.
VIEW A

This is the simplest view of the pattern, and the quickest to sew. It's perfect for those times when you haven't got much time to sew, or want an easy project. It is also a great first knit project for beginners. The pattern includes a lot of tips for sewing with knits, and detailed sewing instructions. I highly recommend French Terry for anyone getting used to sewing with knits. It is stable and doesn't curl like jersey can, making it very easy to work with.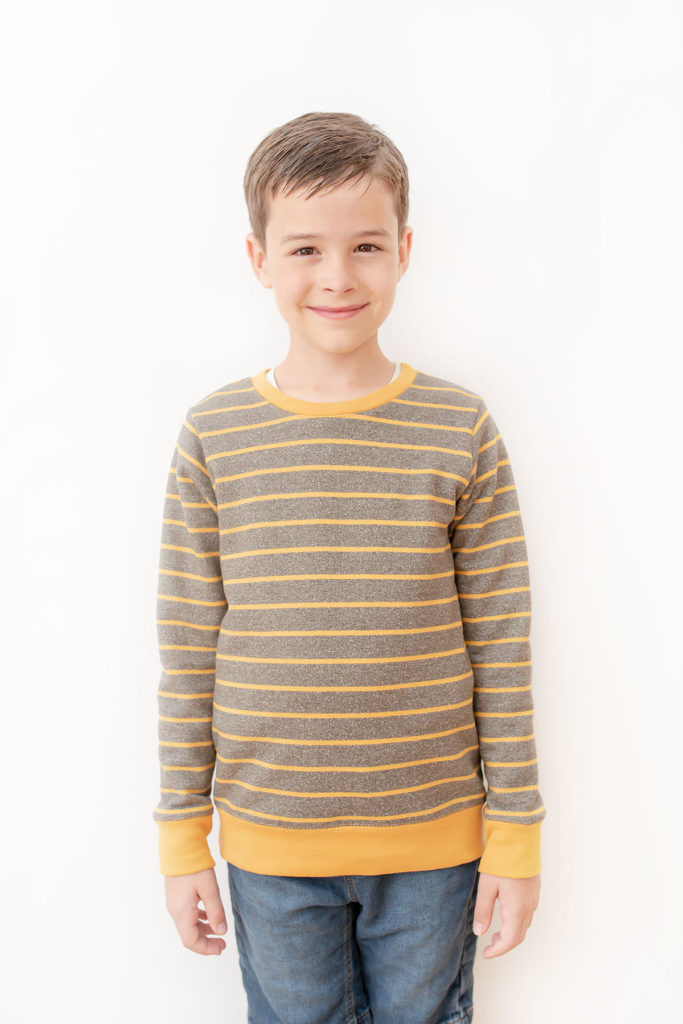 For the sweatshirt above I made my younger son a sweatshirt using a heavier weight loop back French Terry that I purchased many years ago from a shop on Etsy. It has 25% stretch, the minimum required for this pattern. Luckily, I had the perfect colour ribbing to match in my fabric stash.
VIEW B

This view takes the simple sweatshirt and elevates it to the next level. Suitable for confident beginners, it includes extra techniques for when you want to challenge your sewing skills. The V-insert is a classic sweatshirt detail and your children will thank you for adding thumbhole cuffs and kangaroo pocket!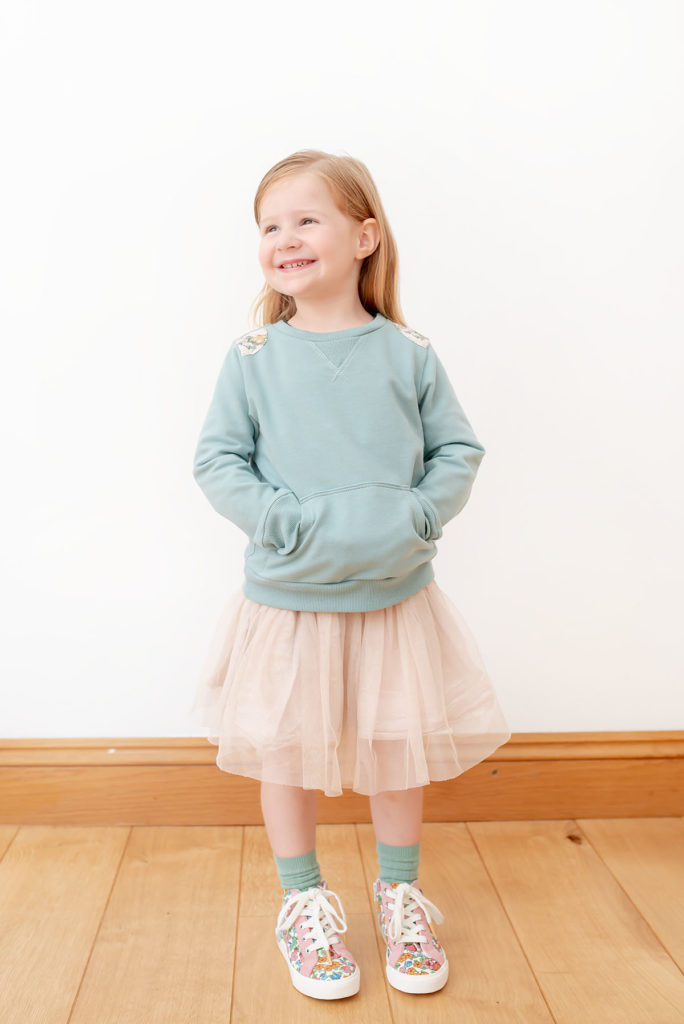 The thumbholes are constructed in a different way to the method I used here for the Rowan Tee Hacks. They are fun to sew and really comfortable to wear. They are made up of three pattern pieces and a couple of the pattern testers made them using three different colours of ribbing.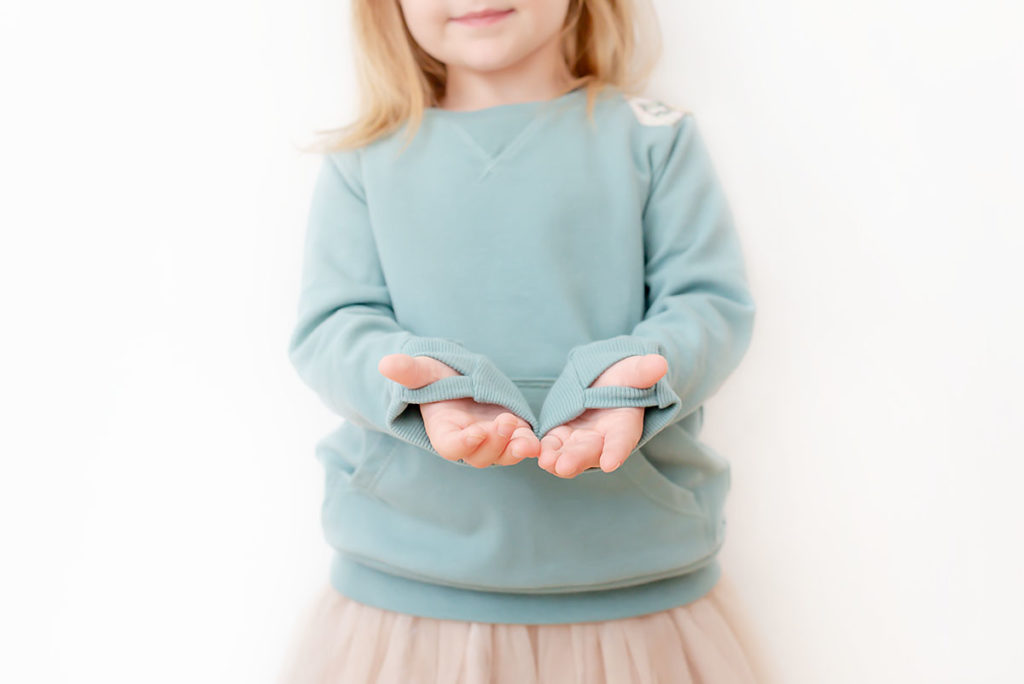 The contrast shoulders and elbow patches use light to medium weight woven fabric such as cotton lawn, poplin, or quilting cottons. It's a great chance to use up some of those favourite scraps you can't bear to part with, and to combine woven and knits. You could also add some texture by using a lightweight corduroy.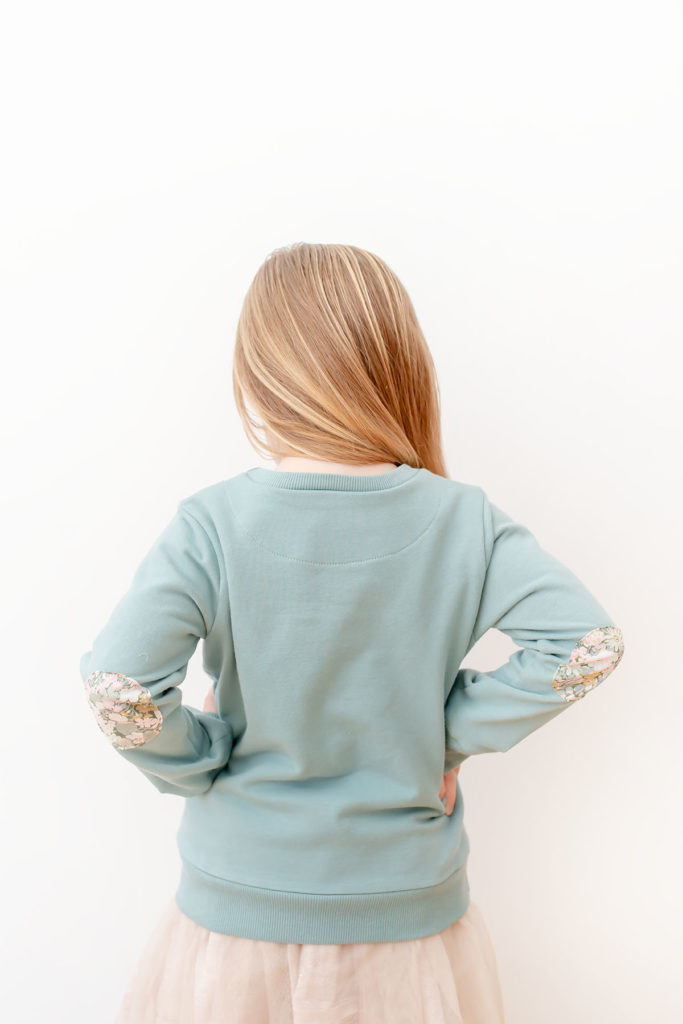 For this sweatshirt I was able to use a small amount of a favourite Liberty of London fabric. I'm planning to make a co-ordinating skirt with the rest of that fabric. The main fabric is a French Terry from See You At Six, which I bought from Lamazi Fabrics. See You At Six bring out several new shades of French Terry every season, and I love how they always offer a ribbing in a matching shade. Their fabrics are all brilliant quality as well.
VIEW C

This is my favourite view of the pattern, with the additional options of a hood and zip pockets. There are more techniques to try and, if you add all of the details listed above, the result is a really special hoodie. It does take more time compared to view A but you will feel so proud of it when it's finished.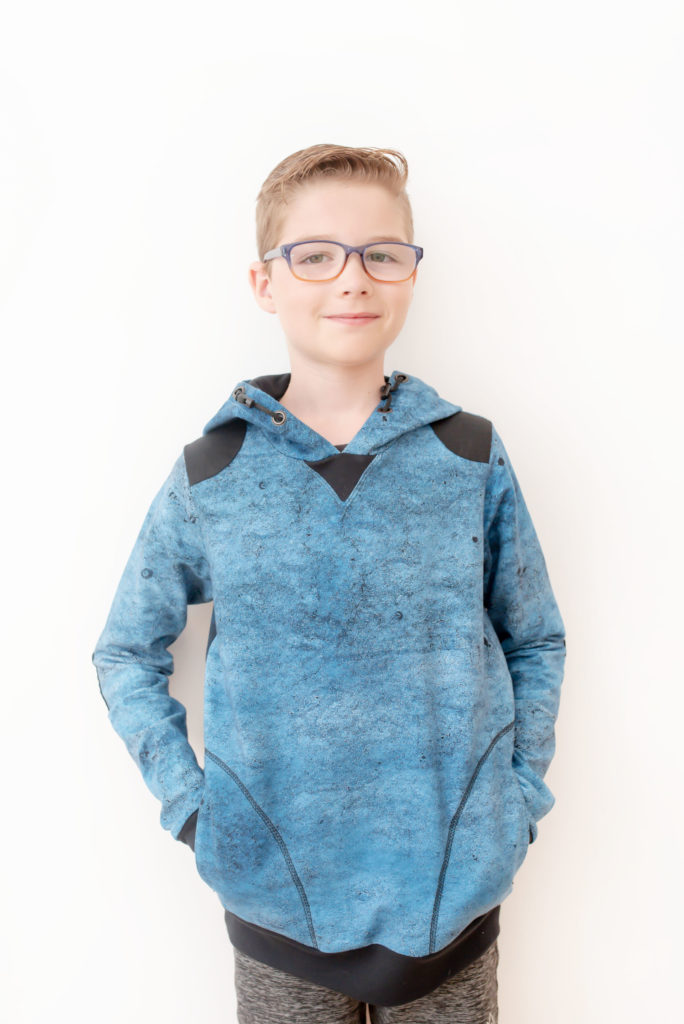 The hood has a slightly unusual construction as the lining is smaller than the outside of the hood (with separate pattern pieces), so the main fabric folds over a small amount into the inside of hood. I love the look of this and it makes it easy to adapt the pattern to add an unlined hood. There is even a extra section called 'Alternative Sewing Techniques' at the end of the tutorial with instructions for this.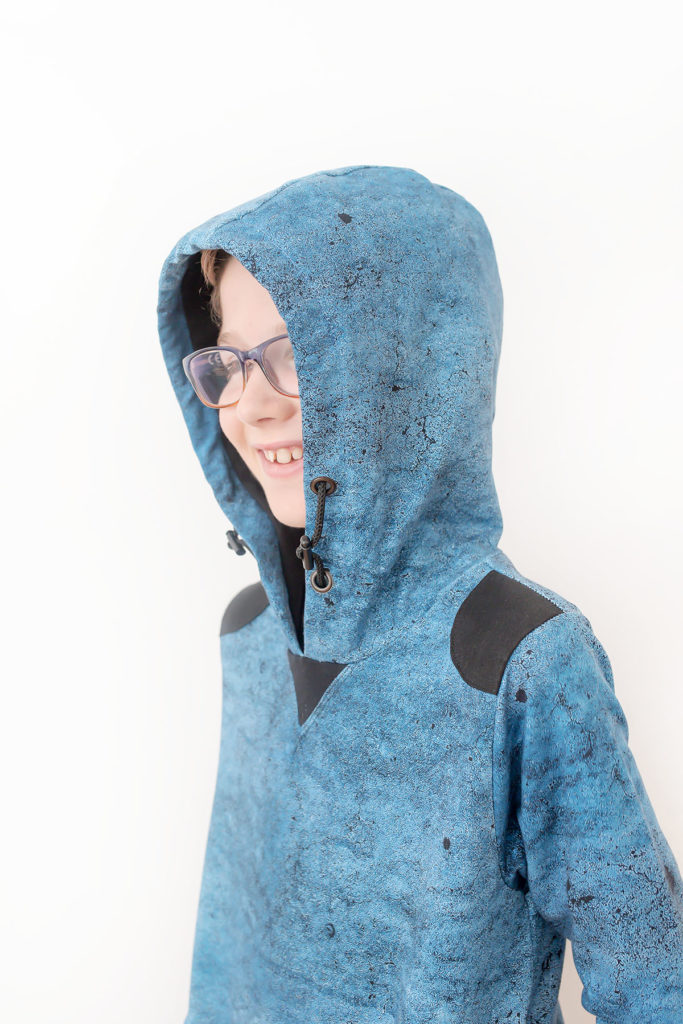 For safety reasons the pattern does not give instructions for a traditional drawstring but there are two faux drawstring options. My son's hood has drawstring cord with cord stops, which can be adjusted for a closer fit. The other option is purely decorative and uses twill tape.
This hoodie is made with a French Terry from Swafing, purchased at Dots n Stripes. It was a great choice for my son, who prefers dark colours and solids. The concrete print adds interest but is subtle enough that my son will wear it. He immediately made sure that his phone will fit in the pockets, and gave it his approval.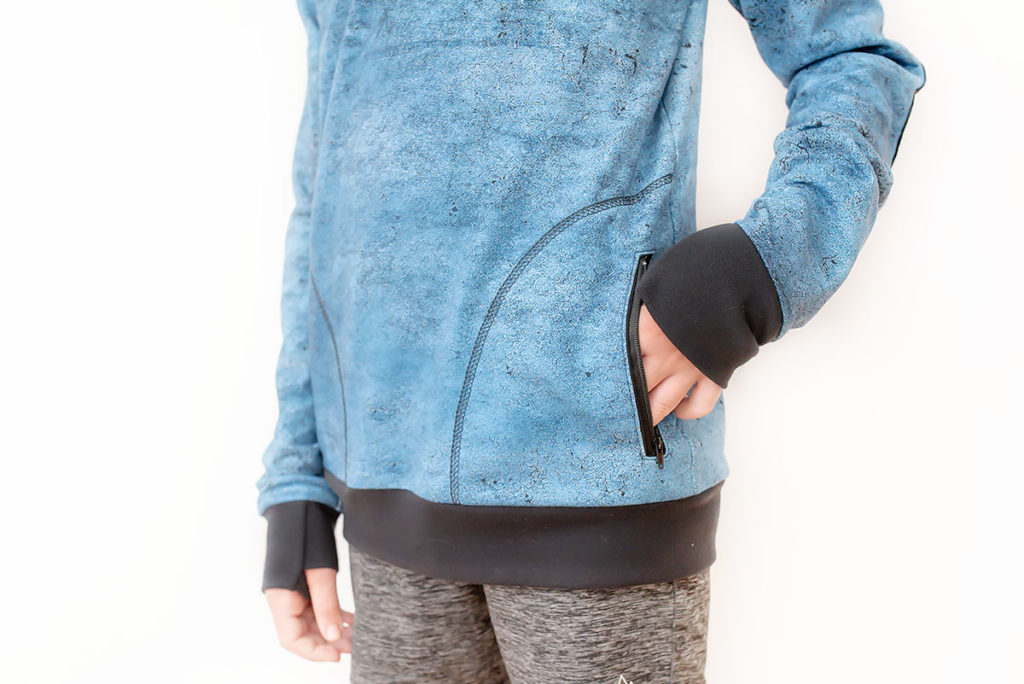 WHAT DOES THE PATTERN INCLUDE?
The pattern is in PDF format. When you purchase the pattern you will find 4 different files available in your downloads area. These are:
The pattern tutorial
Print at Home File (for A4/Letter size paper)
Copy Shop File (2 sheets of A0)
Projector File
The tutorial includes information on choosing your size, printing the pattern, fabric requirements and pattern adjustments. There are detailed sewing instructions with digital illustrations and lots of tips to help you get the best result. At the back of the file you will find two additional sections. The first is the 'Cheat Sheet', two pages that can be printed for quick reference with boxes to tick as you finish each section. This provides a brief summary of the sewing instructions, for those familiar with the pattern. The final section covers 'Alternative Sewing Techniques', which covers some slightly simpler methods for a few of the options.
All of the pattern files include layers, and the tutorial gives details on using each of the file types. You can also find more information on using projectors for sewing in my previous blog posts here and here.
OTHER INFORMATION
The pattern is available to purchase in the Titchy Threads shop here.
As always, you can join our Titchy Threads Facebook group for more support and inspiration, and also to share any items you've made using Titchy Threads patterns. If you're sharing on social media you are welcome to tag me, and use the hashtags #quadrantsweatshirtandhoodie and #titchythreads to help me find you. I always love seeing what people have made with our patterns.
As part of the process to develop this pattern, it was sewn by a large group of pattern testers. I'll be back later this week to share the all of the amazing versions that my testers made.
I've also been working on adult versions of this pattern, and have made a couple of samples for myself. In the photo below you can see one I made with a quilted sweatshirt fabric I bought from Miss Matatabi. This is view A, although with the addition of thumbhole cuffs. I will be starting work on adult version of the Rowan Tee next, and then this pattern will follow. I'm really looking forward to sewing a few for me and I hope you're as excited for these as I am!