On Wednesday I talked about the release of my newest pattern, the Rain Dance Romper (available here) and shared several versions I have sewn. Today I'm back sharing many of the fantastic rompers that the pattern testers made. I can't thank my testers enough for all their help during the testing process. They put their trust in me, investing their time and precious fabric to sew their rompers. The feedback and support they provide is invaluable and always results in an improved pattern and clearer tutorial.
The first collage includes rompers made during pre-testing. It's always a wonderful feeling when those first few garments are shared and I was blown away by this group of talented ladies.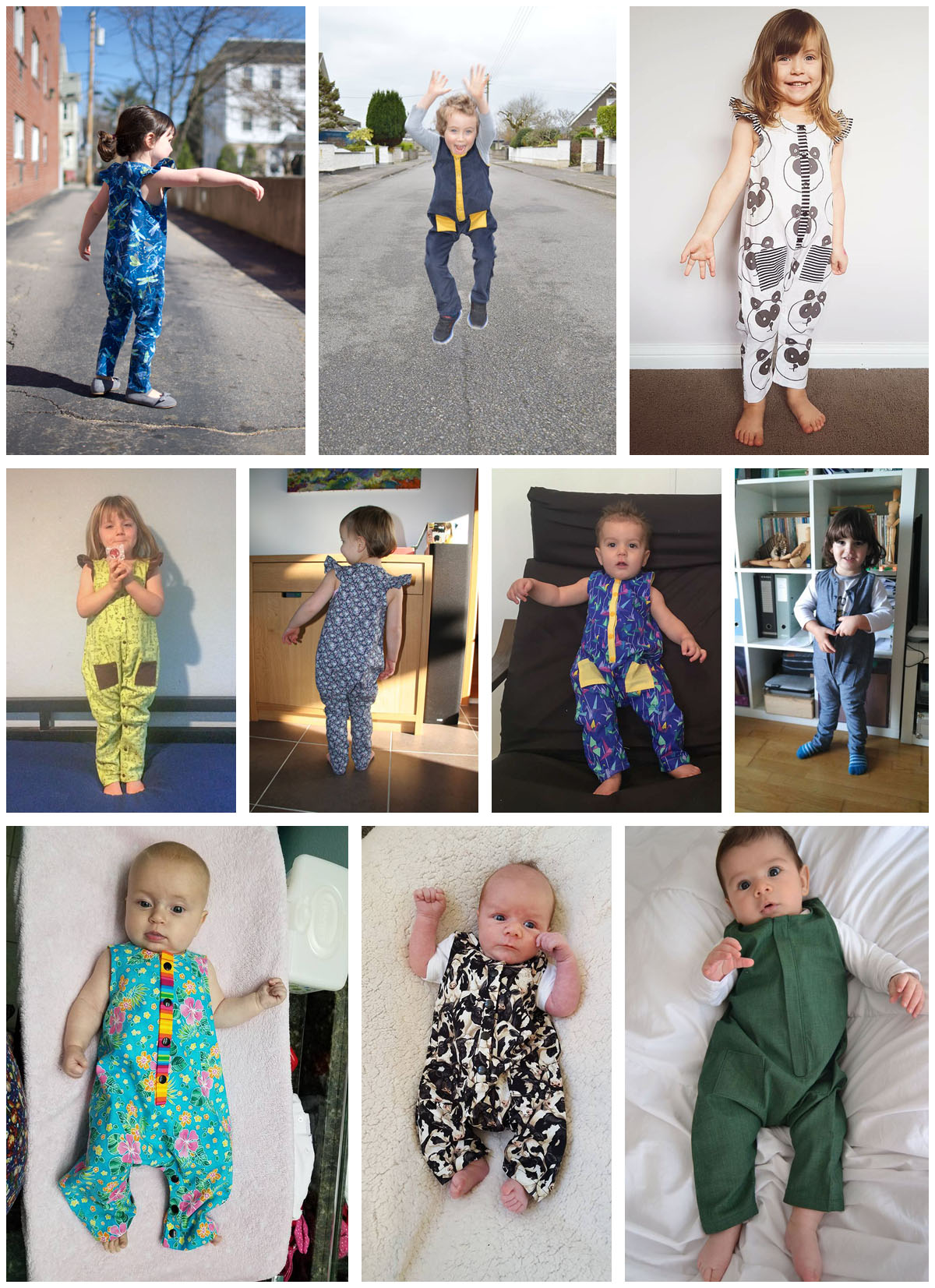 Row 1: Melissa A(@sewingforellie on Instagram), Catherine (mily designs) and Rebecca (@stockwell_menagerie)
Row 2: Emilia (Be A Maker, and SEW that!), Nathalie (@macaron_confetti), Misty (@Miss_t_and_me) and Diana (Miss Castelinhos)
Row 3: Erin (The Bug's Bit), Lorna (@bomblesandmookin) and Sara (Made by Sara)
Now for the second test. Several of these ladies had also joined the pre-test and many of them ended up making two or even three versions.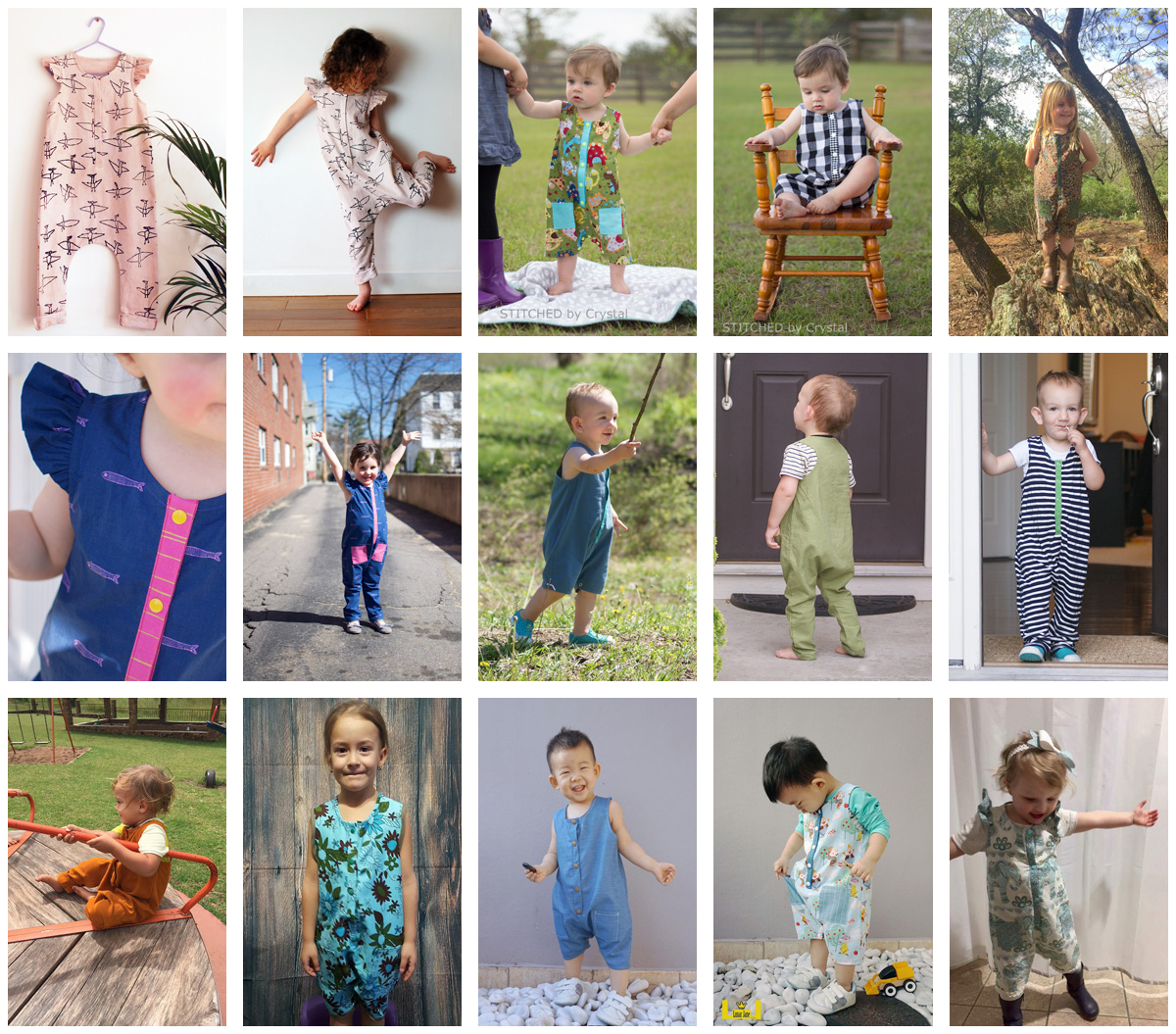 Row 1: Toya (1 & 2, Made by Toya, she has blogged about this amazing hand dyed and screenprinted romper here), Crystal (3 & 4, Stitched by Crystal). Emilia (Be A Maker, and SEW that!)
Row 2: Melissa A (1 & 2, @sewingforellie), Shelly (3, 4 & 5, Sew Shelly Sew, she has blogged about the green one here and the striped – which is made in knit fabric – here)
Row 3: Laura S, Sheri (@bugaboohandmadeitems), Yin (3 & 4, Lunar Jane Creations) and Zoe W
For the next collage I included many of the rompers made for younger babies. I noticed a bit of a trend for black and red.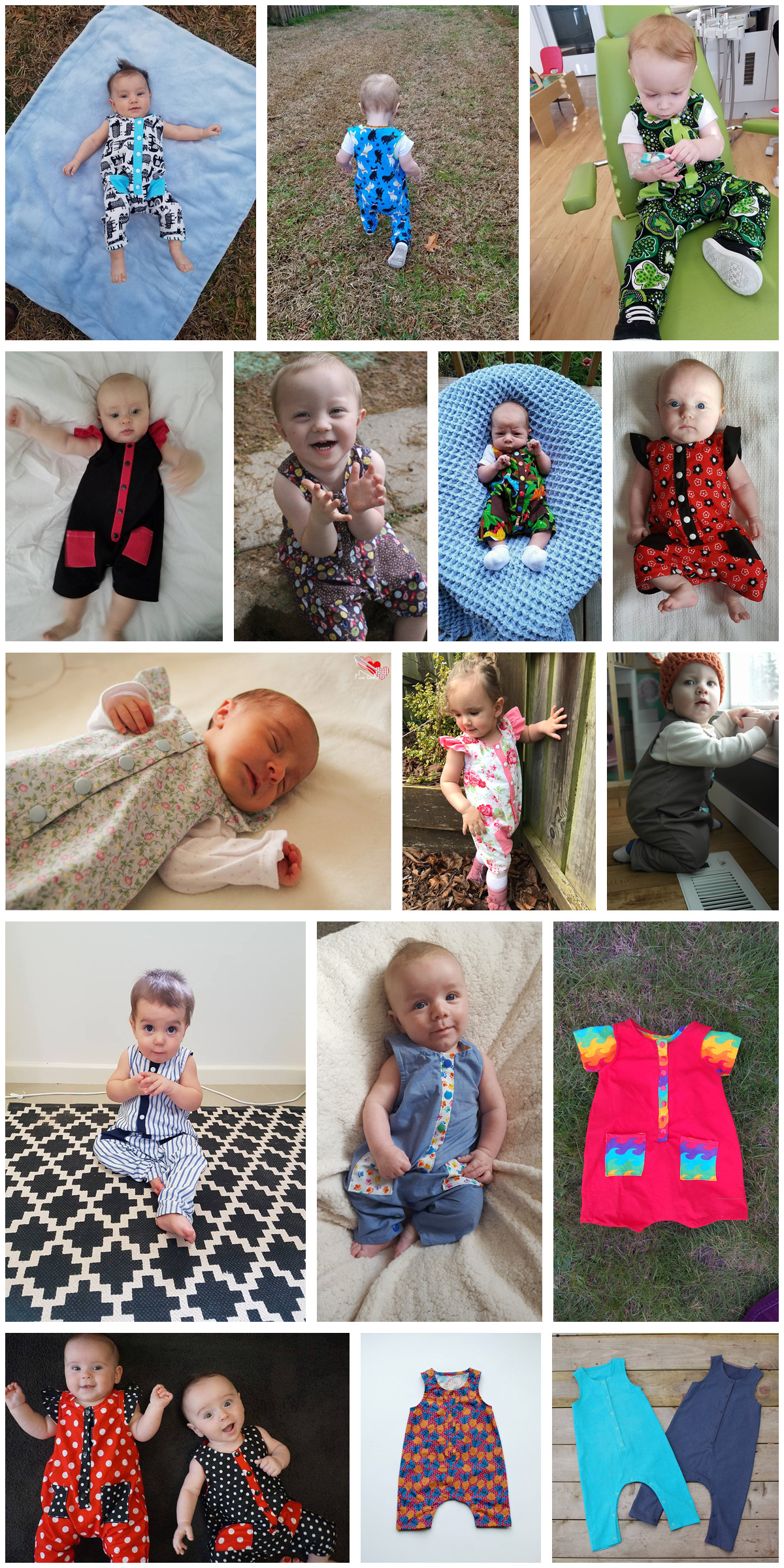 Row 1: , Kayla (all 3!, Kraphts by K)
Row 2: Erin (The Bug's Bit), Jackie (@Jackiekaemmerhenderson), Michelle (Ninja Skeins & Seams), Melissa W (@melwlasniewski)
Row 3: Maria (@3emlinha), Natasha (@Inspired_by_thea), Schayla (@squishbottom)
Row 4: Misty (@Miss_t_and_me), Lorna (2 and 3, @bomblesandmookin)
Row 5: Sue (who made these for her adorable twin grandchildren!), Toya (2 & 3, Made by Toya, she has blogged about all the rompers here, the two on the right were another set made for twins!)
I love seeing them all together and the variety of prints and colours that everyone used. I hope this gives you lots of inspiration for sewing your own Rain Dance Romper.