It's the penultimate day, which means there are only 6 more T-shirts to see. One of the best things about releasing a pattern is seeing what other people make with it. If you've made a Rowan Tee too then I'd love to see – you can add it to the Flickr group or join the Titchy Threads pattern group on Facebook.
Coincidentally all of the three guests today have three children for whom they make amazing clothes.
First we have Erin who writes the blog Hungie Gungie along with her sister Caroline. Both of them have impeccable taste in fabric and sew gorgeous clothes with lovely clean lines. Erin recently shared one of the most stunning dresses I've ever seen here and I know my 6 year old would be so jealous of the fabric that Caroline used for this dress. I love the way Erin has used a white base to show of a stunning graphic print on the sleeve stripes.  Find out all the details here.

Chelise writes the blog Chelise Patterson and mostly sews amazing clothes for her children and takes beautiful photos of them too. She has a really unique style and comes out with such original designs. This dress she made for Sewvivor is just incredible and I was so impressed by this swimsuit where Chelise also designed the fabric. I love the fabric Chelise has used for her T-shirt today – and (again) so would my 6 year old.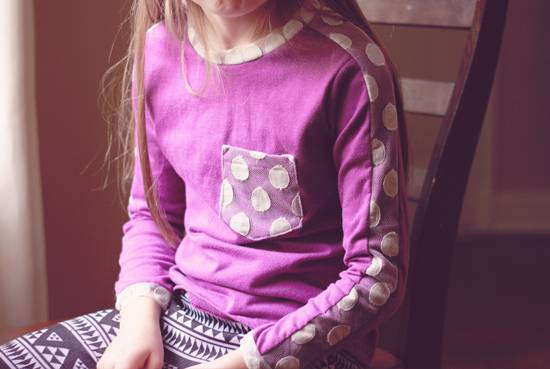 Jacq from Begin with b has three sons and, as a fellow mum of boys, I find her blog so inspiring. She finds the coolest fabrics and upcycles a lot, finding really unusual one of a kind fabrics. I loved the upcycling look she made while competing in Project Run & Play and the jacket she made for week 1 was phenomenal. Like Erin, Jacq has also used a white base to showcase a really fun print on the pocket, read all about it here.