Hello! It's been a while since I posted any sewing here but I'm excited to be joining the Sewing for Kindergarten series today, organised by the lovely and talented Mie of Sewing Like Mad.
So you may be wondering what I've been doing for the last few weeks months. Apart from enjoying the summer holidays with my family I've also been working hard on several patterns. Today is the first time I have shared two of those patterns and I am also showing some more of the options that will come with the Rowan Tee. Casper has to wear uniform to school so I chose to make him to comfortable clothes to change into when he comes home. First I will share the outfit and then further down the post are my answers to a few questions that Mie asked everyone who took part in the series.
The first pattern I am revealing is the Twisted Tank.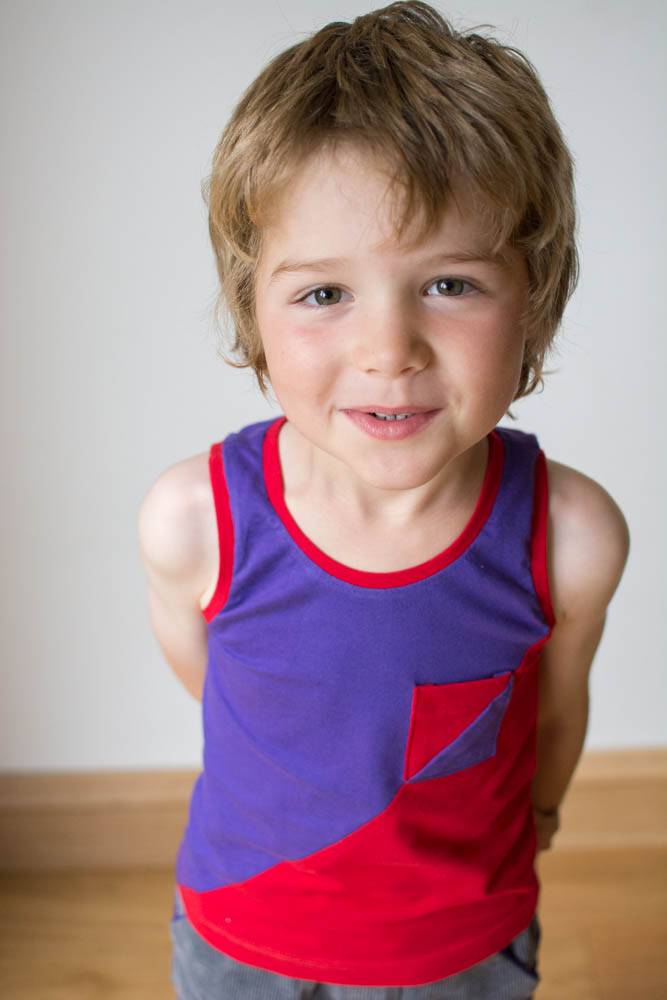 We actually call them vests in England but twisted vest doesn't sound as good. If you follow Mie's blog then you'll know that she's the queen of colour blocking and I have a feeling she is going to like this pattern. There are no side seams as they have twisted round to become front and back diagonal seams. The pocket is also colour blocked and the angle of the diagonal seam matches the angle on the tank.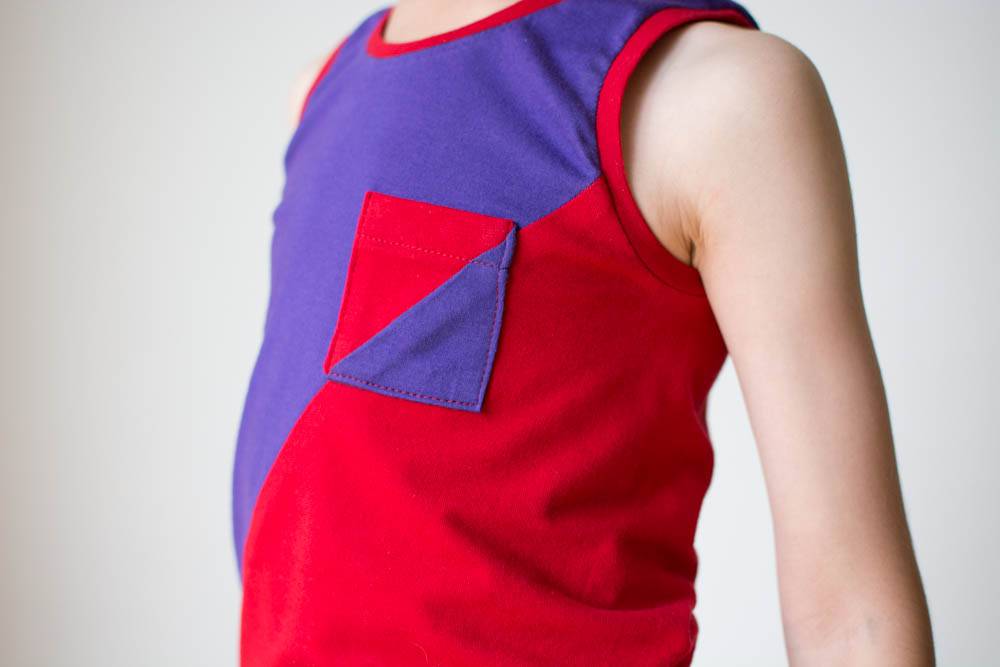 It's designed so the colour at the top (purple here) comes down to a v at the bottom of the hem, as shown below by Casper. This pattern will be available in my Titchy Threads shop some time next week.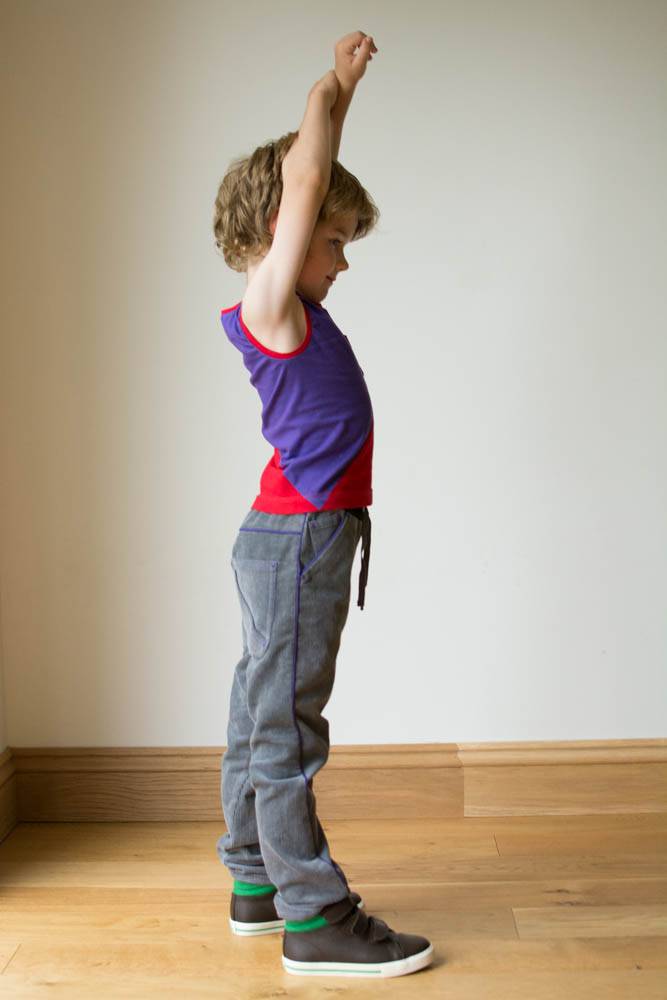 We use vests a lot in winter as an extra layer and I plan to make a few more of these for Casper to wear under his uniform. The red jersey is from Dots n Stripes (found here) and I think the purple is from Tissu fabrics. The red one has spandex in and is a nicer quality.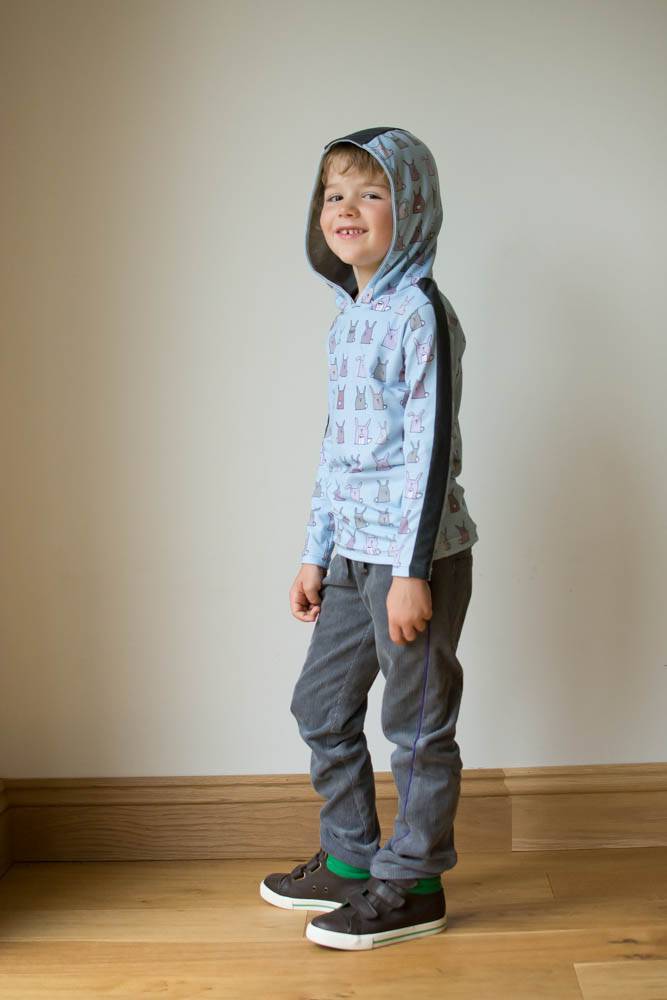 The trousers are another new pattern, called the Twisted Trousers. This time the twist is symmetrical – the side seams twist round to the front and the inseam twists round to the back. It's a subtle detail that adds a bit of interest.
I chose to add some purple piping to the side seams to highlight the twist and to ensure that they get more wear from Casper, as purple is his favourite colour. I even found some purple rivets, which I absolutely love and may be more excited about than Casper. I found them here and plan to get some of the other colours soon.
I had fun playing with the pockets and made one of the back pockets into a sort of double pocket, with an extra diagonal pocket on top of the regular pocket. I think it would need some snaps to make it functional but I love how it looks. I also twisted the angle of the coin pocket.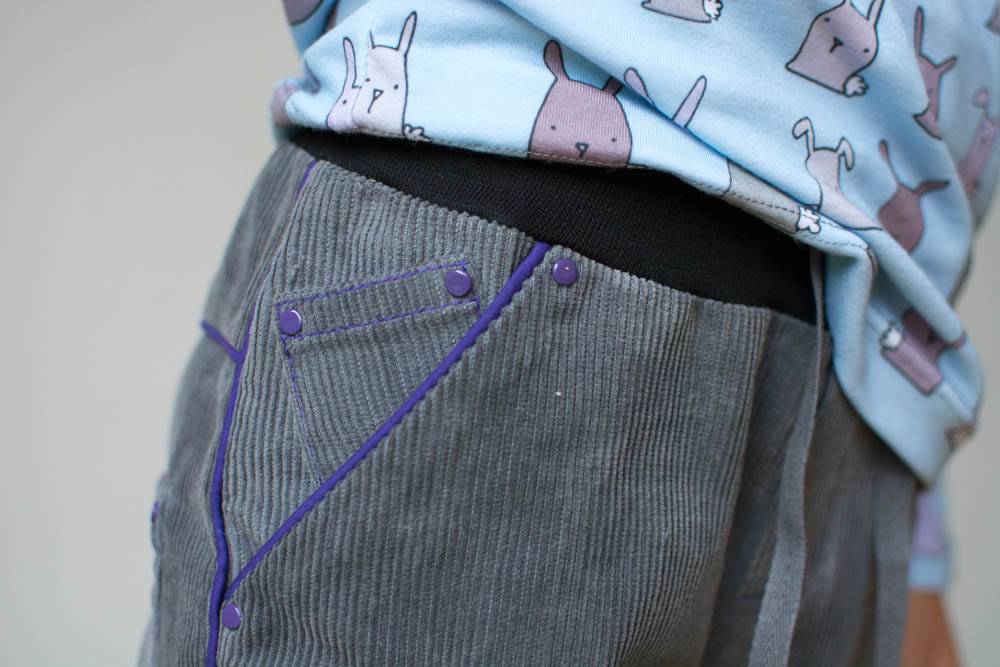 The waistband is a comfortable stretch waistband with drawstring. I've ordered some purple twill tape so will be replacing the grey tape show here when that arrives. Casper thought they were really comfortable and wanted to carry on wearing them even after we had finished taking photos. On a side note – when the kids are at school and have after school clubs 4 times a week it can be difficult to find time to take blog photos.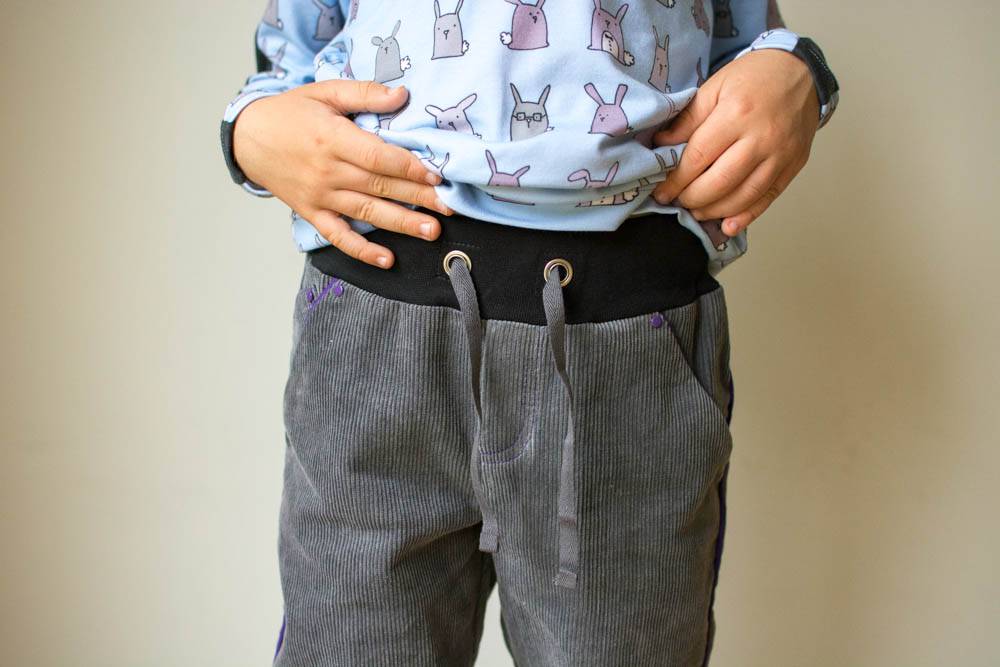 I bought the corduroy a long time ago from Fabricland. They told me it would get softer with each wash but it hasn't. It's a nice weight for trousers though.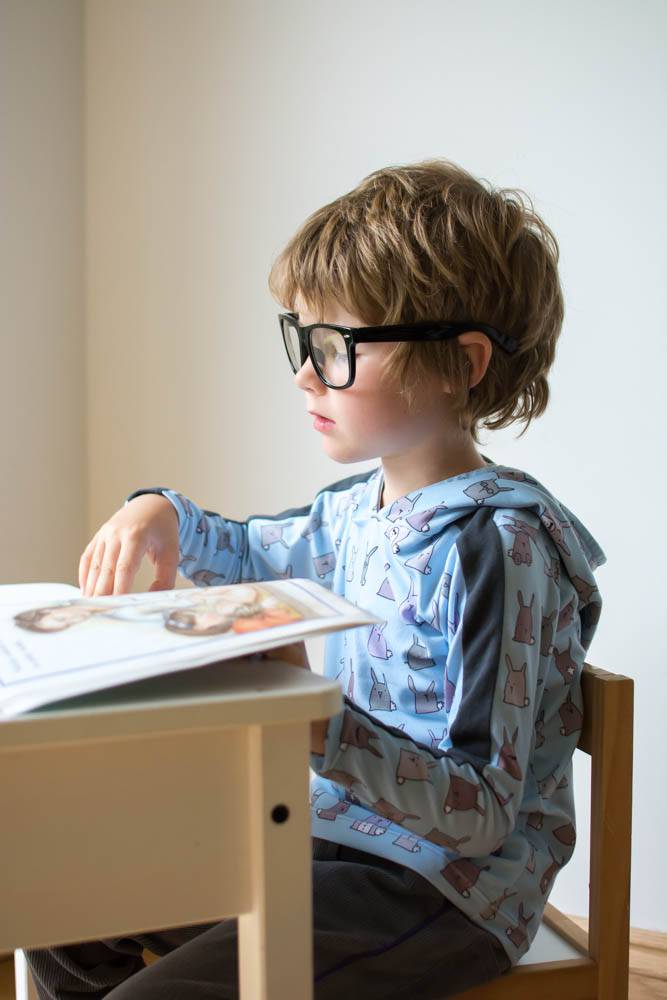 Finally we have the Rowan Tee, which I've already shared here and here. I got the blue bunnies fabric from Spoonflower (on free delivery day) as rabbits are Casper's favourite animal. It's the modern jersey and I'm impressed with the quality and softness of it (although it doesn't seem to be available at the moment). This T-shirt hasn't been washed much yet so I don't know how well the colours hold up on this fabric type.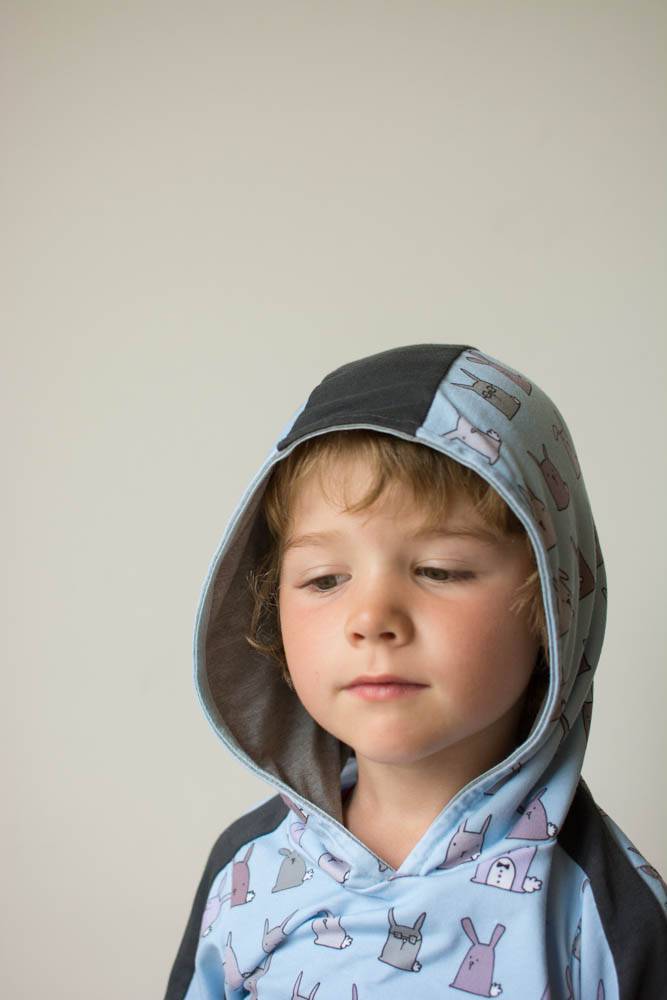 This T-shirt has stripes running down both arms and a hood with a matching strip. When the fabric arrived I asked Casper what he'd like me to make with it and he asked for a hooded T-shirt so he's happy with it.  I lined the hood with a light grey jersey and finished the front edge with some light blue twill tape.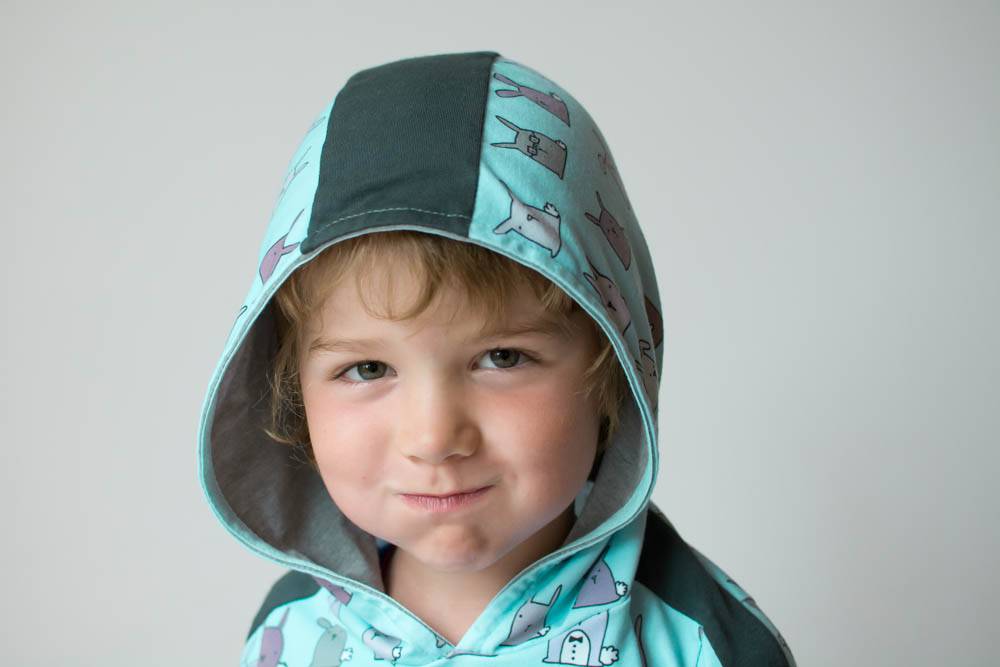 The hood is a bit larger than normal so Casper can wear it comfortably as he's got quite a large head.
Is this your first time sending a child to Kindergarten / school?
Yes. Casper is my eldest child. We live in England and he actually started school a year ago but if we lived in America then he would be starting Kindergarten now. Children are 4 when they start school here and the first year is called reception year. We were very lucky that Casper had an amazing teacher last year and settled in really well. After a few nerves this year he is now enjoying year 1 as well.
Do you feel like crying or celebrating?
Both. Celebrating because Casper is ready for this but crying because it's another milestone that has passed – and because we have to get up early every day now (I am not a morning person).
And what about your child?
Casper has always been very shy so I was very relieved when he went to school happily and didn't even get upset leaving us on his first day. He has made lots of friends and really enjoys the challenges that school provides.
What type of school (public, private, homeschool) will your child attend?
It is a state school, which means it is free. In England it's a bit confusing because a public school is a fee paying school. Make sense? No, it doesn't to me either.
What was your own first day of school like (if you remember ;-)?
I don't remember my first day but one of my earliest memories is of being deliberately naughty at my first school. Fortunately we moved area when I was 6 and my behaviour improved after that.
This is the last day of Sewing for Kindergarten but make sure to check out some of the other guests' posts if you are looking for some more inspiration. When I take part in blog series I normally sign up for the latest day possible and this time I ended up sharing the date with my good friend Celina. If her post today is anything like last year's then you'll definitely want take a look.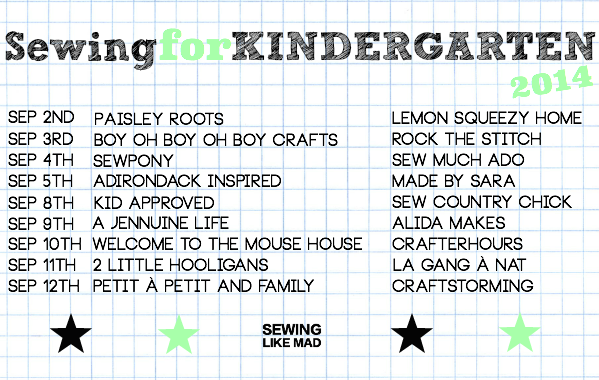 Thank you Mie for inviting me to take part today!