I am very happy to have Hayley from Welcome to the Mouse House as my guest today. Hayley is a new friend and in the short time I've known her I've been amazed by the amount of things she gets done, I don't think she ever stops. I mostly knew Hayley's blog for her sewing – she did win Project Run and Play a few seasons ago after all. Hayley is one of those all round crafty people though and also writes about embroidery, home decor (I'm so jealous of her craft room), baking and all sorts of other crafts.
You will find a lot of tutorials on the blog and Hayley has also reviewed a lot of sewing patterns. After three years of sewing custom orders Hayley started releasing her own patterns recently. She already has the Norah Dress and the women's Julia Cardigan in her shop and today you get to see what her third pattern will be.
*****
Hey guys! My name is Hayley from Welcome to the Mouse House and I am so excited to be over here for Suzanne and Laura's awesome Christmas series filled with so much inspiration.
Every year, I have plans. Big, big plans that involve beautifully hand-sewn clothing for both kids, a house impeccably decorated, and special handmade gifts for every single teacher. And every year, I feel as if I have let myself down because I can't do it. I can't find the time and I can't seem to manage it all. I think this is the first year I have realized that the only person that cares…
My kids, my husband, my family… they don't care. What they do care about is that I am there to share memories with them and this year I threw in the towel and gave up on trying to do it all.
My house isn't decorated yet (in fact, it is a mess), I went out and bought Ethan's outfit (which is super cute, by the way), and I gave up on trying to get those professional style shots that I see all over my facebook page. The bottom line is that I am definitely not a professional photographer, but hey, I got some cute shots of my kids that show how much they love each other.
Look at these kids!
Tonight, we are visiting Santa and we will spend the afternoon drawing pictures for all of the elves (according to Ainsley, there are 5 elves and one kitty). I think this year is going to be awesome because they are both old enough for the pure joy and excitement of seeing Santa.
Ethan's whole outfit is from target and I adore the button up so much with the chambray and contrasting white stitching.
Ainsley's dress was created from my own pattern (The Caroline Party Dress will be out mid-December!) and I used Michael Miller polka dot for the main and gold lame for the collar. The underskirt has gold tulle for a fun pop of cuteness.
It was nearly impossible to get these two to cooperate for pictures, so I let them enjoy themselves and they sure did!
They really do adore each other.
Look at Ethan's face!
Even though the photos didn't turn out quite like I had imagined, it was fun and I see how happy they are to just be themselves.
Thanks so much for having me! I hope that everyone has an enjoyable and relaxing holiday season (and I promise to relax a bit).
Be sure to check out the amazing bloggers in the lineup!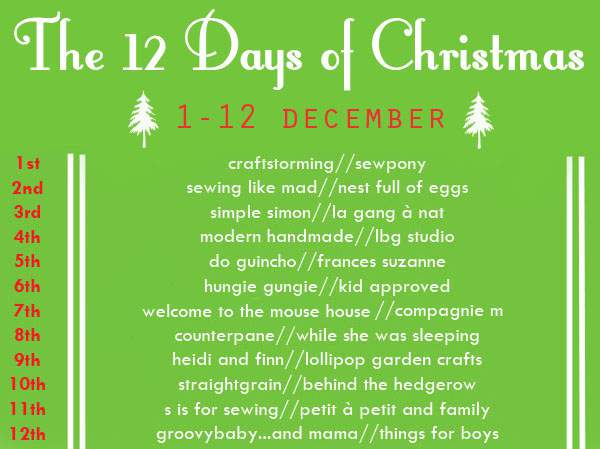 *****
You have such cute children Hayley and those photos are adorable. Both their outfits are lovely and co-ordinate really well. The Caroline Party Dress is really special, I'm sure it will be a very popular pattern. Thank you for being my guest today!
Now hop on over to Sewpony to see what her guest, Olga of Kid Approved, has made today.

On the seventh day of Christmas,
my true love sent to me
Seven swans a-swimming,
Six geese a-laying,
Five golden rings,
Four calling birds,
Three French hens,
Two turtle doves,
And a partridge in a pear tree.