Today's guest is the lovely Erin, who blogs with her sister Caroline at Hungie Gungie. Their blog is such a fun place to visit and always makes me wish I could pop round. Between the two of them they have six very well dressed children. If you didn't see their guest post for Vintage May then you have to take a look! Some of my other favourites include this adorable Debbie's birthday dress and this beautiful Roza blouse Erin made for herself. Erin has outdone herself again today and has made amazing outfits for all three of her children.
*****
Hey there Craftstorming readers!
I'm Erin and I blog with my sister, Caroline over at Hungie Gungie.  We live in Charlottesville, Virginia and I've got to say how cool it is that people from all different parts of the world are participating in this series that Suz and Laura conjured up. I'm so happy to be a part of it!
I love Christmas so much.  I swear I even saw (the real) Santa once when I was little.
No really, I did!
It doesn't matter what your Christmas traditions are.  Just as long as you've got 'em.  I grew up in Connecticut with my two older sisters (Erika and Caroline) and my parents.  We always spent Christmas day together at home. We'd un-wrap presents in the living room, Christmas music would be playing, we'd devour the annual Entenmann's cheese crumb coffeecake– I still try to make it to my parent's house on Christmas in time to snag the last end piece in the box.  So so good!
I remember certain years better than others.  The year we got a Nintendo, or when I was 9 and wished so hard for this ventriloquist doll named Lester that I saw in the JCPenney catalog (I got him and LOVED him), the year my Mom got me a guitar taught me how to play 'Leaving on a Jet Plane' before the day was over.  The movies we watched and often recited- Rudolph the Red-Nosed Reindeer (I've professed my love for this movie and it's characters here), Home Alone ("Kevin, you're what the French call…les incompetents") and Miracle on 34th street- the original of course!- are my absolute faves.  Christmas music brings back SO many memories… Caroline and I used to make up crazy dance routines in the living room to Harry Simeone's Little Drummer Boy and the Hallelujah chorus.  I WISH we had that on video so I could show my own kids.  Hilarious, I can assure you.
Even though it was just the five of us, my Mom always made a fancy dinner- pulling out the silver, crystal wine glasses, and enlisting one of us girls to iron the white napkins.  My sisters and I eventually got used to the Mannheim Steamroller album that would play in the background at every one of those amazing meals.
We have new traditions now that we have families of our own.  My Mom is so awesome- she bakes and assembles the cutest gingerbread houses for each grandchild to decorate at her house on some Sunday afternoon in December- complete with frosting-filled piping bags, and lots of candy on the table.  It has become a special day that we all look forward to.
Now.  Onto the clothes!
We are an easy-going crew when it comes to the actual day of Christmas, and I wanted to reflect that in these clothes for my kids.  These are clothes that they will put on sometime around noon to go to my parent's house for a full day of playing with their cousins.  They are clothes that my children could fall asleep in on the couch, or in the car, or top of a plate of cookies or a pile of wrapping paper.
They are casual and comfortable, but also a little special.
We'll start with Grant since his outfit was the first one that came to mind when I signed on for this series.   I don't sew for him enough, and I had a blast making these!  The pants are made with a charcoal pinstripe that used to be my husband's pants.  I used Rae's Parsley pants pattern and the fit is spot on.  The Knee pads, er… TREE pads, hehe… were made simply by backing some green kona cotton with a little interfacing.  I cut the shape out and stitched them on with metallic gold thread around the edge.  A little brown wool felt for the trunk. The red piping on the pockets was a last minute decision that I'm glad I went with!  The shirt is a Flashback Skinny Tee (made from a shirt of my husband's- thank you, dear!) with a little freezer paper stencil and fabric paint.
Grant is my picky eater.  He wouldn't touch fruitcake with a ten foot candy cane!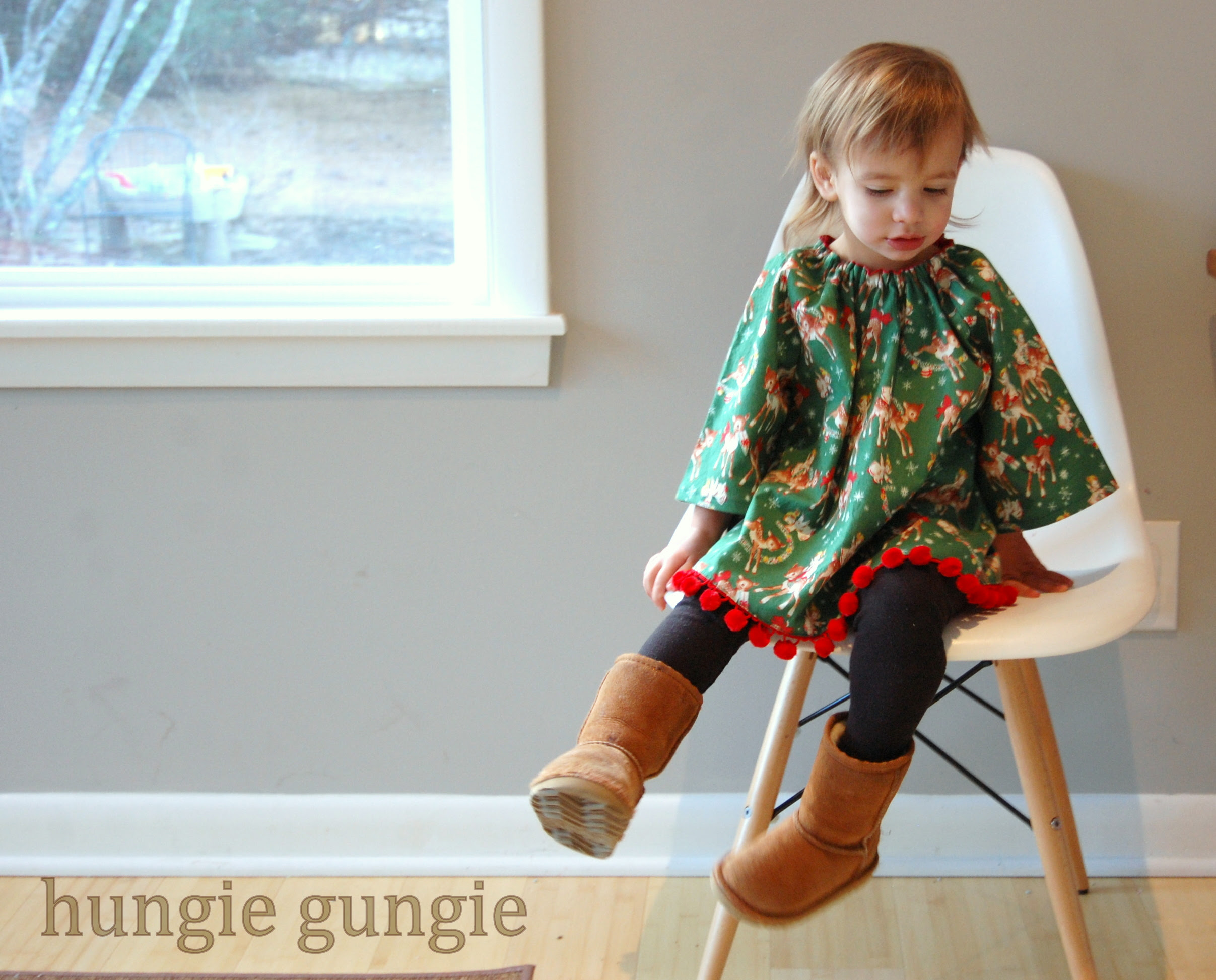 Next up is Corinne in her Pierrot (another great pattern from Rae) sans the ruffle at the collar.  I found this cute little vintage-inspired print at Joann, and it was too sweet to pass up.  I considered adding an elastic casing to the sleeves like I did here, but decided to just go with it as is… I'm kind of digging the toddler tree skirt look!
The red pom-pom trim was necessary.  I mean, come on!
Ellery's top was pretty last minute- I didn't plan on sewing for each one of my kids just because things have been so busy lately, but you KNOW she was eyeing those red pom-poms.  So I dug around my patterns this past weekend and found the September Tunic pattern (by Too Sweets) already cut out.  Done.
Thank you, old self!
I used lightweight red gingham from my stash, and some black pom-pom trim from Joann.  Instead of buttons all down the back, I used snaps on the skirt half, and a little black ribbon at the top of the bodice to close it.  Ell loves it to bits- we both fell hard for those bell sleeves.
And that's it!  I wish you all a happy holiday season.  Thanks so much for having me, Laura- this was fun!
–Erin
*****
I love Grant's outfit so much Erin! The tree pads are so fun and I totally agree with the T-shirt slogan. The girls' outfits are amazing too, that deer print is gorgeous and the pom pom trim makes both tops so festive. Your family traditions sound absolutely perfect too. Do you still have that Lester doll to entertain everyone after dinner? Thanks so much for being here today!
Make sure you go and visit Sewpony. I can't wait to see what Marte from Compagnie M. has made today.

On the sixth day of Christmas,
my true love sent to me
Six geese a-laying,
Five golden rings,
Four calling birds,
Three French hens,
Two turtle doves,
And a partridge in a pear tree.