We are moving into the second week of the series today and I have been so impressed by the amazing creations everyone has shared. There are already a lot of wonderful outfits in the Flickr group too. Don't forget to share your photos there if you have been sewing Christmas clothes for your children.
Today's guest is my lovely friend Corey from Counterpane Crafts. She lives in the suburbs of New York City with her husband and four gorgeous children. I first discovered Corey's blog during the first Kid's Clothes Week I took part in and I get really excited whenever she has a new post. I always love the fabrics she uses and on several occasions I have ended up buying those fabrics soon after reading her posts.
In addition to sewing Corey also knits and shares vegan recipes. It was hard to choose but some of my favourite things she's made have been this stunning Echo quilt, this gorgeous knitted sweater (that led me to buy the fabric she used for the trousers) and these hand painted swaddling blankets. Corey also sells some quilts in her Etsy shop, Cry Baby Quilts. Take it away Corey.
*****
Happy Holidays everyone and a huge thank you to Laura and Suz for including me in this blog series! This is my first ever guest blog post, and I'm really excited to be here among my favorite craft bloggers.
On this, the eighth day of the blog series, I'm going to share how our family celebrates the the eight nights of Hanukkah… with a twist. You see, while I grew up in a Jewish family celebrating Hanukkah every winter, my husband grew up in a Christian family celebrating Christmas. So though we have committed to raising our four children as Jews, we mix it up every year with a few subtle nods to Christmas. In the past we've done this by hanging a single handmade stocking for my husband, or reading cheeky holiday tales like The Latke Who Couldn't Stop Screaming by Lemony Snicket. This year I decided to make Lederhosen. Wait…what? Lederhosen? Yes. Lederhosen. Check out this photo of my husband as a little boy and I think you will know why.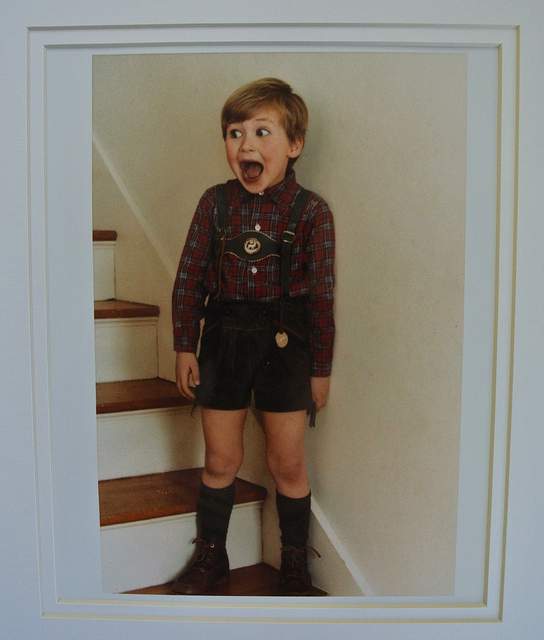 So. Crazy. Cute. Right?
This photo graced the landing of the staircase in our home for the past 8+ years. Up and down we walked, getting a giggle out of daddy in his lederhosen. We moved to a new house two weeks ago, and this photo was the last to be taken down, and the first to be hung in our new house. There is just something about it that we all enjoy so very much, and when I asked our 5 year old son if he was game for a recreation, he smiled a sly little smile and agreed. This is what we came up with.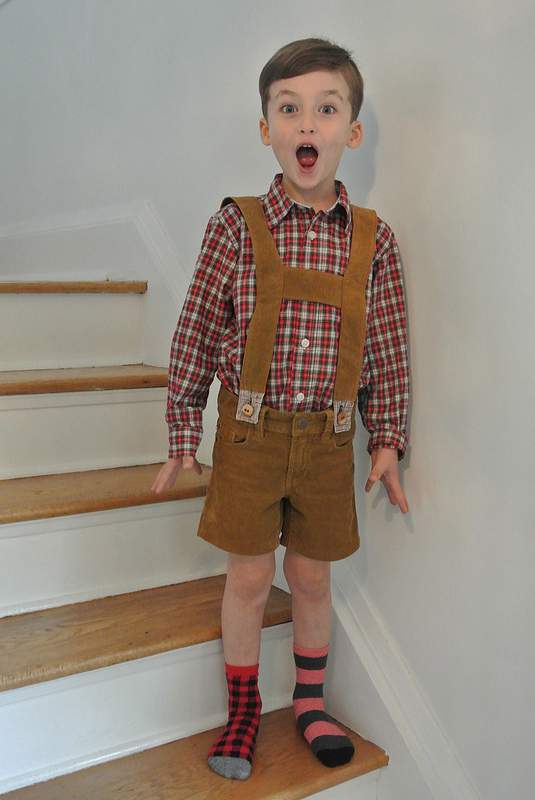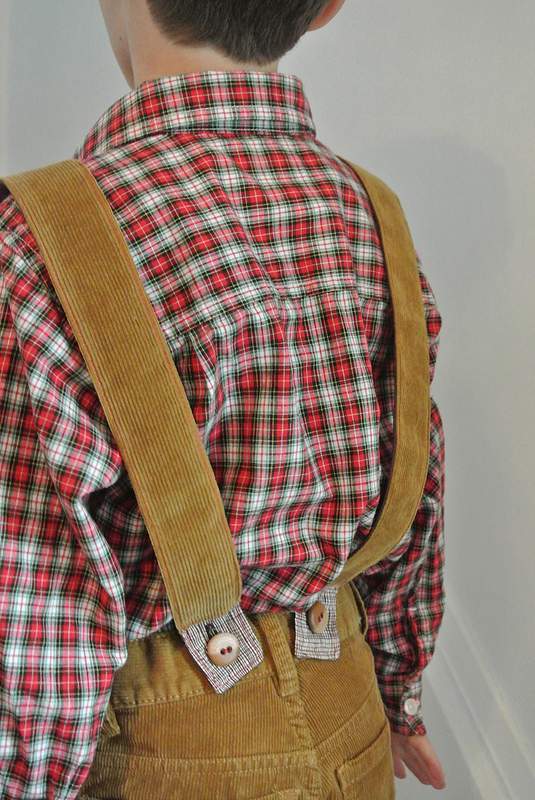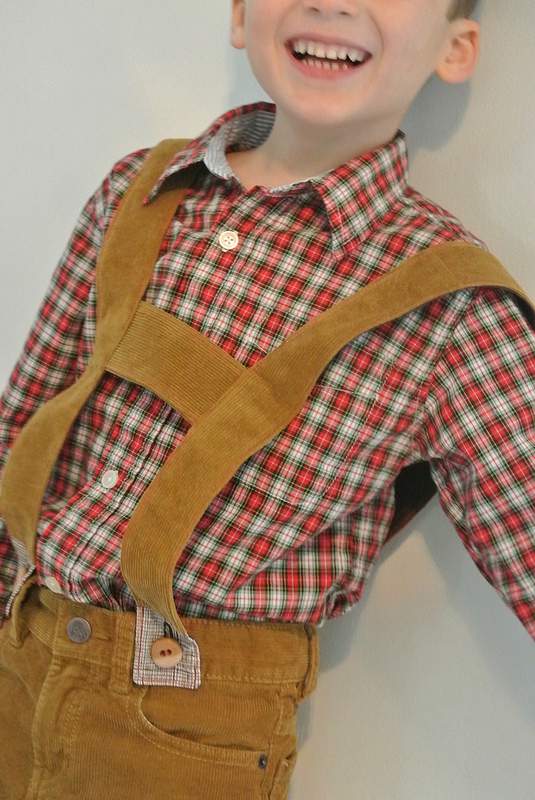 Now I must confess that in the midst of moving our home and four children I allowed myself many shortcuts in re-creating what I came to think of as "the lederhosen look."  I purchased the shirt, and made the suspender shorts using a pair of corduroy pants that I knew fit my boy well. First, I cut the legs of the pants off above the knee and hemmed them into shorts. Then I used the corduroy from the legs to create the detachable suspenders. I did not use a pattern for the suspenders, but while packing my sewing books, I discovered that an adaptation of the Suspender Shorts in Sewing for Boys, would have worked very well here.
It took little to convince this little man to wear his new outfit for the first night of Hanukkah (shorts in winter – hooray!), nor did I have to ask twice to get him to participate in our favorite Hanukkah traditions. Every evening of Hanukkah we light Menorahs. Each child three and over has their own Menorah in our house, and they love taking turns lighting them while reciting the traditional Hanukkah blessing.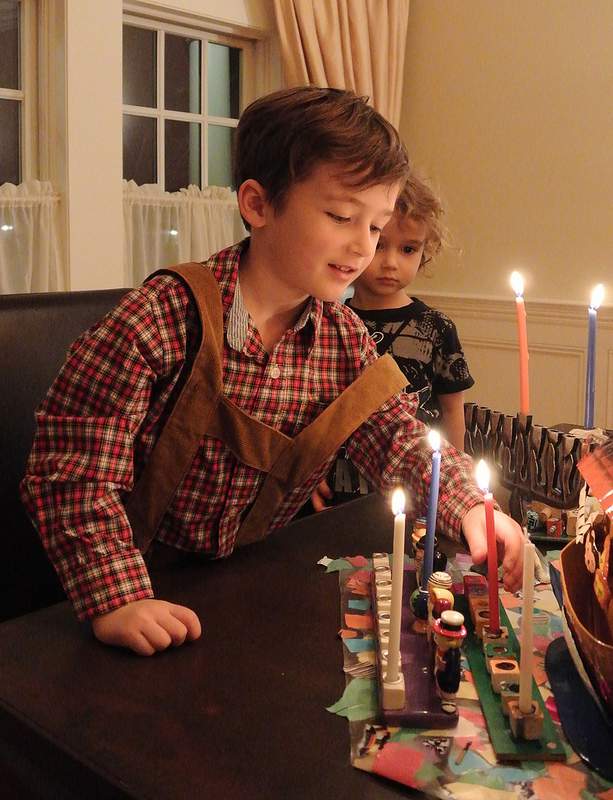 After candles we eat! I made loads of traditional Hanukkah potato pancakes, or latkes, this year. We usually eat them with applesauce, but others like them with sour cream, or even jam. Because Hanukkah coincided with Thanksgiving here in the U.S. this year, we also had cranberry sauce with our latkes this year. Serious yum.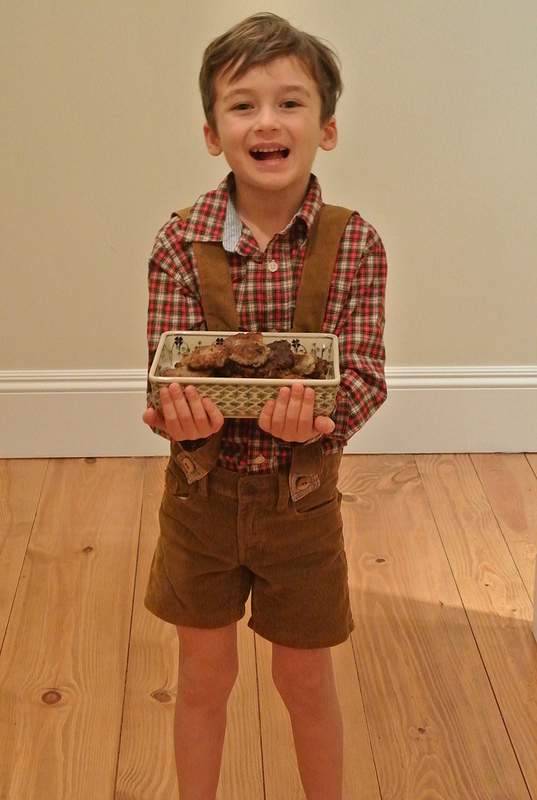 The soundtrack of our Hanukkah holiday has been the hilarious album Chanukah Fever by The Mama Doni Band for the past 3 years running. We listen to it in the car, and in school when I go to celebrate Hanukkah with my kids' classes. We even listen to it while playing games of dreidel at home. Dreidel is basicly a betting game played with spinning tops. Kids often play with a pot of chocolate Hanukkah gelt, but this year I gave my kids cereal to play with after the first round of gelt was eaten. Chocolate every evening after dinner can make for eight crazy nights in my house, and I like to sleep sometimes!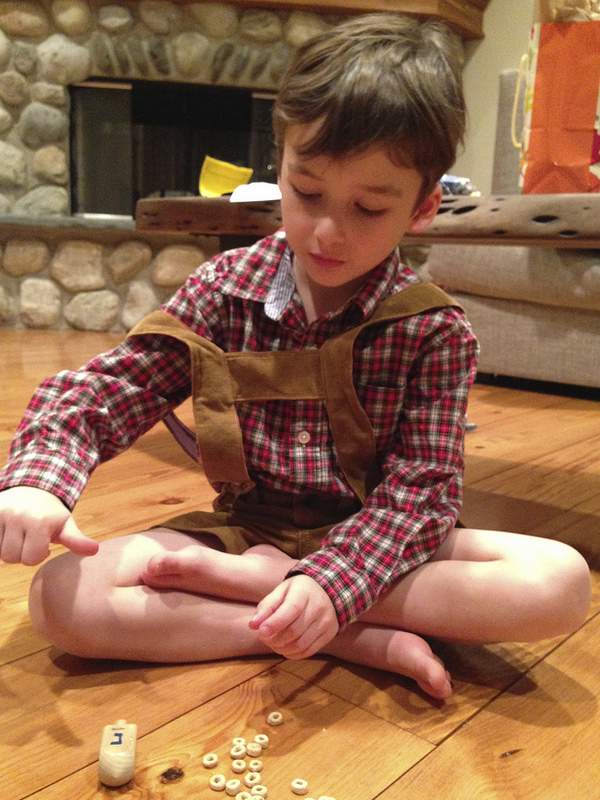 So there you have it. Hanukkah…with a twist. Happy Holidays everyone! And thanks again to Laura and Suz for having me.
*****
That is such a fun idea to recreate the childhood photo of your husband Corey and the photo of your version is just as cute. You were very clever to use the bottom of the trousers for the suspenders. It was really interesting to read about your traditions, thank you for taking part!
Today's guest on Sewpony is Jenya from 'While she was sleeping'. Click on the button below to see what she's made.

On the eighth day of Christmas,
my true love sent to me
Eight maids a-milking,
Seven swans a-swimming,
Six geese a-laying,
Five golden rings,
Four calling birds,
Three French hens,
Two turtle doves,
And a partridge in a pear tree.