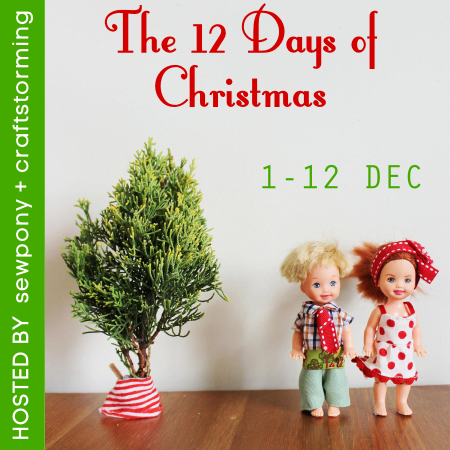 I am very happy to announce 'The 12 Days of Christmas' series today. A few weeks ago Suz of Sewpony contacted me asking if I'd like to take part in this series. This would involve sewing an outfit I would like my child/children to wear on Christmas Day. I thought this was such a lovely idea and immediately started going through possible outfit ideas in my head. I love Christmas, and it's even more special now I have children so I was really looking forward to creating something special for them to wear on the day.
After a few more emails back and forth Suz surprised me by asking if I'd like to co-host. Of course I jumped at the chance to work together on something so fun. Suz creates beautiful clothes for her three daughters (and herself) and has hosted two other fantastic series this year (do take a look if you haven't seen them already). I also thought it would be a great chance to get to know her better.
So from the 1-12 December, Suz and I will host 22 bloggers (plus ourselves) and will share what we have made for our children as well as how we spend Christmas now and also share some of our favourite childhood Christmas memories.  We will synchronise our posts to publish at 10am GMT (Greenwich Mean Time) over these days.
Sound good?  Now…who are the guests?
Suz and I thought a lot about who to invite as we wanted to include a range of blogs – from small to large from different parts of the world.  On our list are bloggers from Australia, England, America, Denmark, Belgium, Portugal and Canada (with a hint of Russian from one of our bloggers too).  To our pleasant surprise, some of our guests are from different religious backgrounds, being Jewish and Buddhist.  These religions do not celebrate Christmas officially but they still enjoy the festive season and we are excited to hear how people's stories differ. Some blogs have less than 100 followers, while some have over 1000.  Here is the guest list….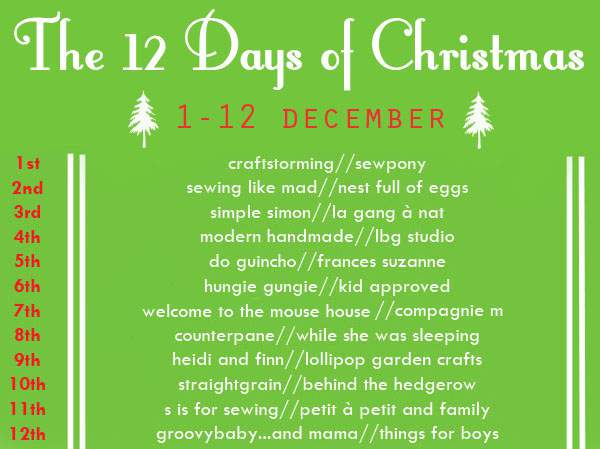 You can hover and click on any of the blog names on this calendar to visit that blog (right click to open in a new tab). I used this great tutorial to create the embedded links.
We have also created a flickr group if you would like to share what you have made for your child/children for Christmas (clothing only).  Suz and I will do a round up a week or so before Christmas of any sewers who would like to sew along and share in the group!  Feel free to join the flickr group whenever you like. If you wish to sew along and have a blog then you are very welcome to grab the button below.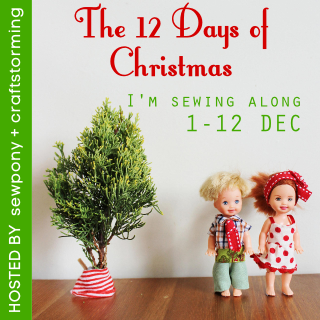 We have also created a pinterest board you can follow  If you would like to see what guests are pinning and perhaps be inspired to sew something festive too.
We are excited!!  We hope you are excited too and would love you to sew along and tune in here, and over at Sewpony, from the 1-12 December!!