Today I am very happy to be joining the roly-poly-along, a blog tour for the Roly Poly Pinafore pattern by Rachael of Imagine Gnats. I also have a copy of the pattern to giveaway.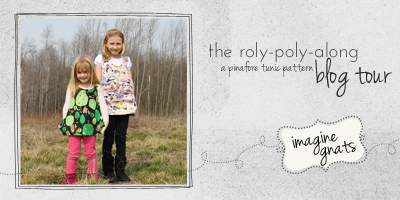 I was really excited when my friend Rachael asked me to join the tour. It's such a cute pattern and it was great to sew something for girls for a change. My cousin's daughter's 9th birthday was approaching so I thought it would make the perfect present. Picking fabric was not easy though – I think it was a combination of choosing for someone who wasn't my child and also for a girl. My inspiration came when I saw this amazing bag by Gail of Probaby Actually. I thought the butterflies would work really well running down the centre at the front. The fabric is Ghost Wing in Dusk by Anna Maria Horner and I had been looking for an excuse to use it. I couldn't find it anywhere in the UK though so ordered it from Sew Love Fabrics on Etsy. Ruth, the owner of the shop, was so helpful and sent it out straight away for me.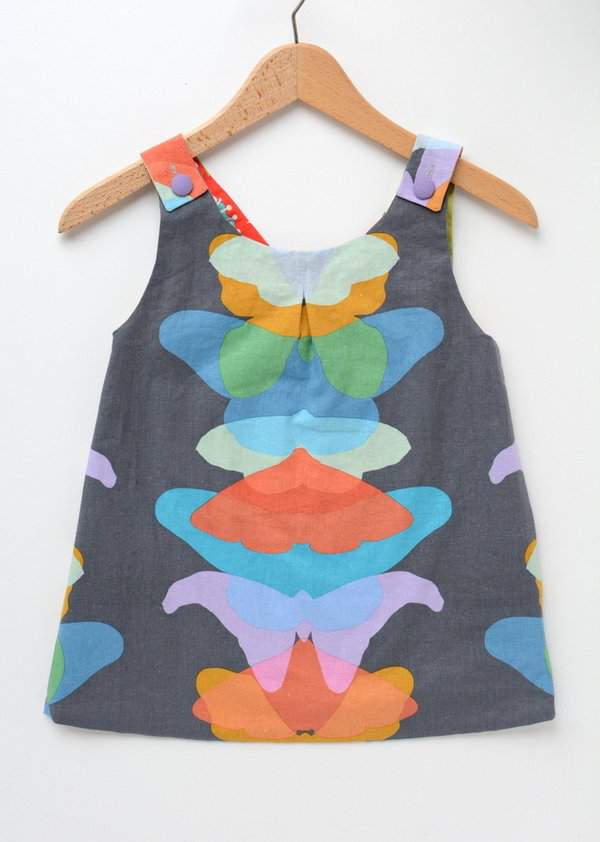 I am so happy with it and really like the effect the little pleat at the top had on the butterflies. The pattern is available (here) in sizes from 6 months up to age 10, a great range. There are two different ways to add pockets and it is really easy to make the pinafore completely reversible. It would be a great pattern for beginners. My favourite thing about the pattern though is the back…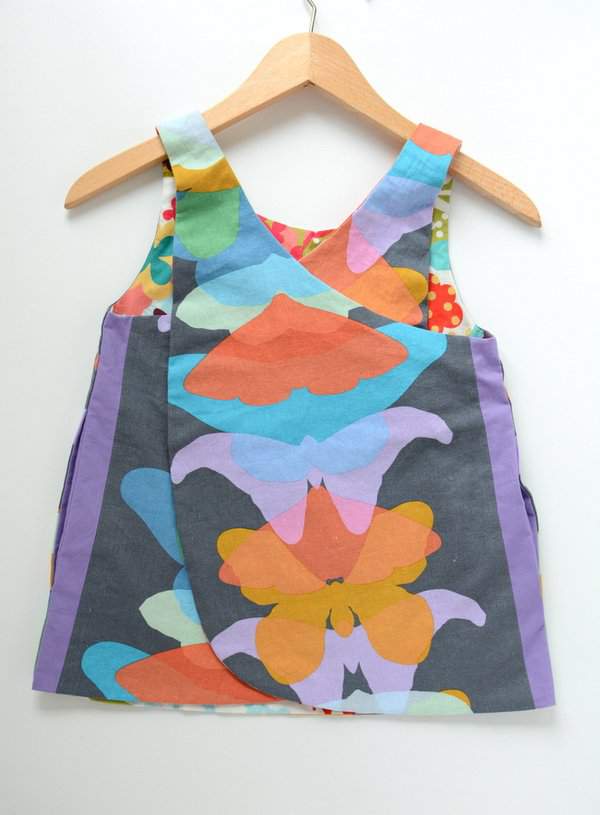 I love the way the two pieces overlap and this looks even better when it's being worn. I ran into a few problems deciding how to cut these pieces. The butterfly print is a very large scale, directional repeat. As I found out this isn't ideal for children's clothes. I spent quite a while trying to cut my pieces and realised I'd either have to cut so you couldn't really see the butterflies or waste a lot of fabric. Finally I came up with the solution to add some side panels. This meant that in total for the size 8 I used less than a yard of the butterfly fabric for the outer. The purple fabric came from a rainbow selection of fat quarters I bought a while ago. Here is a wide shot.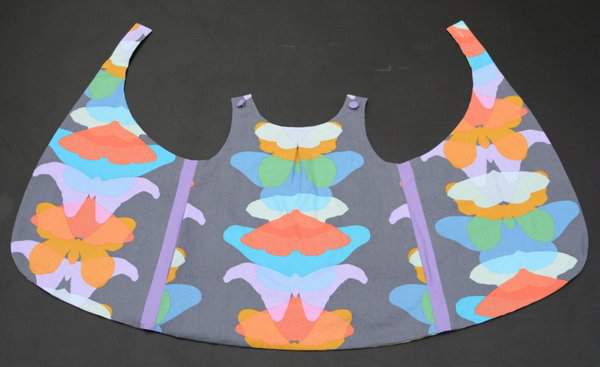 I've got a quick tutorial for you to show you how to add the panels.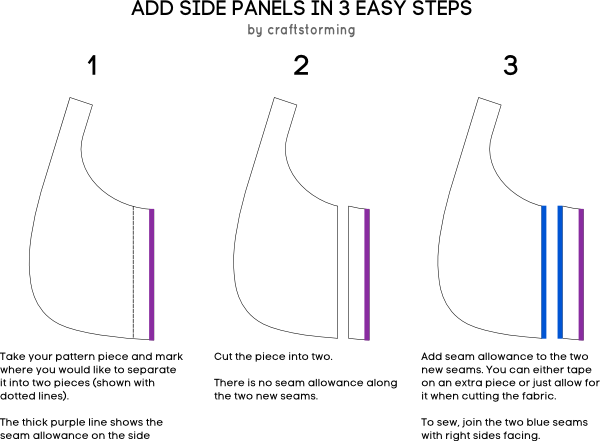 One thing to note is that if you're adding separate pockets to the front then you can't use attached in-seam pockets for the back pieces, at least not without adjusting where you combine the pattern pieces together. I can't imagine many people would try this anyway – I was just trying to make it quicker as I also used the purple fabric for the pockets.
For the other side I used a different butterfly print, fortunately with a more random design. This was one of the first fabrics I ever bought – it's from the Just Wing It collection by MoMo for Moda and I think it's out of print. I had been hoarding it for the perfect project and decided that this was it. I have left off the buttons on this side so Ella can decide if she would like it to be reversible or not.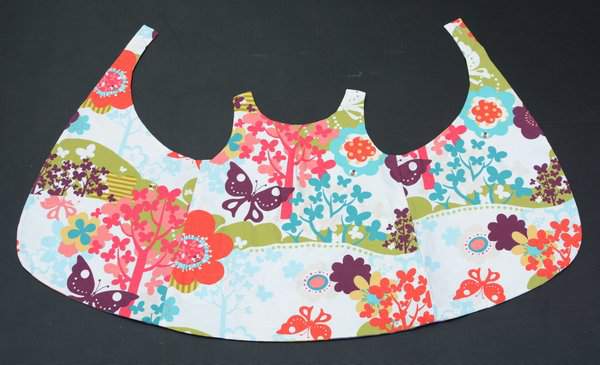 I added pockets to both sides and, as it was a birthday present, I used the letters on my sewing machine to add the birthday girl's name in the pocket. Thanks for the suggestion Abby.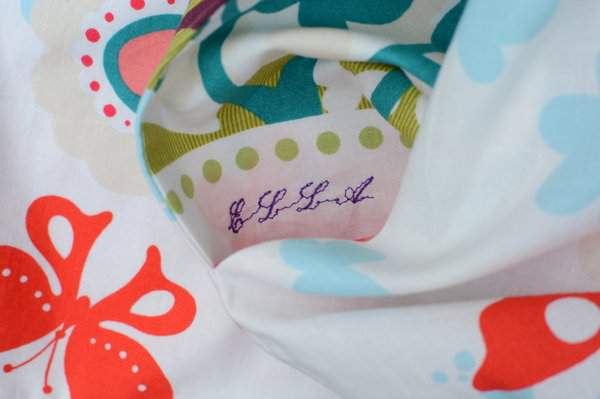 I will be giving this to Ella this weekend so I'm keeping my fingers crossed that she likes it!
This is the schedule for everyone taking part in the roly-poly-along.
5.13 Jill Made with Moxie / Stephanie The Crafty Kitty
5.14 Stephanie NeurosesGalore / Cherie you & mie
5.15 Ari Max California / Caila Caila Made
5.16 Veronica SewVery / Tara Girl like the sea
5.17 Nancy owen's olivia / Adrianna Crafterhours
5.20 Ajaire Call ajaire / Sarah EmmylouBeeDoo
5.21 Laura Craftstorming / Jessica a little gray
5.22 Frances Miss Matatabi / Nicke kiss kiss quilt
5.23 Amy formwork design / Kat Sew Chibi
5.24 Joanne Rose & Dahlia / Amanda Kitschy Coo
5.27 Celina Petit a Petit and family / Delia Delia Creates
5.28 Christy a.Amelia handmade / Carolyn Fake It While You Make It
5.29 Bonnie Fishsticks Designs / Maria La Inglesita
5.30 Jane Buzzmills / Kate Things for Charlie
5.31 Polly Jack & GeeGee / Molly Rose & Odin
There have been some pretty amazing versions already – I think this one has to be my favourite so far, closely followed by this one or this one. You can also look at the Imagine Gnats Flickr group for more versions.
So, would you like to win a copy? Just leave a comment on this post telling me who you'd like to make one for. For an extra entry like Craftstorming on Facebook and leave a separate comment telling me you've done that. The giveaway will end this Friday (24th) at midnight BST. Good luck everyone! If you're desperate to sew up a Roly Poly right now and can't wait then you can buy the pattern here.