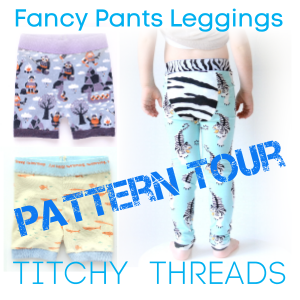 I have some exciting news! I have gathered together some of my favourite bloggers for my very first pattern tour and you don't have to wait long as it starts on Monday.
Here is the list of talented ladies who will each be featuring their own versions of the Fancy Pants Leggings over the next two weeks
20th – Abby from Things for Boys
21st – Rachael from Imagine Gnats
22nd – Celina from Petit à Petit and Family
23rd – Jane from Buzzmills
24th – Heather from Feather's Flight
27th – Stacey from Boy, oh Boy, oh Boy
28th – Gail from Probably Actually
29th – Jenny from The Southern Institute
30th – Ros from Sew Delicious
31st – Carla from Small + Friendly
Anyone is welcome to sew along. You can buy the pattern here and it still has 20% off with the code SMS20 until then end of tomorrow. Don't forget to add pictures of your Fancy Pants Leggings to the Titchy Threads Flickr group. There have been quite a few different ones popping up in there and I'll do a round up at the end of the tour. If you have a blog then feel free to grab a button (from the top of the post) using the code below.
<a href="http://www.craftstorming.com/2013/05/fancy-pants-leggings-pattern-tour"><img src="http://www.craftstorming.com/wp-content/uploads/2013/05/fancypantspatterntourbutton.png" border="0″ height="170″ width="170″></a>