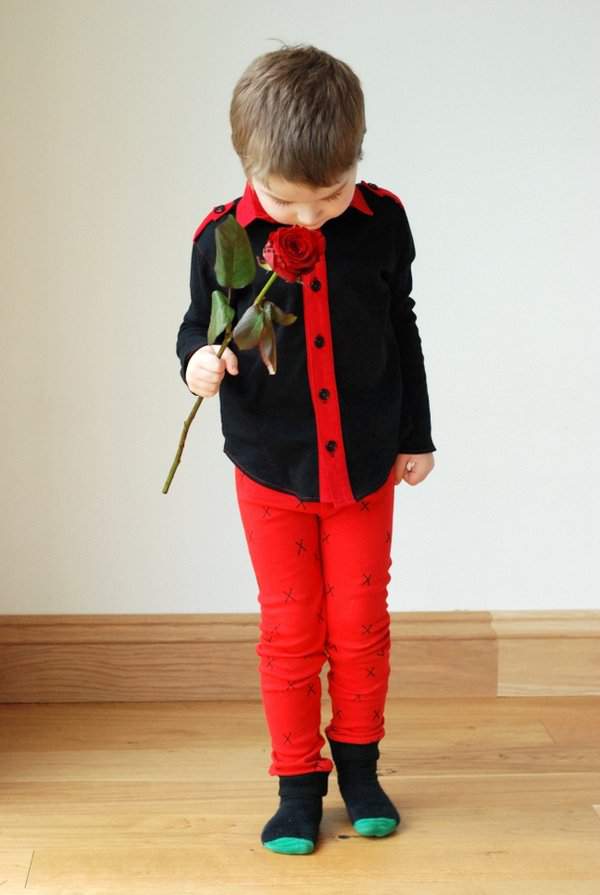 The theme for Project Run and Play this week is 'Valentine's Inspired Wear'. Initially I didn't plan to join in the sew along as I was struggling to think of boy ideas. A few days ago I had a sudden flash of inspiration though and couldn't resist, then once I got started the ideas kept on flowing. The problem was getting everything finished in time for the deadline.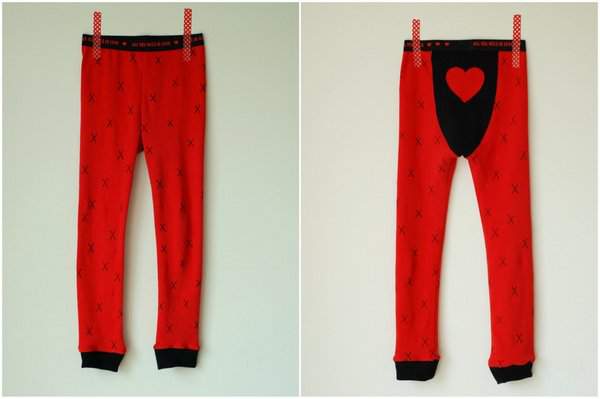 I started with the leggings. Both fabrics are a knit interlock that I bought here. Casper has decided recently that he doesn't like kisses so it was too tempting to cover these in kisses. I just drew these on randomly with a fabric pen once I'd cut the pattern pieces out. To up the 'Valentine's factor' I added a constrasting panel with a big red heart appliqued on it.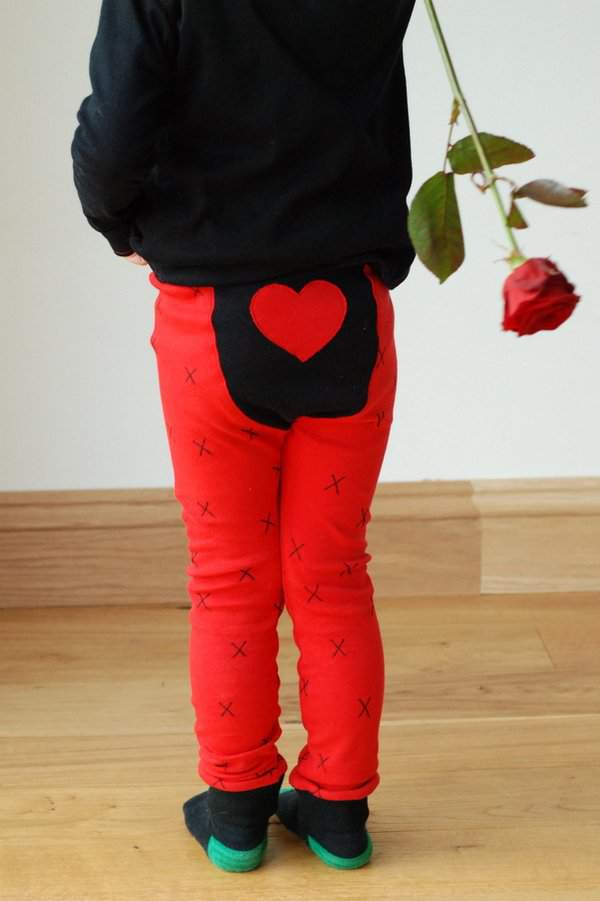 Finally I added some of the lyrics from 'All You Need is Love' by The Beatles to customise the exposed elastic waistband. I used my digital cutter to cut out some vinyl and ironed it on. The pattern for the leggings is self-drafted.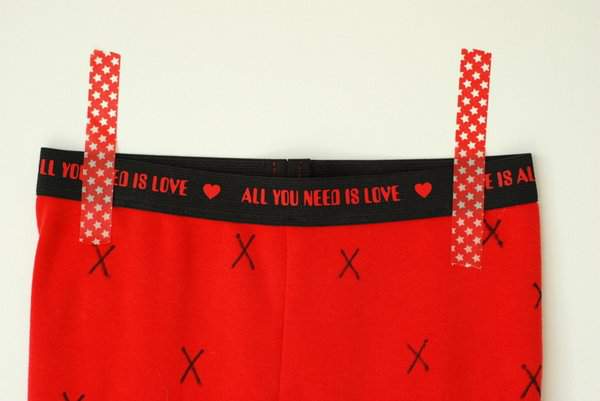 Once the leggings were ready I really wanted to make a top to go with them. I haven't made a full button-down shirt before so, in the spirit of learning new things with each project, I decided to go for it.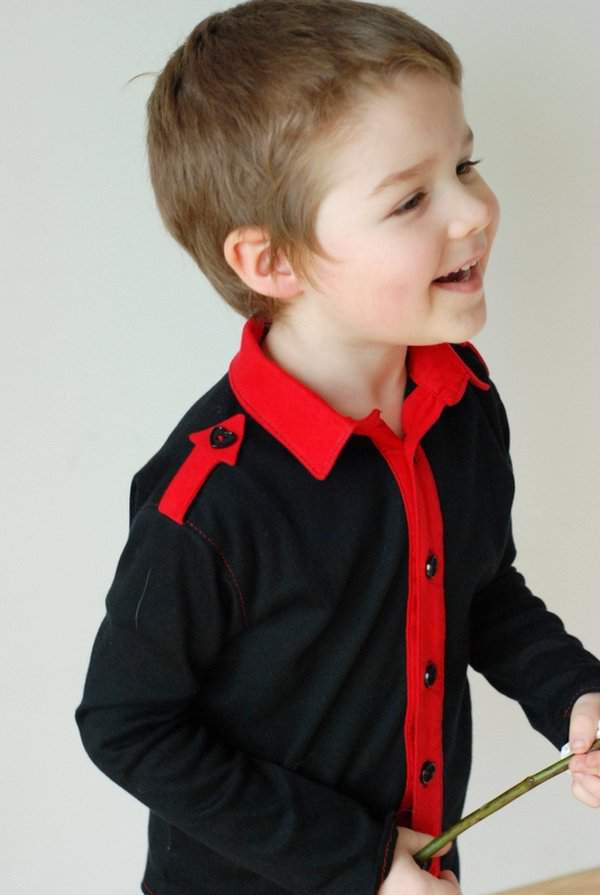 I really wanted to make it using knit fabric, so Casper can use it as a more casual shirt but can also dress it up a little. I stayed with the red and black colour scheme and used lots of pops of constrast top stitching on the collar, shoulders, placket and hems. My favourite part of the shirt is the arrow epaulettes with the black heart buttons. The arrows were pretty difficult to turn but worth the effort. I also wanted to add a couple of red welt pockets on the front and some red heart elbow patches but ran out of time.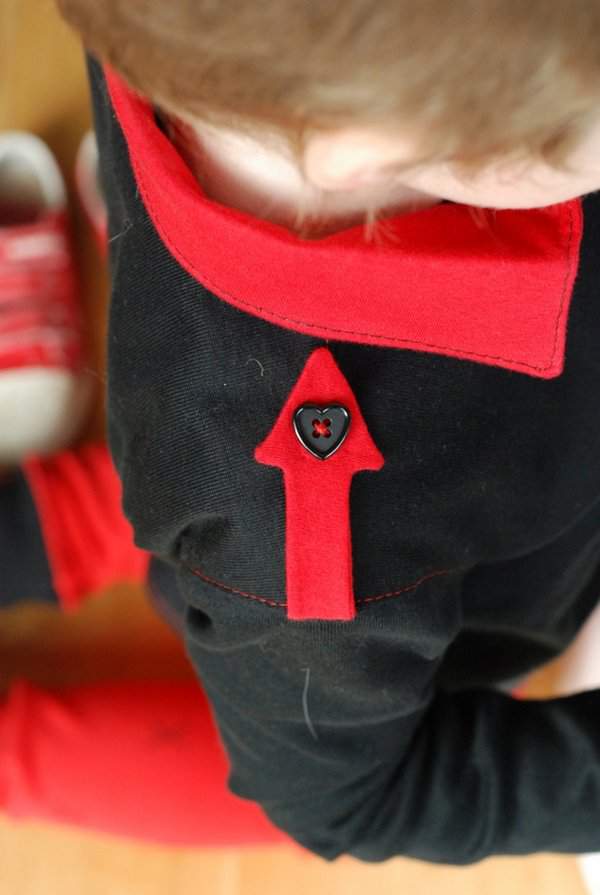 I used a mash up of two patterns to get the look I wanted. The front, collar and placket are from the Sketchbook Shirt by Oliver + s in size 4 and the back is adapted from that pattern but I removed the yoke. For both the front and back I added 1″ on the bottom and also trimmed about 3/4″ off the sides. I then took the arms and armholes from the Flashback Skinny Tee Pattern in size 5. I got both fabrics from Fabricland and they were marked as 'unknown content'. I think the black is an interlock and the red is a very thin jersey. I used lightweight non-stretch interfacing on all the red pieces and it worked really well. I sewed on five perfect buttonholes in a row this morning, which was a very pleasant surprise. The Oliver + s pattern instructions were really easy to follow and I'm looking forward to following it in full (with a yoke and sleeve plackets) with some woven fabric.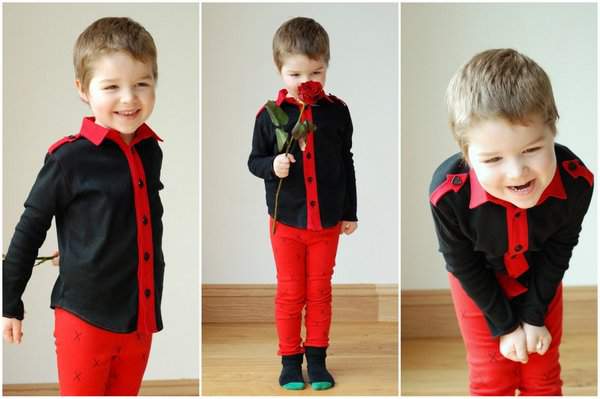 This is my second time taking part in the sew along and I really like the way it's inspired me to try looks that I would not have thought of otherwise and also pushed me to turn something around quickly. I also love seeing what everyone else has made.