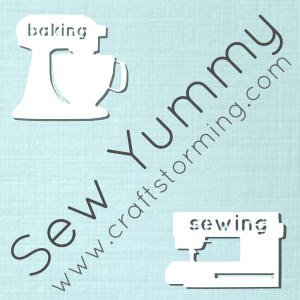 Hello. I've been busy getting everything ready for the 'Sew Yummy' series that starts next week. I imagine you've all been on tenterhooks for the last few days waiting for me to return with more details. So, without further delay, here is the big reveal of the line-up of fantastic bloggers who are taking part.
In the baking corner, baking something inspired by sewing, we have…
And in the sewing corner, sewing something inspired by baking, there's an equally amazing line-up….
There'll be a couple of contributions from me thrown in as well plus I've got a fantastic giveaway arranged for one lucky reader.
Everyone taking part is so creative and I am really looking forward to seeing what they all make. I'm sure you'll find lots of things you will like and maybe a few new blogs too. Even if you don't like baking or sewing then you must like cake. If not, surely you wear clothes. I have created a 'Sew Yummy' group on Flickr for you to add any projects if you're inspired by the series to sew or bake along.
I'm going to be alternating baking and sewing ideas throughout. On Monday I will return to whet your appetite with a round-up of amazing baked goods inspired by sewing. I'm really excited to get started. Until then feel free to use the code at the top of the post to display the 'Sew Yummy' button on your blogs.