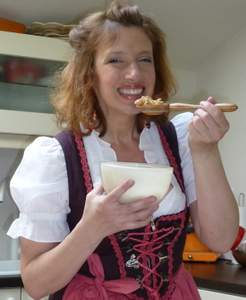 Thanks Laura for the opportunity to guest post here for Sew Yummy. What a fun idea!
Right now I am in Turkey on a business trip. The last time I was there I bought these hand embroidered boots in Istanbul and they quickly became my favorite among an embarrassing amount of other pairs.
I don't sew therefore greatly admire anything handmade or embroidered and practically flipped out when I saw these boots in a store by the Blue Mosque. If I find the time, I am sure to be stalking the shops to find another pair. Even just seeing them sitting in the closet makes me happy. With the coincidence I would be returning to Turkey, the obvious choice for this challenge was to create a cookie homage to my lovely boots.
I couldn't find the right shape cookie cutter so I made my own by googling images for "Turkish Embroidered Boots". and found a side view of a pair similar to mine. I traced it off my computer screen, glued it to stiff cardboard and cut out the shape. After rolling out the cookies I traced the boot shaped with a knife.
One of my other favorite places in Istanbul is the Egyptian Spice Market (duh?) So I decided to add a bit of Turkish spicy zing to the boot cookies to give them a little spring in their step.
Anise and allspice are both used frequently in Turkish cuisine. Adding both to LilaLoa's wonderful foolproof chocolate rollout cookie recipe made one sexy strong flavored cookie.
Thanks again for the opportunity to guest post!
Anise Allspice Rollout Cookies
For the Cookies:
Ingredients:
1 cup butter
1/4 cup shortening
1 1/2 cups granulated sugar
2 eggs
1 teaspoon anise extract
1 teaspoon salt
3/4 teaspoon baking powder
1 tablespoon allspice powder
2/3 cup cocoa
3 or 3 1/2 cups flour
Directions:
Cream butter, shortening and sugar together.
Add eggs and vanilla. Mix well.
Add baking powder and salt and mix again.
Stir in the cocoa until well blended.
Add flour 1 cup at a time.
Wrap in plastic cling film and Refrigerate at least 2 hours.
Roll out on lightly floured surface.
Bake at 375 F for 6 1/2 minutes
For the Royal Icing:
I used my favorite recipe from Bridget over at Bake at 350.
First outlining and flooding the cookies in black icing with at #2 tip. Then with  #1 tip I recreated to the best of my limited ability the embroidered designs on the boots.
***
What amazing inspiration for these fantastic cookies Lora, those boots were made for baking. I hope your hunt for a second pair is successful. Thank you for sharing these with us today.