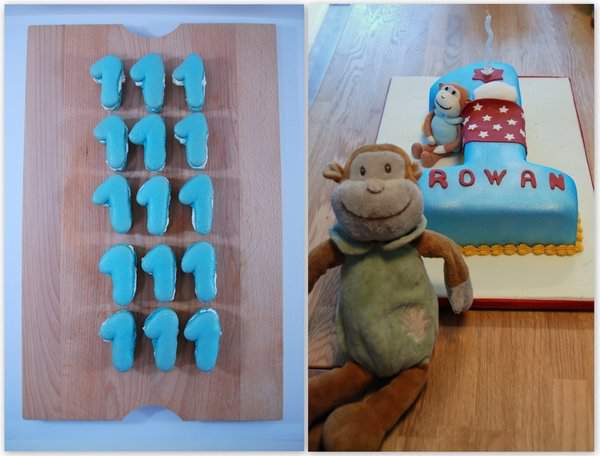 Rowan turned one last week and we had a family party to celebrate today. I really enjoy hosting parties but I always get slightly stressed and perhaps a bit over ambitious about the food. It didn't help that I also started back at work this week so was quite short on time. Fortunately, my mum had offered to make Rowan's cake so I didn't have to worry about that. I knew she was planning a blue number one, so I decided to make some macarons to match. I used the recipe I followed in this Makka-Pakka-Roons post. It is relatively time efficient as it uses the same batch of Italian meringue to make both the macarons and the buttercream filling. I find it makes the perfect amount of buttercream to generously fill all the macarons too.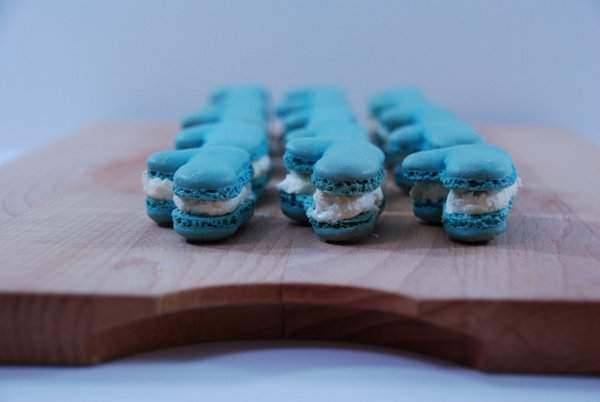 As with all my shaped macarons I drew a template out onto some cardboard the same size as my baking trays. Just draw out or trace the shape you want and cut it out, then trace round it onto the cardboard. You can then place the cardboard underneath the baking paper as you pipe out your macarons and remove it before baking them. To save time I only drew out one row of shapes and then moved the cardboard down as I piped. Don't forget to leave enough space between each shape (I leave at least 1.5cm) or to reverse the image for half of them so you have matching pairs.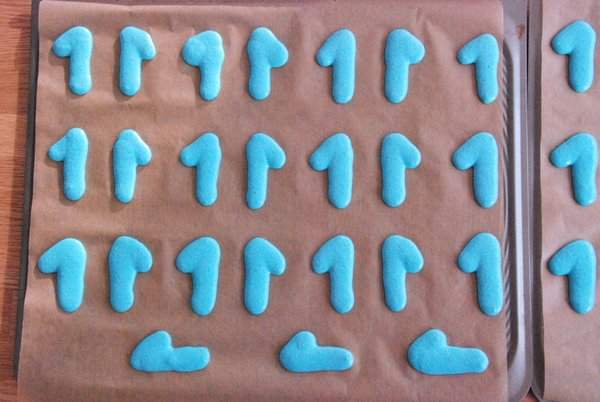 The monkey featured on the cake is a model of Rowan's favourite soft toy, which we have imaginatively named Monkey. Since he was just a few months old Rowan has been very attached to Monkey. It does rock a slightly grungy look as Rowan cuddles him to sleep every night and for all his naps so I rarely get an opportunity to wash him. ALso, they are no longer for sale we so are slightly terrified of losing him and after a couple of near misses Monkey is now under house arrest. Rowan certainly enjoyed the cake, although the original Monkey was not keen to share the limelight.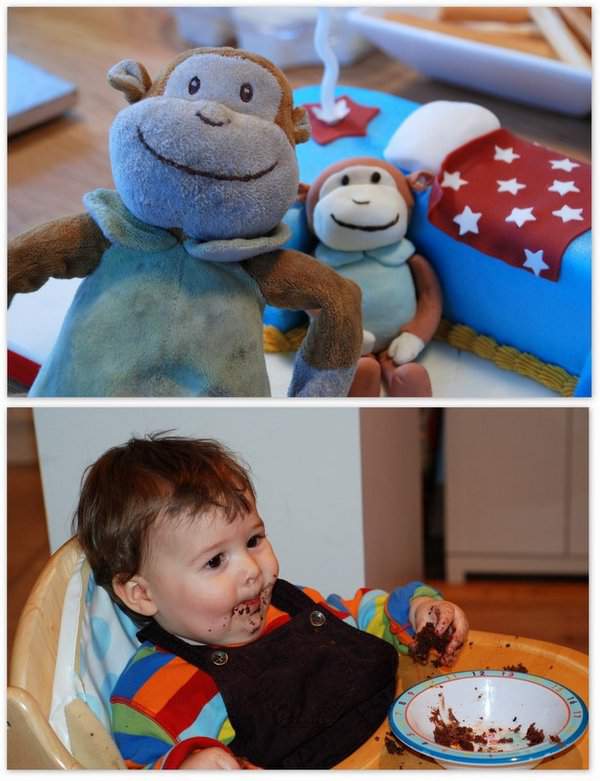 I think that these macarons would look really cute as toppers for a cupcake too. I made a few other things for the party and there will be another post following soon for some decorated cookies.
I have added these to the Mac Attack #26 Razzle Dazzle challenge. I had hoped to make some glitter covered macarons too but just ran out of time. I think the blue of the macar-unes is pretty dazzling though.