I have been excited about this challenge since the weekend, when I was made aware by Laura that this Elsie Marley creation existed.
It is called the Kids Clothes Week Challenge (KCWC) and involves committing one hour a day for seven days to sew clothes for children. Given I currently have an obsession with planning new and exciting sewing projects, I jumped at this challenge.
Day one (10/10/2011)
It was a pretty lame start as I spent my hour compiling suitable fabrics for the challenge ahead. Raiding the wardrobe as well as my ever growing stash of fabrics I came up with these beauties and a number of exciting plans in mind.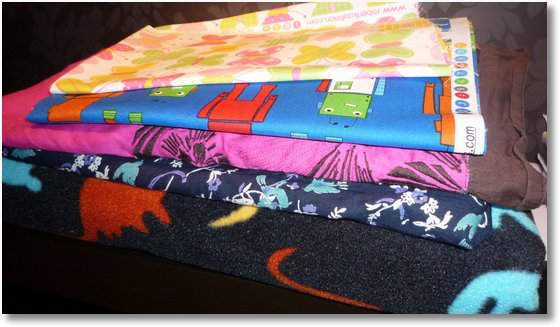 Day two (11/10/2011)
I was excited all day today about getting out my sewing machine..where to start??!
The past couple of nights my daughter Freya has fallen asleep to the sound of my sewing machine, so tonight at bedtime she asked if I would make her something as a surprise. Who could resist those little eyes and a request like that? So I promised I would make her something beautiful to wear to school in the morning.
Anyone who knows Freya will know that her most favourite, treasured thing in the world (apart from me of course – tee hee) is her 'mummy's t-shirt'. There is a long story behind this, but in a nutshell she has an old pink t-shirt of mine which she takes EVERYWHERE!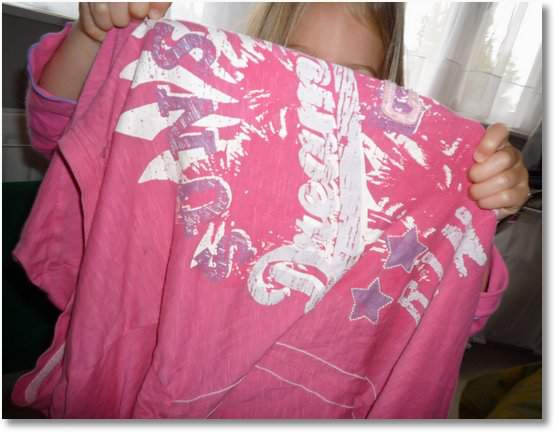 From this came the idea for Freya's recycled skirt. So my plan for this evenings sewing challenge was to convert this old top of mine (which I've owned for about 5 years and worn to death)…
…into something that Freya will love. So, one hour later I managed to produce this.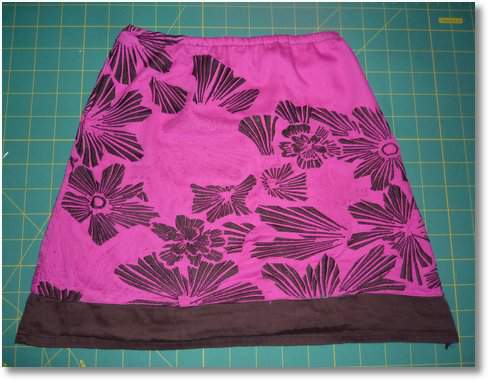 I am really pleased with how it has turned out and cannot wait to get her to try it on. I think she will love the fact that she gets to wear something that was once a pink mummy's t-shirt!
I have taken photos of each step of making this quick and easy recycled skirt in the hope of producing a tutorial so watch this space.