Last week was Chocolate Week 2011, with numerous chocolate related events taking place across the UK. The majority of the events were in London, building up to the highlight of the week, Chocolate Unwrapped. This was a two day event with many of the best chocolatiers and chocolate makers exhibiting. As soon as I found out about it I hastily arranged to visit London for the weekend. Soon afterwards I found out about 'The Great Chocolate Cake Off' and spotted that Paul Young was in the judging line-up. I haven't entered a cake competition since I was at school but Paul Young is my favourite chocolatier (everyone's got one of those right?) and I quite liked the idea of him eating my cake. It took me a while to decide what to make. I finally settled on a dark chocolate, marzipan and amaretto truffle cake and decorated it with a dark chocolate disc and a caramelised cocoa nib crust.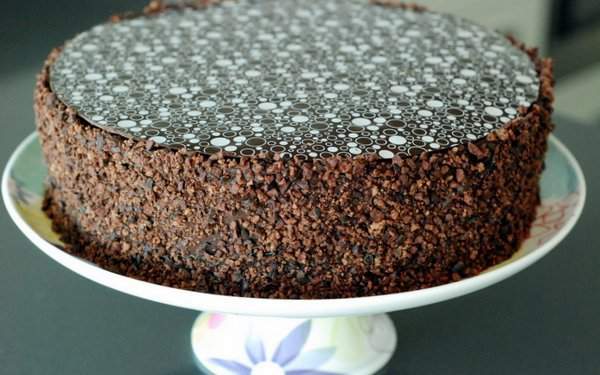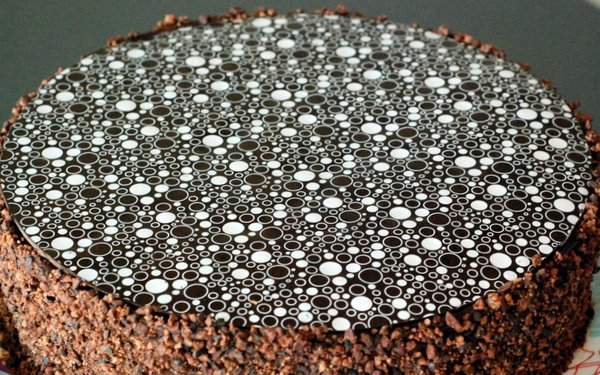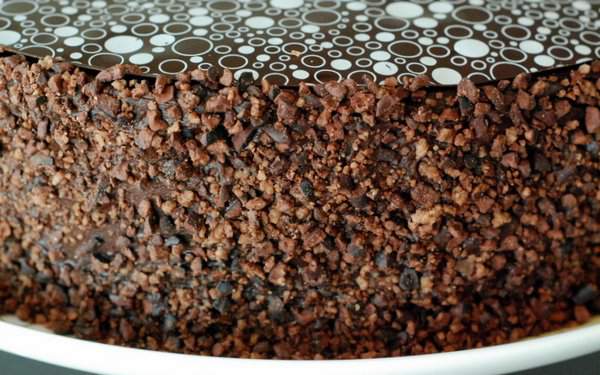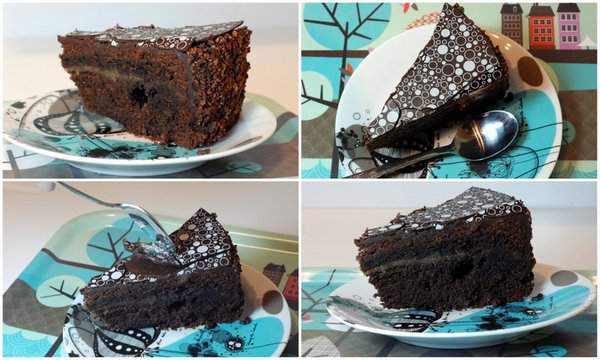 Alas the judging was behind closed doors so I have no definite proof that Paul Young ate it. Also, I didn't win so he may not have even liked it. That did mean there was more left for me to eat afterwards though and I really enjoyed taking part. The winning cake looked amazing with a very stylish arrangement of spun sugar decorations. The recipe for that one will be published here soon. If you would like to try my cake this is how it's done….
Chocolate Truffles
You will need to make the truffles in advance and freeze them before making the cake. This means that they will not completely lose shape when they are baked in the cake.
Ingredients
400g dark chocolate
300ml whipping cream
60g soft butter
45ml amaretto (optional)
Method
1. Chop the chocolate into small pieces and place in a bowl.
2. Pour the cream into a saucepan and heat until it just reaches boiling point.
3. Pour the cream onto the chocolate and allow it to sit for a minute then stir together gently until combined.
4. Add the butter a teaspoon at a time and mix it in.
5. If using, add the amaretto and mix well.
Allow the ganache to cool and form into balls about 1cm high. Set the remaining ganache aside in the fridge for decorating. Place the truffles in the freezer for at least 1 hour until completely frozen.
Chocolate cake
Ingredients
200g soft butter
120g caster sugar
80g light brown muscovado sugar
3 large eggs
100g dark chocolate melted and cooled
50ml strong coffee cooled
1.5 tsp vanilla extract
150g self raising flour
50g cocoa powder
80g ground almonds
80ml buttermilk
200g white marzipan
8-12 truffles
Method
Preheat your oven to 165°C (325°F). Grease and line the bottom of a springform 8″ cake tin.
1. Place the butter and sugars in a large mixing bowl and cream together using a stand mixer or a hand mixer until light and creamy.
2. Add the eggs one at a time and mix in. If the mixture looks like it is starting to curdle then add spoonful of flour. Repeat until all the eggs are mixed in.
3. Add the melted chocolate, coffee and vanilla extract and mix until well combined.
4. Sift the flour and cocoa powder, then fold in gently using a metal spoon. Repeat with the ground almonds.
5. Gently fold in the buttermilk.
6. Pour just under half the cake mix into the tin and level. Roll the marzipan out until about 3mm thick and cut out an 8″ circle. Place the marzipan in the cake tin on top of the cake mix.
7. Place 8-12 truffles in a circle about 1″ from the outside of the cake tin. Pour the remaining cake mix in, ensuring the truffles are completely covered.
8. Bake in the oven for approximately 1 hour 30 minutes until a knife comes out clean, covering the top with foil after around 30 minutes.
9. You could eat the cake warm or allow it to cool completely if you want to decorate it.
Decorations
I spread the ganache that remained from the chocolate truffles over the top and sides of the cake. I then decorated the top using a solid chocolate disc. To do this I cut a chocolate transfer sheet into an 8″ circle and spread tempered chocolate over it. You could spread melted chocolate onto some baking paper and allow it to set in the fridge.
For the sides I used crushed caramelised cocoa nibs. I followed this method from the beautiful food blog Nordljus. I then ground them slightly in a pestle and mortar.