I mentioned last week that I had an amazing group of testers for the Twisted Trousers and I really did. They hung in there for almost 3 weeks of testing, were so supportive and gave me valuable feedback to help improve the pattern. I couldn't have done it without them.
Before I share their version I should remind you that there's less than 6 hours left to take advantage of the sale. Anyone on my mailing list or in my Facebook group can get 25% off all my patterns  – valid until midnight GMT today. If you haven't got the code and would like to take advantage of this offer then you can either sign up for the Titchy Threads newsletter here or request to join the Titchy Threads patterns Facebook group here.
I think you'll see from the photos below that everyone's Twisted Trousers turned out amazing. There is also so much variety – solids that will go well with everything, topstitched pairs, pairs with pops of bright piping, gorgeous florals, two tone pairs and fun prints.
Ages 2 to 5
Row 1: Left and Right – Maartje from Huisje Boompje Boefjes , Centre – Candy
Row 2: Left – Audrey's closet, Centre – Natalie from Sew Outnumbered, Right – Ines from La Folie Sewing Booth
Row 3: Left – Amy from Friends Stitched Together, Centre – Maria from My Cozy Co, Right – Ashley
Ages 6 to 12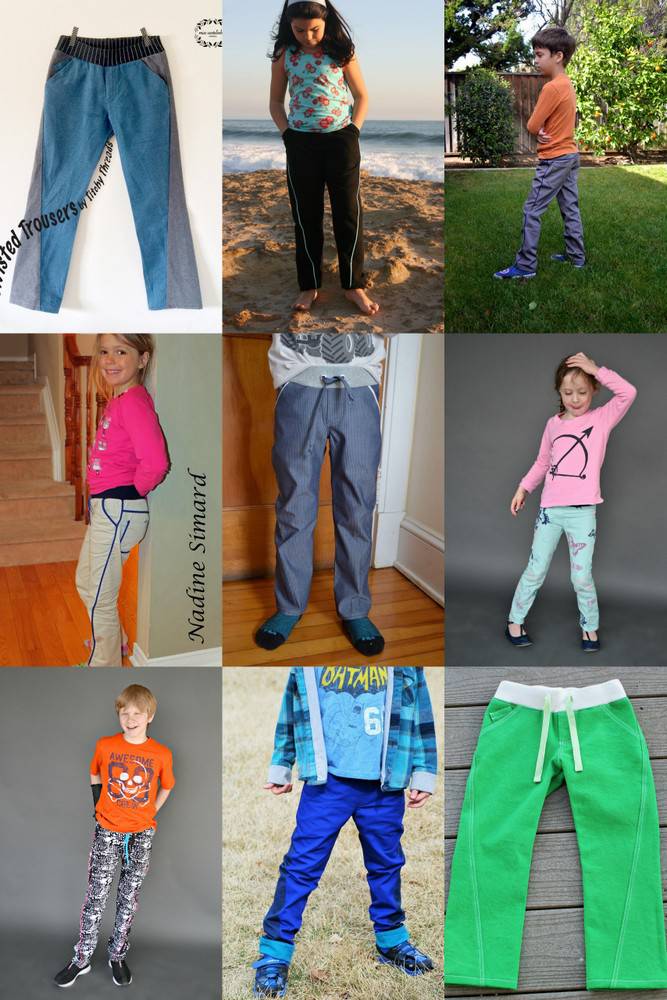 Row 1: Left – Diana from Miss Castelinhos, Centre – Carla from Rita Pirolita, Right – Bridget from bbsbeenbusy
Row 2: Left – Nadine Simard, Centre – Melissa of A Happy Stitch, Right – Karly from Paisley Roots
Row 3: Left – Karly from Paisley Roots (as for row 2), Centre and Right – Shelly from Sew Shelly Sew
Emily from My Craft Little Self made a batman inspired pair and then styled a whole outfit around them. I'm pretty sure her son will be wearing these all the time.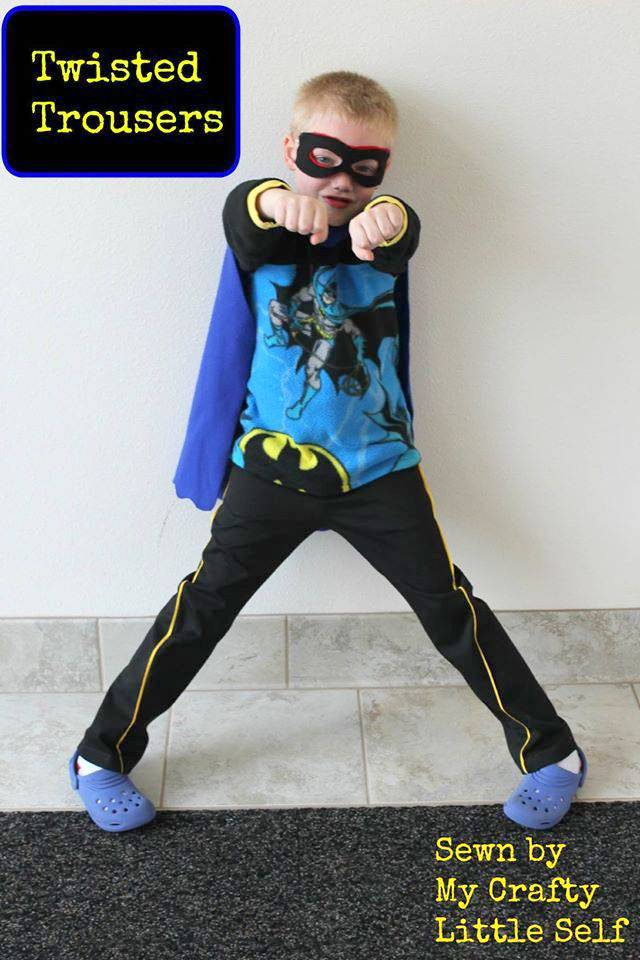 Melissa from A Happy Stitch made another couple of pairs in sweatshirt fleece for her sons. These look so comfy and I would definitely recommend it as a suitable fabric to use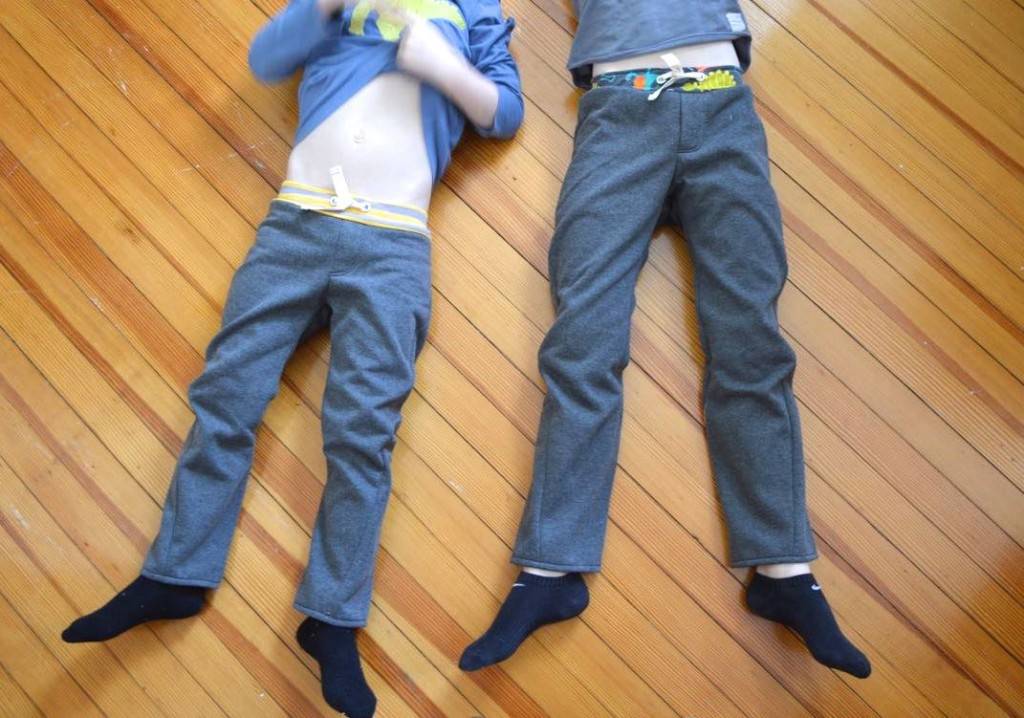 and last but certainly not least, Mie from Sewing Like Mad made a whole twisted outfit, pairing the twisted trousers with the twisted tank. Mie also added an exposed elastic waistband, which works just as well as the knit waistband included in the pattern instructions.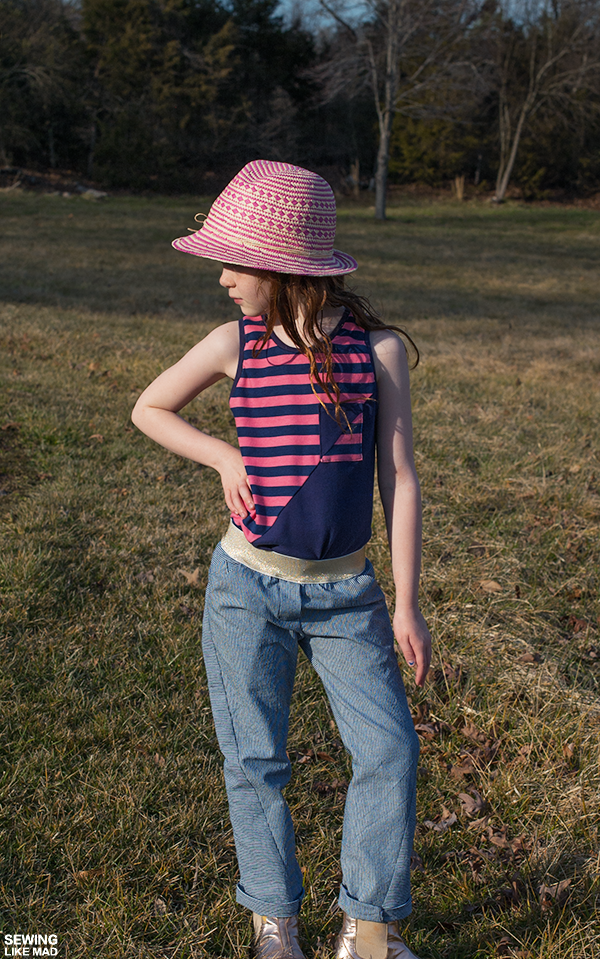 So I think you'll agree that all of these ladies did an incredible job. Huge thanks also go to my other testers Sara, Celina, Rita, Elsa, Alicia and Linda.