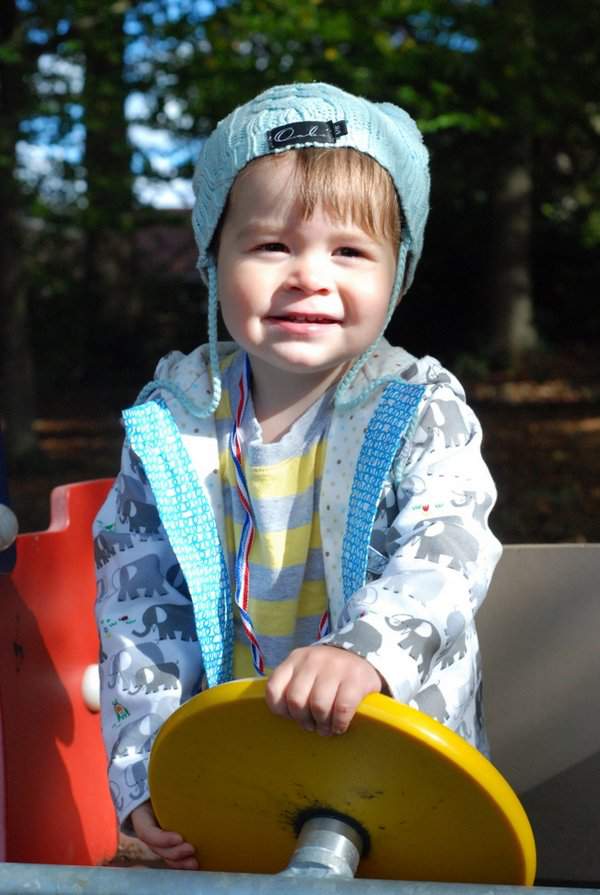 Kids Clothing Week Challenge has been running for 5 days now and this is the first thing I've got to show you. I loved taking part last time and had high hopes for this week but, for various reasons, haven't managed to do much so far. I've spent a lot of timing thinking about sewing, writing about sewing on here and even went to the Knitting and Stitching Show at Alexandra Palace yesterday. I just haven't actually had time to do a lot of sewing. Earlier today we went to the park.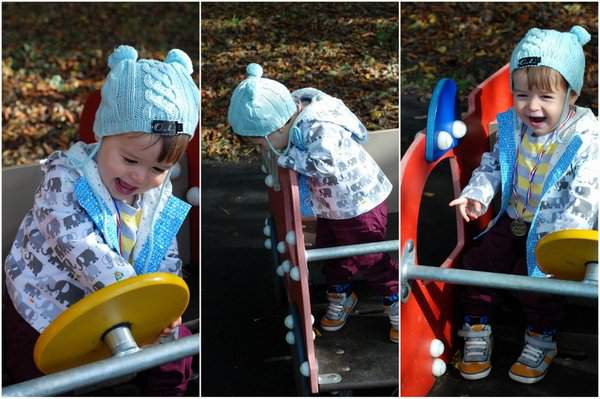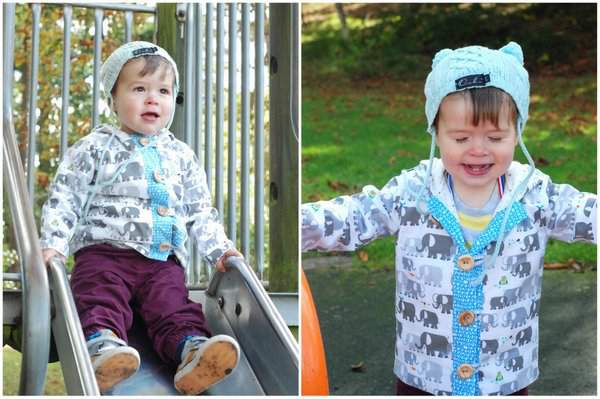 I am cheating slightly as I sewed most of this jacket before KCWC started but I finally finished it this week so I'm sneaking it in anyway. The pattern is from the book 'Handmade Beginnings' by Anna Maria Horner, which is a beautiful book that I wish I'd got a lot sooner. I bought it after seeing lots of lovely versions of the quick change trousers, including these ones from Corey. When I looked through the book though I instantly fell for the 'Baby in the Hood Jacket'. I'm not quite sure if Rowan counts as a baby anymore – at what age do they stop being babies? If he does still count then he's certainly a big baby. The largest size for both patterns is 18-24 months, so I needed to move quickly as Rowan is already in this size. Before I traced the pattern I searched for some other versions and found that the sizing tends to run quite short. I'd already suspected this and, after comparing it to another jacket, I decided to add a whole 3″ to the length. This seemed like a lot but now it's finished I actually wish I'd added 4″ as I absolutely love the jacket and want him to be able to wear it for as long as possible.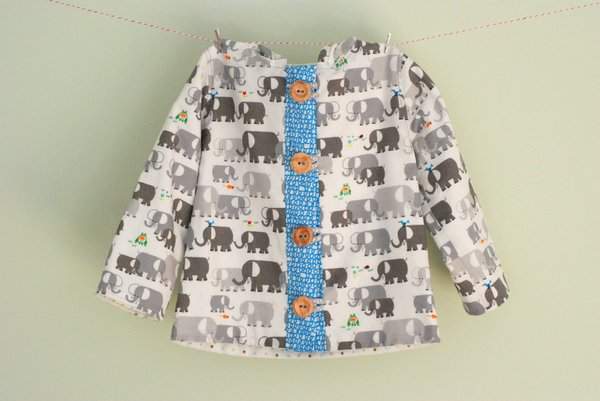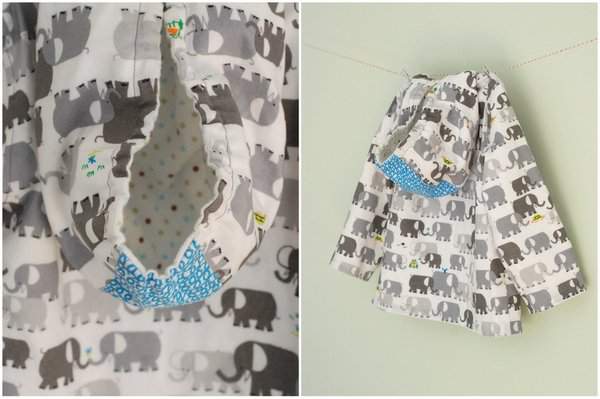 The main fabric is Happy Drawing Elephants from Cloud 9 fabrics and the placket and hood stripe use the co-ordinating Squiggle in Blue from the same collection. The button loops are made with some Squiggle in Grey. I ordered all of them a while ago from Hawthorne Threads along with a few other Happy Drawing prints. To make the inside extra cosy I used some ultra soft multi dot flannel that I ordered from here. I found sewing the hood pieces together very tricky. It was ok below the notch (down towards the neck) but above the notch the stripe piece seemd a bit short. I think it would have helped to have two notches. I also had a lot of trouble with the sleeves and each one took at least two attempts but I was a bit out of practice with woven fabrics so it's probably just me. The flannel lining was a lot easier to work on all the difficult bits and I'm looking forward to sewing with it more.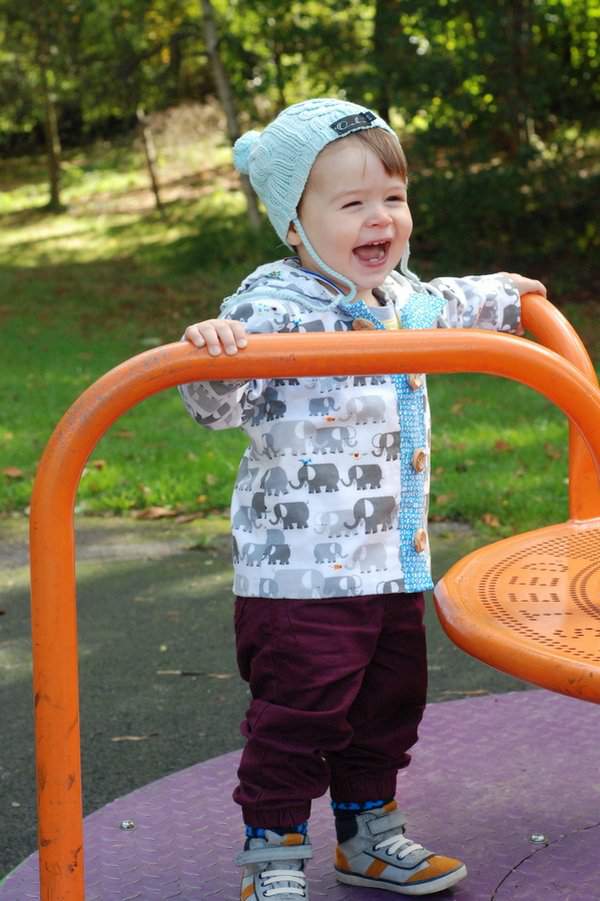 When I first showed Rowan the jacket he kept signing elephant and was very happy to put it on. I am so happy how it turned out and it fits him really well although he coudn't have many layers underneath it. He opted to accessorise with a gold medal today, left over from Casper's recent Olympic Birthday Party (which I'll be writing about soon). Watch out – next he'll be showing off his hairy chest. Unfortunately there's no photo with him wearing the hood because he refuses to wear it. I was really pleased to find this hat still fits him though so that'll have to do instead. I'd definitely make it again, although next time I'll have to try and increase the size to a 2T.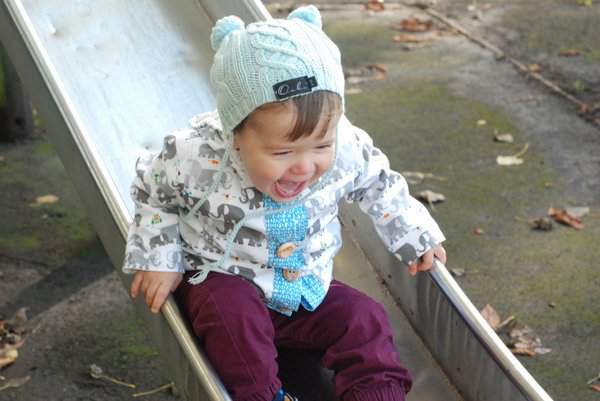 Hopefully I can be a bit more productive in the last three days of KCWC. If you haven't looked already the Elsie Marley Flickr pool is packed full of inspiring kids clothes. I'm certainly not short of ideas so we'll have to see what I can manage – I'm off to sew now.