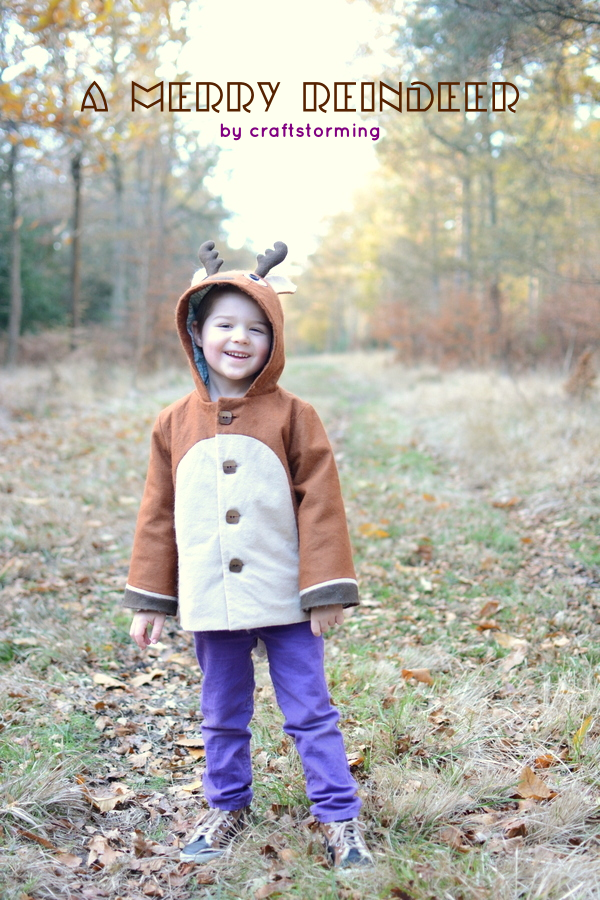 Hello! It's the 1st of December and that means Suz and I are kicking off The 12 Days of Christmas today. I am really happy to finally be able to share the outfit I made with you and talk a little bit about our Christmas traditions. I had so many ideas for things to make for this series. In the end I decided to focus on a complete outfit for Casper, knowing that it will get more wear as Rowan can use it when he gets older. Maybe I will still have a chance to sew something for Rowan this month but if not the ideas can wait until next year.
The Reindeer Coat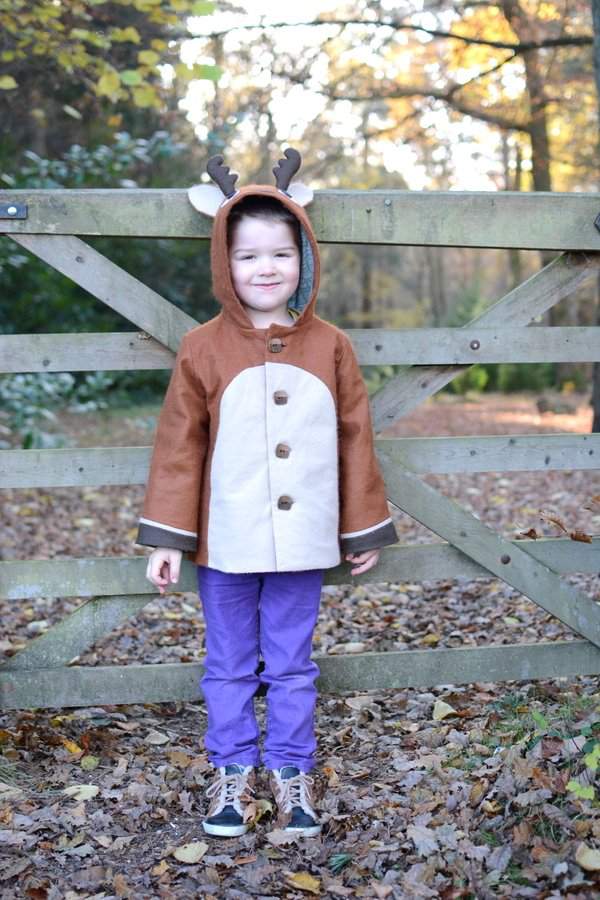 One of our Christmas Day traditions is to take a walk a little while after we've finished eating dinner. I've admired the Little Goodall coats for a long time – the animal coats are just amazing, the perfect combination of fun for children while remaining stylish enough for adults to appreciate them. They also look impeccably finished and have such wonderful details. I have thought about trying to make one a few times but this series finally gave me the push. The designer behind the company, Molly Goodall, was interviewed for an Etsy feature back in 2011 and mentioned that she hoped to make her patterns available. I emailed Molly hoping that my task might be a little easier and she replied very quickly. The good news is that the patterns will be available soon – the wolf / fox and raccoon patterns should be available from Simplicity from about January 2014. The bad news, for me at least, was that they wouldn't be available until next January and I needed a pattern now. I thought about drafting a pattern from scratch but then I realised I had the oliver + s school days coat and could use that as a starting point.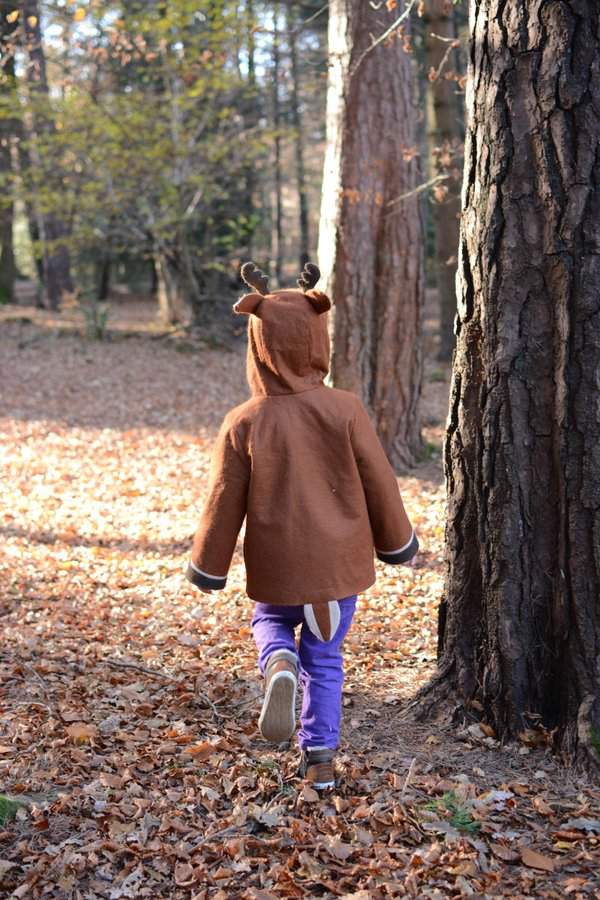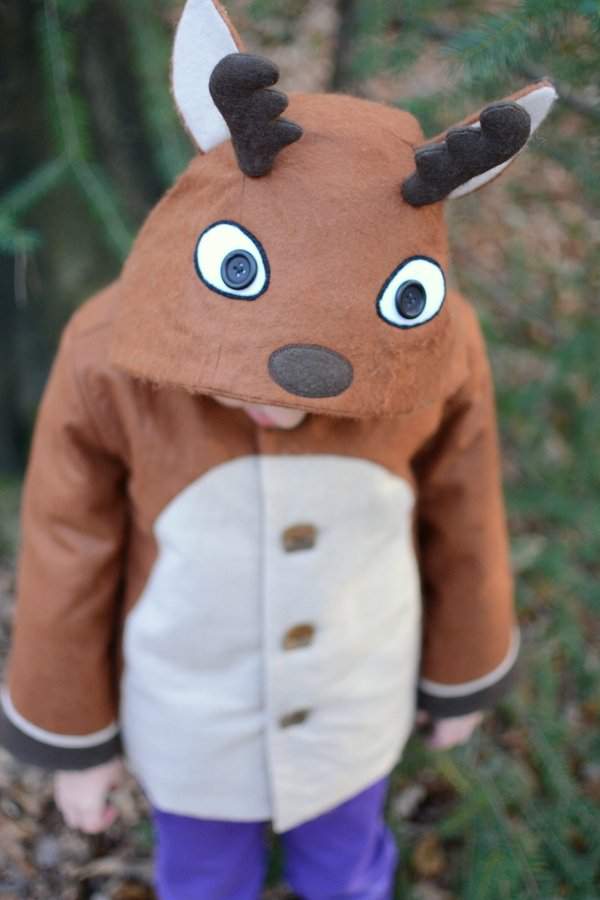 Fabric: Main fabric is wool blend felt from the Wool Felt Company – colours were caramel, tan and dark brown. Lining is Deerfield, Arrows in teal in Adrienne Looman. I bought it from Hawthorne Threads but it doesn't seem to be available anymore. I cut it across the grain as I preferred the arrows in that direction.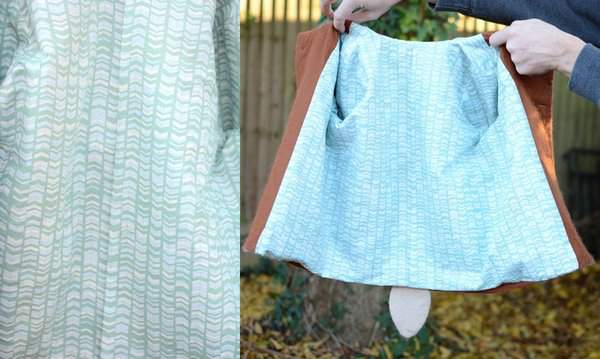 Pattern: oliver + s school days coat in age 5 – heavily adapted. I bought both sizes of this pattern a long time ago as I absolutely love duffle coats so I'm pleased to have finally used it. The instructions are fantastic and one of these days I'll make that burnt orange wool duffle coat I've been dreaming of but for now it made a good base to alter for a reindeer coat.
Changes I made include:
join the back yoke to the jacket back piece before cutting and shortened by two inches
join the front yoke and front placket pieces to the jacket front piece before cutting and shortened by two inches
separate that new front into two separate pieces to have a contrasting tummy
shorten the lining pieces by two inches
added side seam pockets
adapt the shape of the center hood so it was wider and a constant width
alter the side hood piece to allow for the changes to the center hood
create a hood facing and new lining pieces that allowed for the darts (for the ears) in the outer hood
split the sleeve into three separate pieces for the reindeer hooves
used buttons and buttonholes
added ears, antlers, eyes, a nose and a tail piece
So in the end the coat is quite different from the pattern.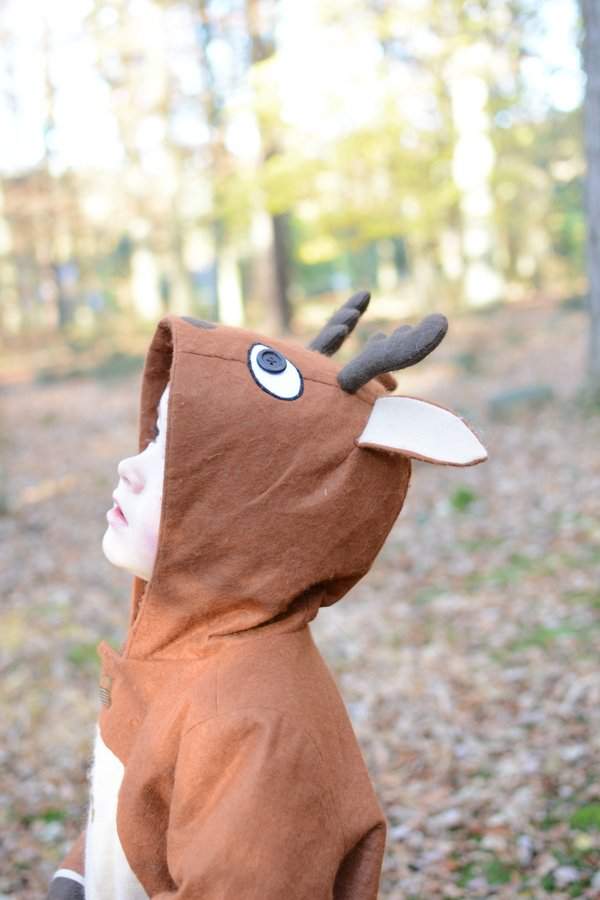 I sewed the ears in with darts like I could see Molly does in her fox and wolf coat. I inserted some stiff interfacing before I sewed them on. For the antlers I sewed around the open end and pulled the thread to close them then sewed them straight on top of the hood. I had to sew around a few times to get them to stand up how I wanted but it worked in the end.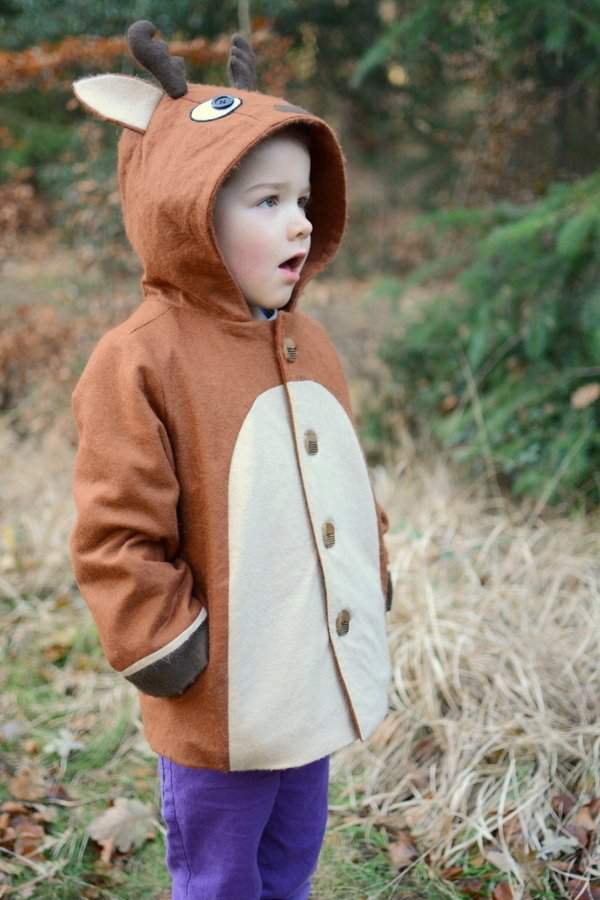 I am so happy with the result although it did take me a lot longer than I was expecting. I was frantically finishing it this morning before heading out for photos. The fit is perfect for Casper as well and I hope he enjoys wearing it on our Christmas walk.
Purple Jeans
These were an early draft for the bigger sizes of the 'Small Fry Skinny Jeans' pattern. I love the fit of these although I didn't think they were properly skinny so have since made the fit a little skinnier for the pattern. They are Casper's favourite jeans, in his favourite colour, and he wears them every chance he gets. They have flat felled seams for the back yoke, inseam and back rise. I used grey topstitching thread and love it with the purple. The fly is made using my half fly tutorial.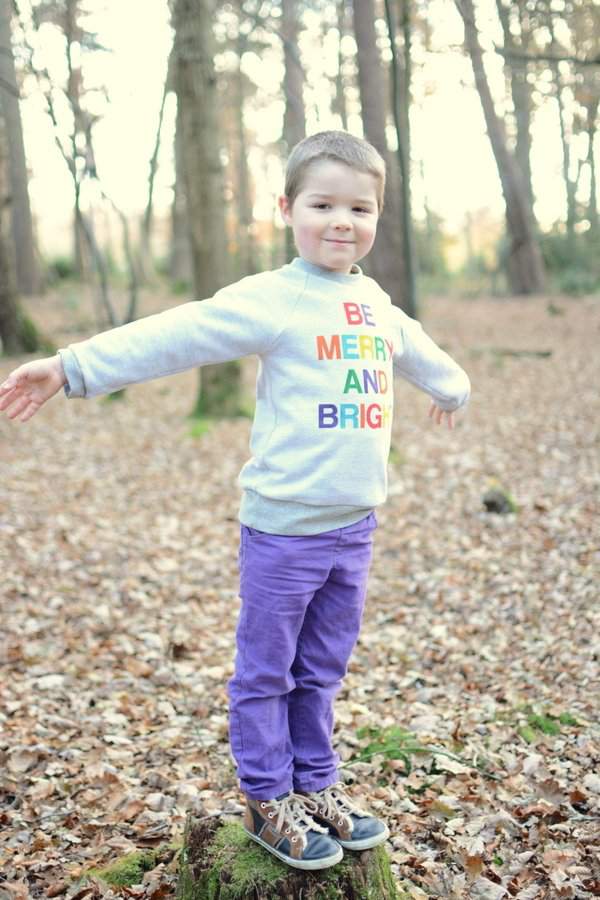 Fabric: Purple cotton/linen blend by Echino, purchased from The Eternal Maker. Pockets lined with a red cotton with white stars.
Pattern: My own
Raglan Sweatshirt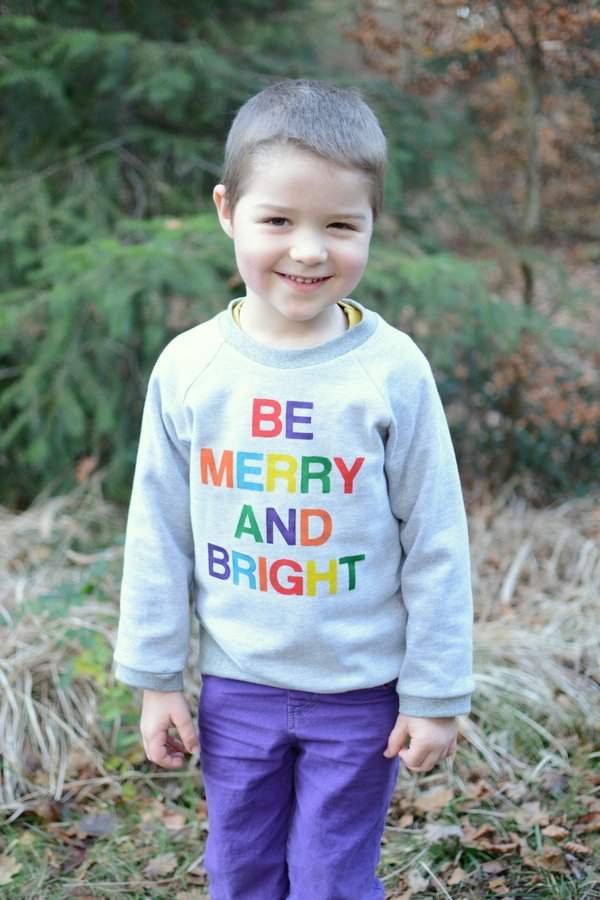 This is inspired by the 'Out To Play' sweatshirt from 'Boys and Girls' and is another thing I've wanted to make for ages. I used some of the lyrics from the classic 'White Christmas' for the slogan. This was the first time I'd used freezer paper or fabric paints and I am not sure why I waited so long. The font I used is a free one called Coolvetica (download it here). I cut the letters out of freezer paper using my digital cutter and added a few coats of paint to each. Some colours needed more than others.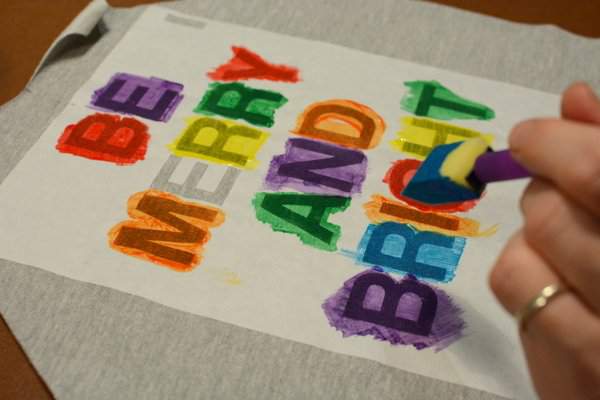 I have a free printable of the graphic for you – just click on the image below to download the file.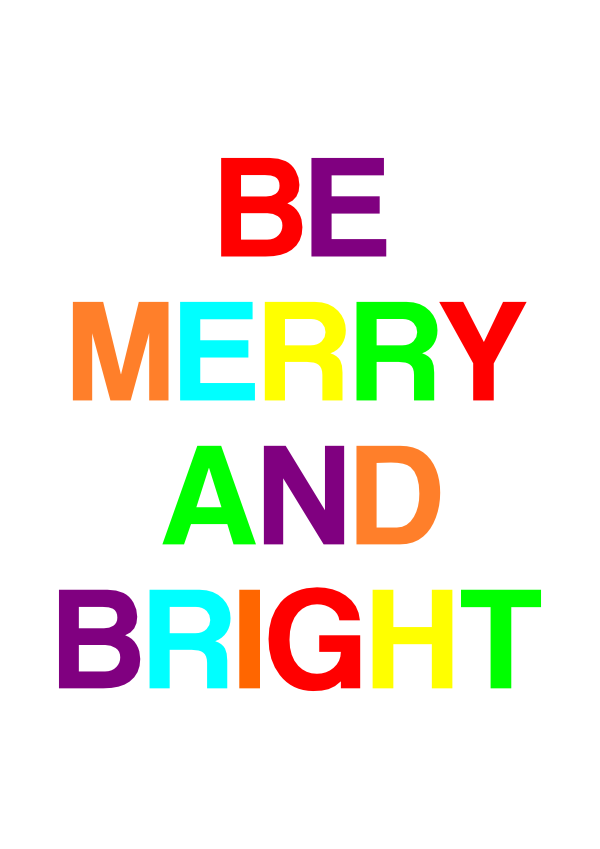 Fabric: Light grey sweatshirt fleece, from Tissu Fabrics. Light grey ribbing from Dots n Stripes.
Pattern: My own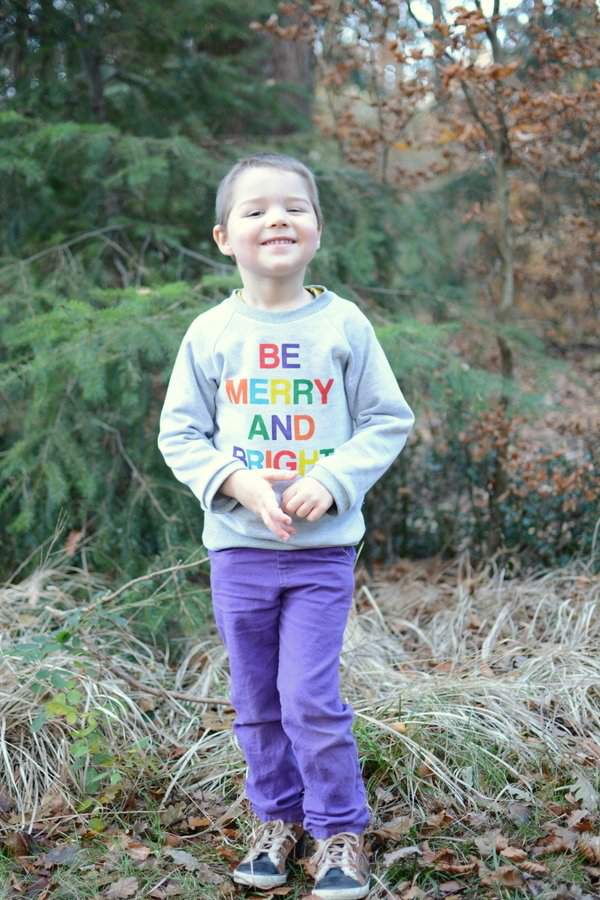 I added a little tab of rainbow ribbon on the left side seam but it doesn't show up in any of the photos. The fit is just how I wanted it to be. I made a muslin of this pattern before sewing this one and adjusted it a bit for this final version.
Christmas Traditions
When I was little my family would usually get together with my Aunt Meryl, Uncle Ted and cousins as well as our grandparents. My mum's sister is married to my dad's brother so we have always been close. One of my earliest memories is playing hangman with my nan and she had chosen the word 'knitting'. I have spent a few Christmas Days in other parts of the world as well. About 11 years ago my husband and I went travelling for 19 months and we spent one Christmas by the beach in Peru and another in Thailand. It felt very strange to me to be somewhere with a warm climate, I definitely associate Christmas with cold weather. Other years we have spent away snowboarding in the U.S.A or Canada. It was my obsession before I had children and, due to my job at the time, it was one of the few weeks I could get time off during the snowboarding season. We rarely get any snow here at all so it was lovely to enjoy a few Christmas Days with the proper traditional snow.
My favourite part of Christmas now is definitely the excitement it generates in my children. We have started a new tradition of having Christmas at our house and normally both our parents and Mark's aunt Pat join us as well as our brothers and their wives sometimes. Mark normally does the cooking as I don't eat meat and don't really like cooking it either. I usually have filo parcel instead of turkey and make that ahead of time. My focus is normally on the dessert instead and if you visit my baking section you can see some of the things I've made in the past. The day is normally fairly relaxed and easy going, giving the children lots of opportunity to try out their new toys. I am especially looking forward to this Christmas as both boys are old enough now to understand what is going on.
Here's a final picture of all the whole outfit together…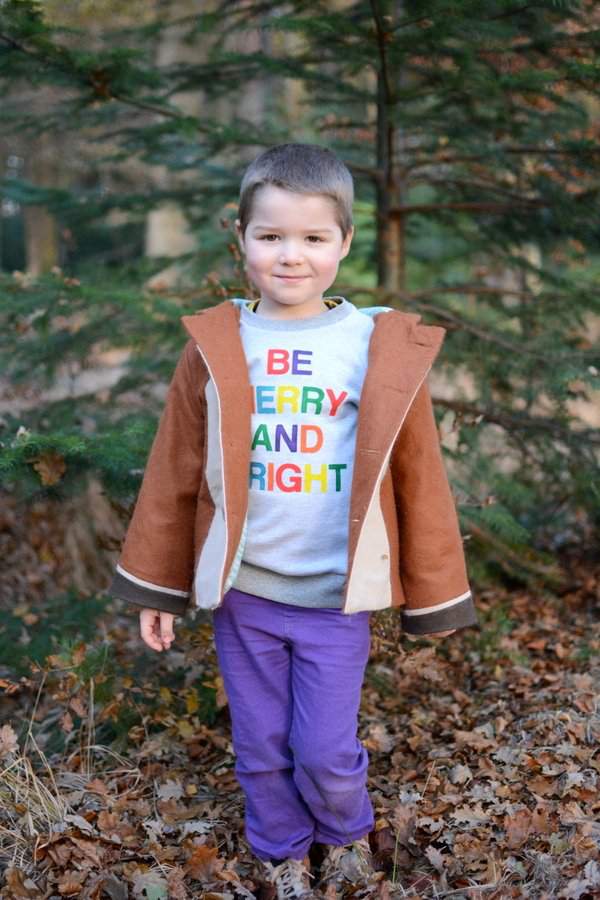 Click on the button below to head over and see the amazing outfits Suz has made and come back tomorrow to see what my first guests' creations.

On the first day of Christmas,
my true love sent to me
a partridge in a pear tree.