Hello! How are you all? I'm still working hard on the full pattern of the Small Fry Skinny Jeans. I also have the larger sizes (age 5 to 10) of the Fancy Pants Leggings out for testing at the moment and they should be available in a week or so. Today I'm bringing home a baking post that originally appeared on my good friend Abby's blog, 'Things for Boys', as part of her fantastic 'Cooking The Books' series.
Hello 'Things for Boys' readers. I was really intrigued when Abby told me about this series, it's such a great idea. I have a lot of cookbooks, including several that I haven't used yet. I was pleased to be nudged into trying a recipe from one of these books.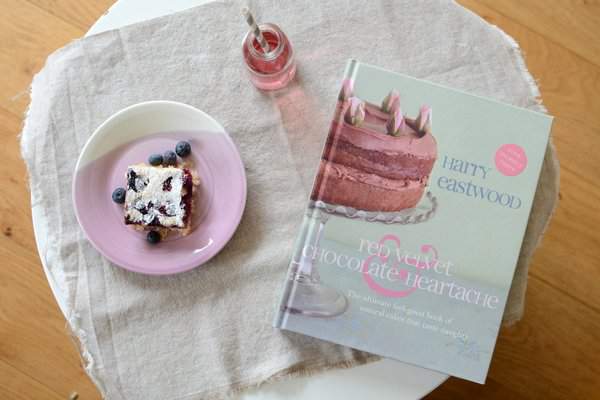 The book I chose to cook from was 'Red Velvet Chocolate Heartache' by Harry Eastwood. The recipes do what most of us dream of – they make cake healthy, or healthier at least – and claim to do this without comprimising on flavour. Several standard cake ingredients such as butter and wheat flour are replaced with healthier alternatives like vegetables, ground almonds and rice flour. It's beautiful styled and I've almost made a recipe from it many times but always opted for a more traditional recipe just in case they result wasn't very tasty. Fortunately that was not the case with the Coconut, Lime and Blueberry Slice.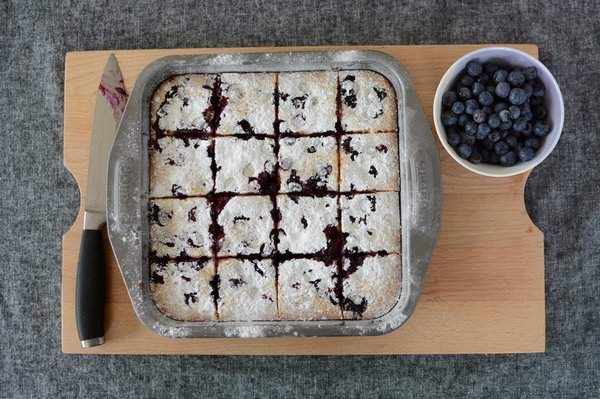 There were so many recipes I wanted to try but my decision was made when I saw the description for this one, which states that 'this cake is loaded with Australian morning light'. Although I don't really like the way the author talks about the cakes as if they are people, I think she might have a point there. A beautifully light sponge with sits upon a thin layer of crispy and sweet coconut.
This is one of the few recipes in the book that uses butter although it is just in the coconut base and could be easily replaced. The sponge uses courgettes as one of the main ingredients. It was incredibly runny before I put it in the oven so I was slightly worried but it was the perfect texture once baked. Everyone who tried it thought it was absolutely delicious, Casper even said "that was yummy, I need more cake". Now I just need to decide what recipe to make next.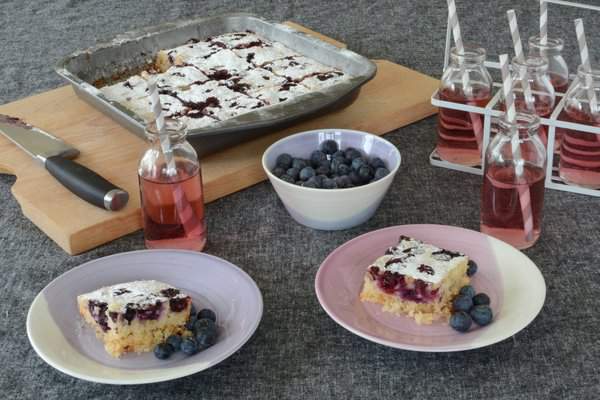 Ingredients
Coconut Base
80g caster sugar
50g unsalted butter (this is slightly more than the original recipe)
pinch of salt
150g desiccated coconut
Cake Layer
2 medium eggs
150g caster sugar
150g topped, tailed, peeled and finely grated courgette
zest and juice of 2 whole limes
120g white rice flour
2 tsp baking powder
1/4 tsp salt
200g blueberries
Icing sugar to dust
Method
1. Preheat the oven to 180°C (350°F). Line a 22cm square baking tin with baking paper and brush with vegetable oil
2. For the coconut base, put the caster sugar, butter and salt into a saucepan and heat gently. Once the butter has melted it will form a paste.
3. Put the coconut in a large bowl and pour the paste on top. Use a palette knife to mix together then finish bringing it together with your fingers.
4. Push the mix into the base of the baking tin. Place in the oven and bake for 15 minutes. It can burn easily so check every few minutes and reduce heat if necessary.
5. While the coconut base is baking you can make the cake. Beat together the eggs and sugar until light and fluffy.
6. Add the grated courgette and lime zest and beat again.
7. Add the flour, baking powder, salt and lime juice. Beat until well combined and pour into the baking tin on top of the coconut layer. It will be quite runny at this stage.
8. Scatter the blueberries into the cake mix and place in the oven for 30 minutes.
9. Allow to cool for 10 minutes before cutting into slices. It helps to have a cake slice to get both layers out in one piece.
Enjoy!