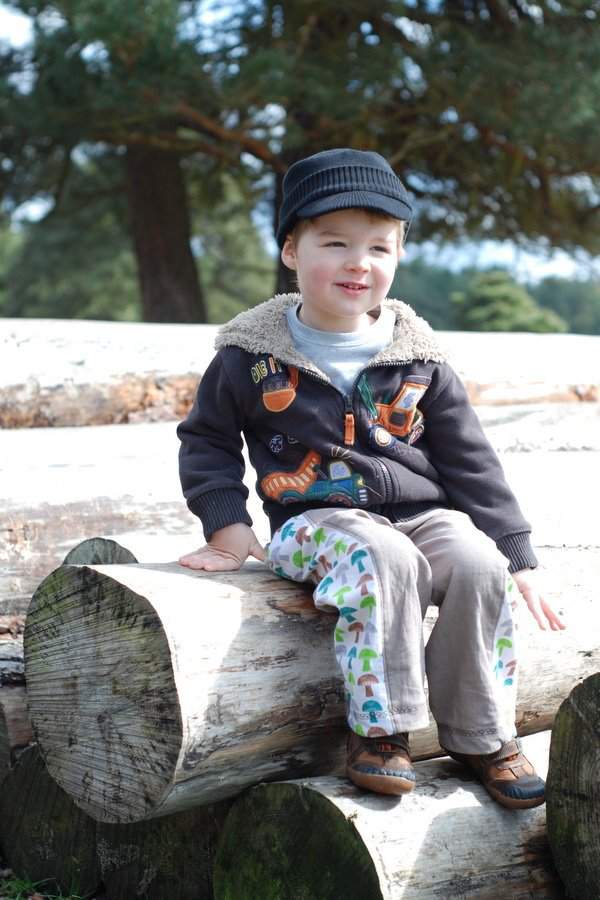 When my copy of the long awaited 'Sewing for Boys' book first arrived, and I skimmed through it excitedly, this was one of my favourite items in there along with the Henry Shirt. What I love about both of them is that they use two different fabrics, which means you can choose a bit of a louder pattern and combine it with a plainer option. I finished these trousers over a week ago but we've all been ill since then. When we saw the sun finally making an appearance today we couldn't pass up the chance for a walk in the local forest though.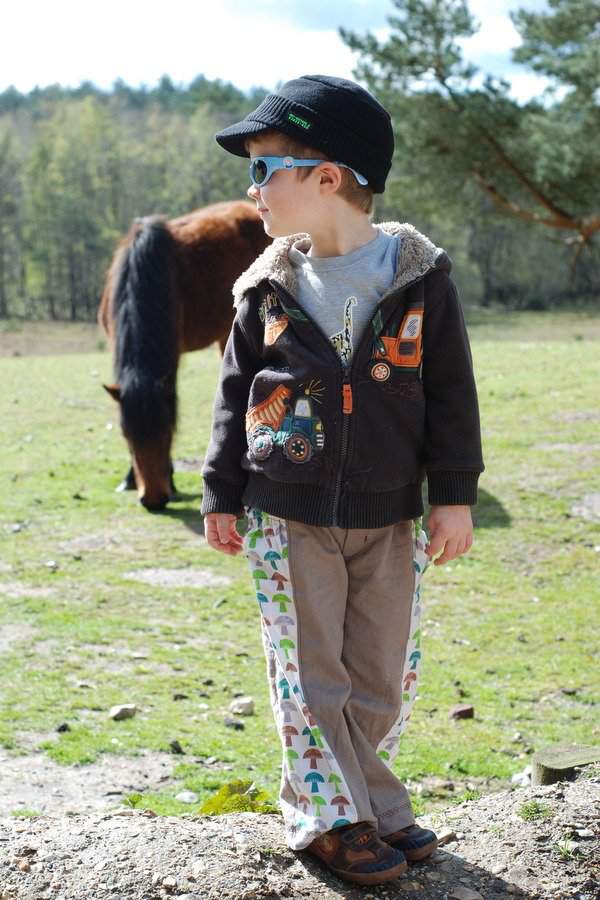 I'd already bought the fabrics I was going to use and traced out the pattern so I was really pleased when Stacey from Boy, Oh Boy, Oh Boy! announced that this would be the pattern for the April 'Sewing for Boys Sew Along'. The mushroom fabric is from the 'To Market To Market' collection and was designed by Marie Perkins, writer of the fantastic 'Print and Pattern' blog. I bought it from Fabric Rehab (found here) along with this taupe linen mix, which was lovely to work with.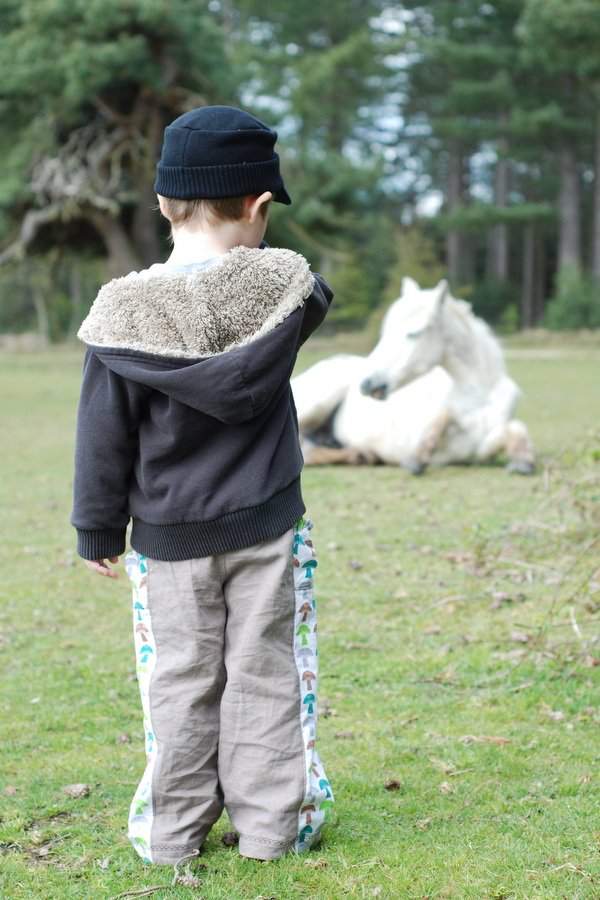 I know the patterns run quite big so I used age 2/3 but added two inches to the length. Casper is 3.5 and tall but fairly slim nowadays and this ended up fitting him perfectly. He wasn't always slim – at 3.5 months his weight was above the 99th percentile but fortunately that has evened out as he got older and more active. As an added bonus the same size fits Rowan, I just need to make them a few inches shorter. I splashed out on my first sewing machine a couple of weeks ago and was looking for an excuse to try out some of fancy pants new stitches I can now use, so I topstitched the cuff using a tree stitch as I thought it went well with the mushrooms. It was so easy to do and I love the effect.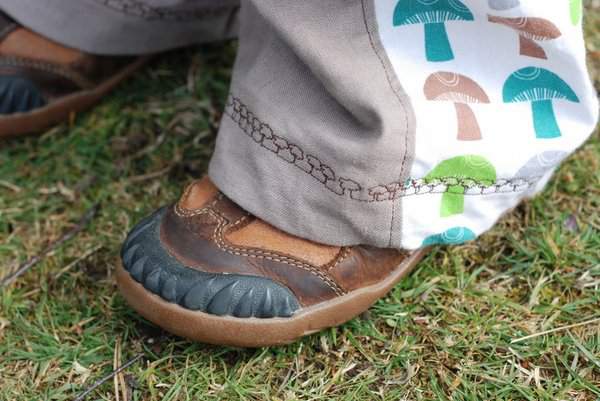 I seem to make at least one mistake on everything I sew and I made my biggest yet on these. I am used to sewing the two back panels together before joining them to the front panels. This pattern is different though and the back panels are attached to the side panel before they are then joined in the middle. This makes sense but unfortunately I neglected to check that the back panels were on the right way up. I had sewed both panels on and top stitched one before I noticed. I should also point out that there is an error in the pattern pieces and instructions so do check out the updates page of the 'Sewing for Boys' website for the corrections. Fortunately I was aware of these so I was just limited to making up my own errors.
This is a lovely pattern, really comfortable to wear with a wide waistband and lovely big pockets for your boys (or girls) to put their treasures in. I'm hoping to get lots more sewing in next week as it's the Spring 2012 'Kids Clothes Week Challenge'. Meg from the Elsie Marley blog challenges us all to sew children's clothes for an hour a day for a week to see how much you can make in that time. Hop on over to sign up if you want to. I've loved seeing what other people have made the last two times it has run so I'm really looking forward to joining in this time. I am pretty slow at sewing, what with all the mistakes, so I'm hoping to cut out some fabric in preparation tomorrow. I have a long list of things I'd like to make but I'll be happy take part and get a few things made.