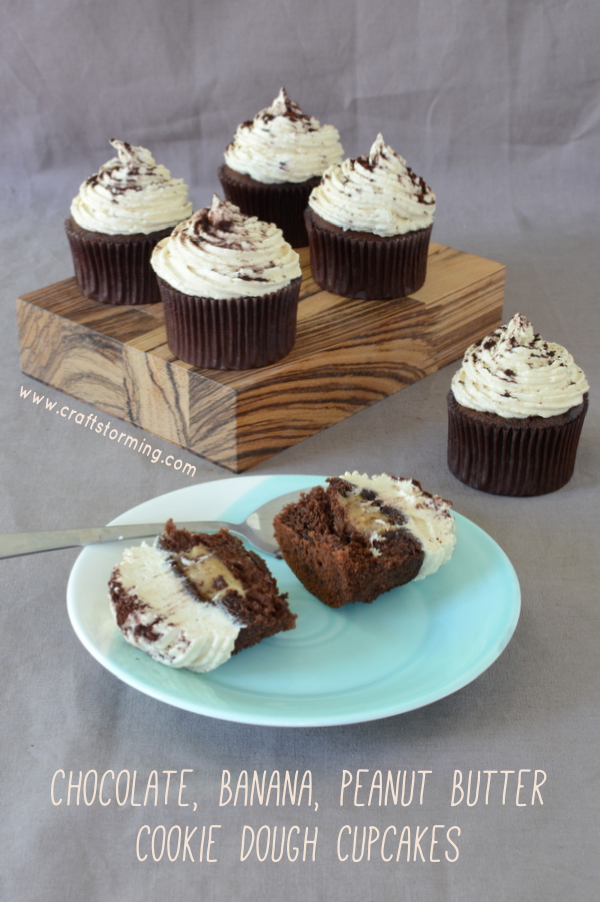 That's a pretty long title but it could have been longer. The full description is chocolate, banana and peanut butter cupcakes stuffed with peanut butter cookie dough and topped with peanut butter cookie dough buttercream frosting. That might sound over the top but they were some of the best cupcakes I've ever eaten. It's been a long time since I shared any baking with you and almost as long since I actually did any, so I wanted to return with something I hadn't made before. I noticed some overripe bananas last week while I was making a peanut butter sandwich and thought that they'd make a pretty good pairing. Chocolate was the obvious common denominator but I still think these would be very tasty without the addition of the cocoa powder.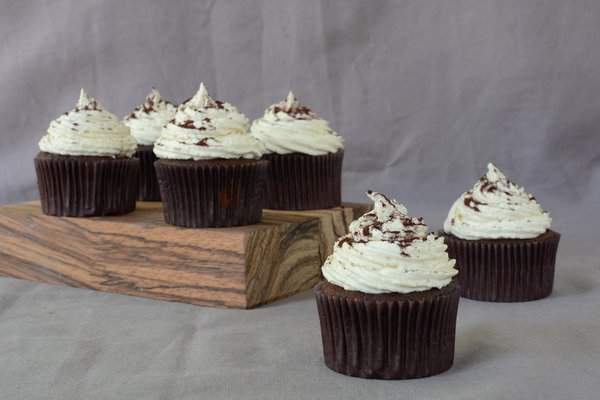 I thought the buttercream might be a bit heavy once the cookie dough was mixed it but it was so light with a subtle taste of peanut butter. They don't take too long to make either – you can prepare the cookie dough and buttercream while the cupcakes are in the oven. The light, moist cupcake and fluffy buttercream are balanced perfectly by the nugget of cookie dough that is hiding in the middle. They were absolutely delicious and the flavour combination was even better than I'd hoped. I'll definitely be making thse again in the future.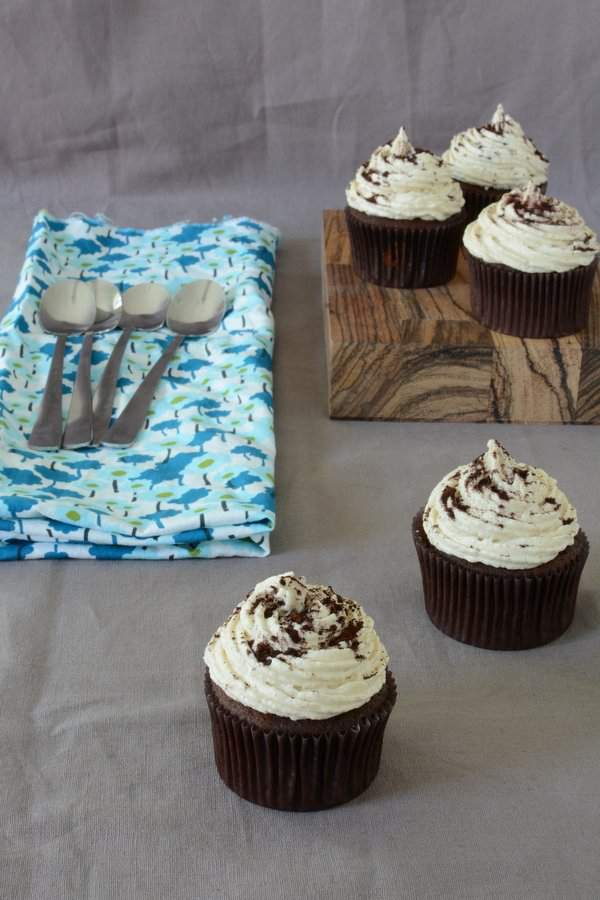 Chocolate, Banana and Peanut Butter Cupcakes (adapted from The Hummingbird Bakery Cookbook)
Makes 12 large cupcakes
Ingredients
100g plain flour
30g cocoa powder (replace with more plain flour if you don't want the chocolate)
1 tablespoon baking powder
140g caster sugar
a pinch of salt
80g unsalted butter, at room temperature
60g smooth peanut butter
120ml whole milk
1 teaspoon vanilla extract
2 large eggs
120g peeled banana, mashed
Method
1. Preheat the oven to 170°C (325°F)
2. Put the flour, cocoa powder, sugar, baking powder, salt, butter and peanut butter in the bowl of a freestanding mixer with paddle attachment (or use a handheld whisk). Beat on a slow speed until it is a sandy consistency.
3. Pour the milk and vanilla in slowly and continue to beat until everything is well combined.
4. Add the eggs and beat until combined again.
5. Gently stir in the mashed banana.
6. Fill cupcake cases until two-thirds full and bake in the preheated over for about 20 minutes, until the sponge bounces back when pressed.
7. Leave to cool while you making the cookie dough and buttercream.
Peanut Butter Cookie Dough (from The Cookie Dough Lover's Cookbook, converted from cup measurements)
Ingredients
113g unsalted butter, at room temperature
113g smooth peanut butter
50g granulated sugar
110g light brown muscovado sugar
60ml whole milk
1 teaspoon vanilla extract
130g plain flour
a pinch of salt
Method
1. Put the butter, peanut butter and sugars in a large mixing bowl and beat together with an mixer on medium until it is a light, fluffy consistency.
2. Beat in the milk and vanilla.
3. Add flour and salt. Beat slowly until well combined.
4. Set aside 200g of cookie dough for the buttercream.
5. Once your cupcakes have cooked, scoop out a cone in the middle. Slice off the top and keep it. Fill the hole with cookie dough and replace the top.
Peanut Butter Cookie Dough Buttercream
Ingredients
170g unsalted butter, at room temperature
200g icing (confectioner's) sugar
200g peanut butter cookie dough (reserved)
1 teaspoon vanilla extract
Cocoa powder for dusting (optional)
Method
1. Put the butter into the mixer bowl and beat on medium for 1-2 minutes, until smooth.
2. Add the sugar 50g at a time and beat until smooth.
3. Add the reserved peanut butter cookie dough and vanilla extract. Beat for 2-3 until smooth and fluffy.
4. Place the buttercream in a piping bag and pipe onto the cupcakes. Alternatively spread it on with a palette knife.
5. Dust with cocoa powder.
Enjoy!