I am really excited to announce that the Fancy Pants Leggings PDF Pattern is now available to buy here. My pattern company is called 'Titchy Threads' and you can find the website at www.titchythreads.com. I will be adding a couple of free patterns there soon too. You can also follow Titchy Threads here on Facebook if you want to be updated with the latest pattern releases, sales and calls for pattern testers. In celebration of Kid's Clothes Week there is a 15% discount until Sunday with the code KCW15.
You can also find out more details on the Fancy Pants Leggings pattern page on this blog. I'll be keeping the page updated with links to all the posts and tutorials related to the pattern. I have set up a 'Titchy Threads' group on Flickr where you can share anything you've made with my patterns. I'd love to see them so do share.
They're pretty excited about the release too…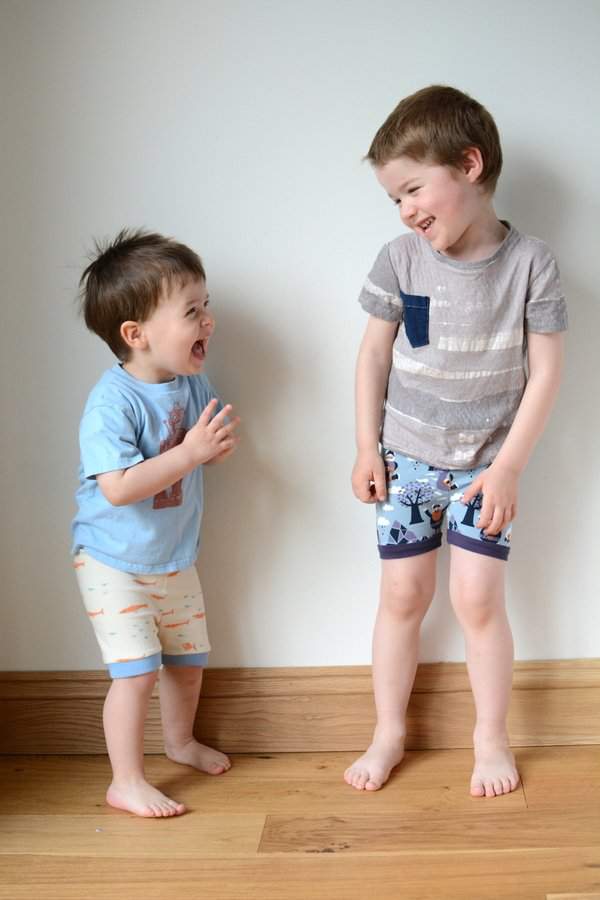 Casper and Rowan are both wearing shorts versions of the Fancy Pants Leggings, which is an option included in the pattern. The very first pairs I made of the pattern I made last year were shorts. Fortunately, we've finally started getting some warmer weather here in England so they can actually wear shorts again now.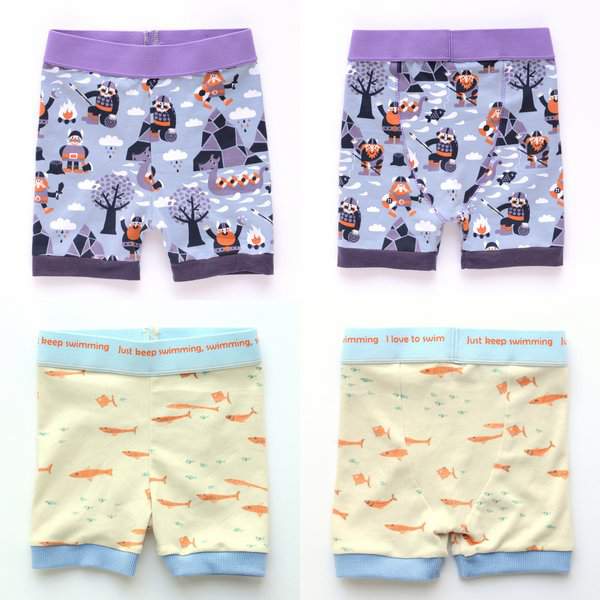 The amazing viking fabric is another one in Amanda from Kitschycoo's shop. Casper was desparate for me to make him a purple pair and this was the only suitable fabric with any purple in it. It's a jersey and is so lovely to work with, as was the tiger print I used in a recent pair of Fancy Pants Leggings. It's soft, thin but not too thin, really stable and hardly curls up at all. Even the background looks purple in the photos but it's actually grey with purple details in the images. That combined with the elastic and cuffs meant Casper was pretty happy with them though. To increase the purple factor even further I added some decorative top stitching around the panel with an overlock stitch. Casper immediately requested a purple T-shirt to go with them.
The print on Rowan's pair is called Swim Class and is by Heather Ross. It was released as part of her Mendocino collection years ago but I didn't discover it until it was sold out. I was so excited when I discovered that her prints are now available on Spoonflower – the Heather Ross prints are here. This also means that it is now available on their wonderful knit interlock fabric. I ordered a yard on their last free delivery day and have been plotting to make these ever since. Finding Nemo is pretty popular with my boys so I couldn't resist adding some of Dory's 'Just Keep Swimming' song. You can see how I do that in my 'branded' elastic tutorial.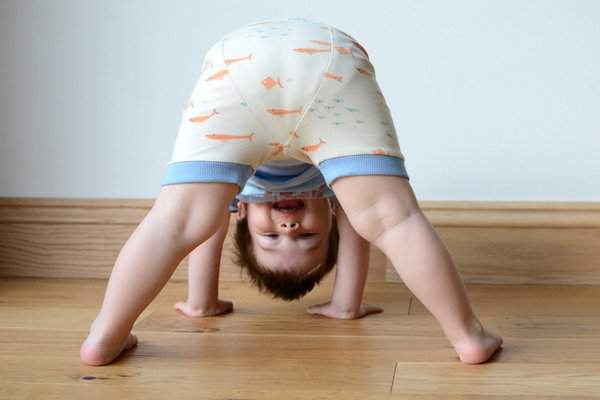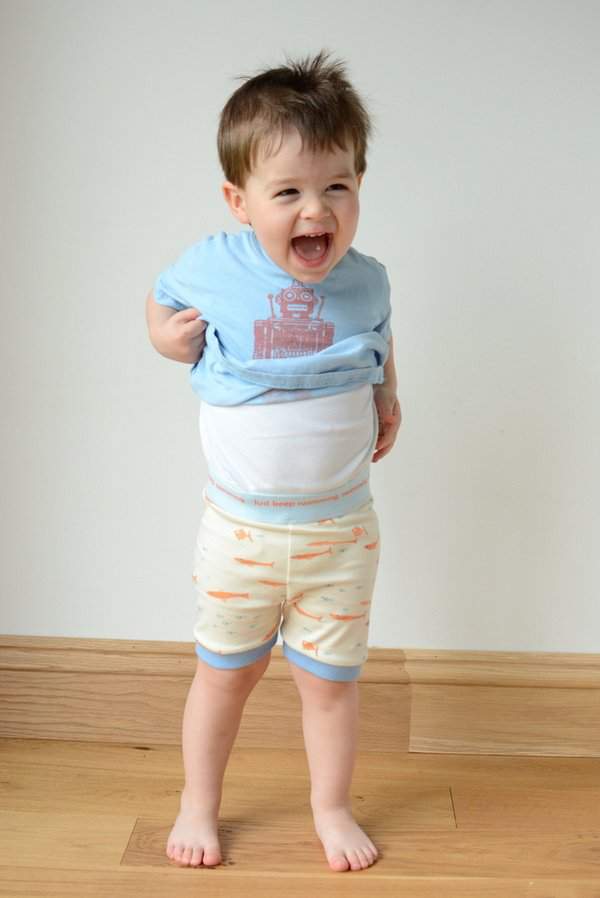 I've put a lot of work into this pattern and have had a lot of help from other people along the way. Special thanks go to my family and especially my husband who built the website for me. I am also really grateful to all the testers who helped to make the pattern the best is can be. I hope you all like it.