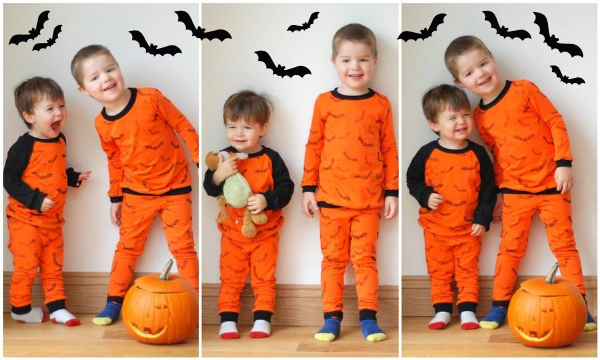 I didn't quite manage to sew a Halloween costume this year but I made both my boys some Halloween pyjamas instead. I've wanted to try stamping fabric for a while and this seemed like the perfect opportunity. I searched on google images for a bat image that I liked and converted it into a cutting file. I then used my digital cutter to cut the bats in three different sizes out of craft foam. It's not the easiest or the quickest thing to cut but it's a handy option to have.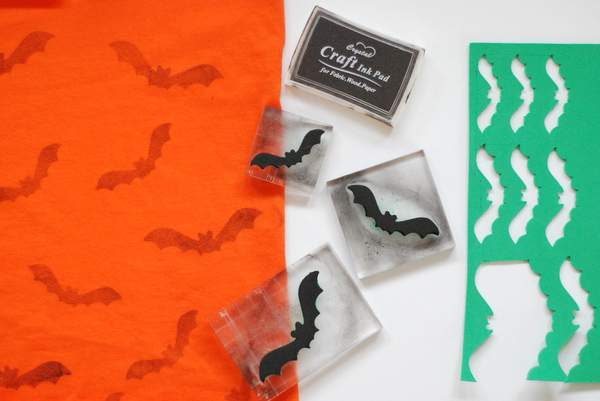 I ended up using three layers of foam for each stamp as I was getting lots of marks from the edge of the acrylic block when I just used one layer. Not wanting to mess around with testing two layers I jumped straight up to three and started stamping in a random pattern. The stamps were getting fainter towards the end and I'd like to try the Versacraft stamps next time to see if there's any improvement. By the time I'd finished stamping all the fabric my fingers were locked straight for a while. What I didn't realise when I started this project is how long it takes to heat set the fabric ink, otherwise I might not have stamped 2m of fabric for my first attempt. I got some excellent advice from my friend Abby and after a lot of ironing I was finally ready to start sewing.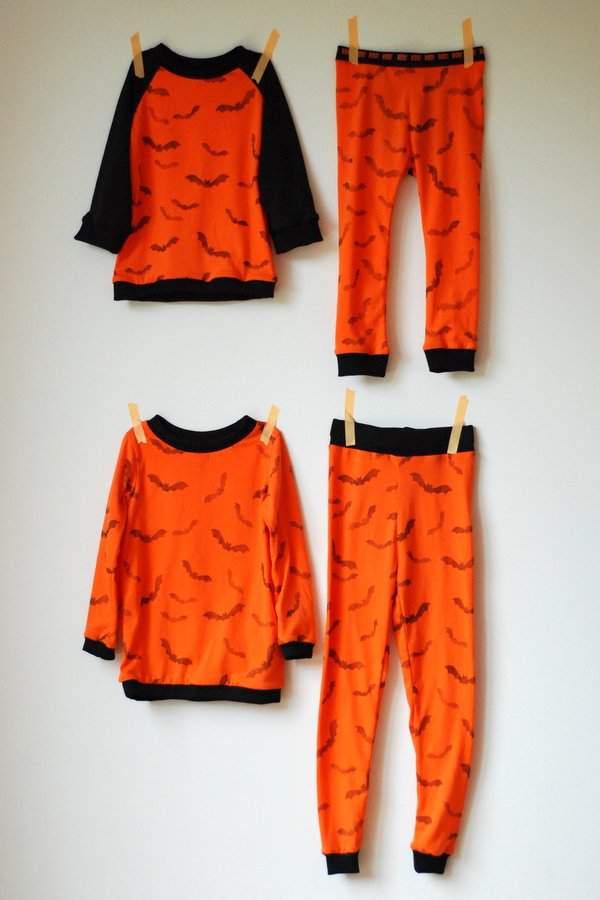 I cut Casper's set out first as the lanky boy has outgrown most of his pjyamas and desparately needs more. I went for the tried and tested combo of Made by Rae's Flashback Skinny Tee and the 'Sleeping Johns' pattern from Growing Up Sew Liberated. I wanted Casper to get a lot of wear out of them – he just turned 4 but is the height of a 5 year old already – so used size 5 for the T-shirt and 4T for the leggings. The ribbing helps to stop them looking too big now and they should last quite a while. They passed the jumping test anyway.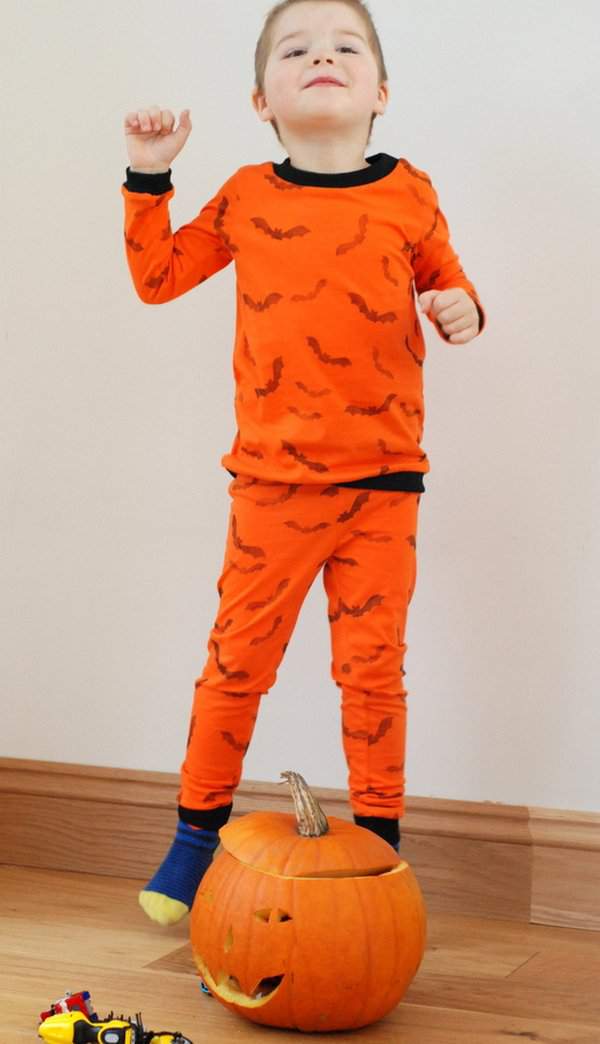 When I came to cut out Rowan's set I realised I wouldn't have quite enough fabric to use the same patterns for him but I think I prefer both sets being slightly different. For the T-shirt I reverted to a raglan tee pattern from Ottobre 4/2010 that I used before here. The leggings are my own pattern that I previously used to make the pyjama shorts that I showed in my brand your own elastic tutorial. I may have mentioned in that post back in June that I'd be back soon to talk about the pattern but I got a bit sidetracked. I am working on it though and plan to release it as a pdf pattern soon.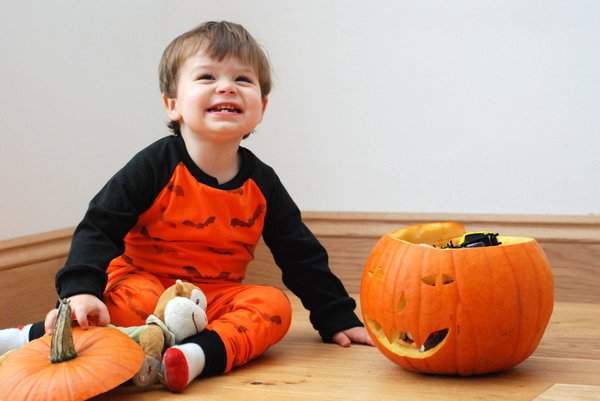 The front looks the same as the other pair except for the exposed elastic waistband but there is a narrow contrast bum panel on the back.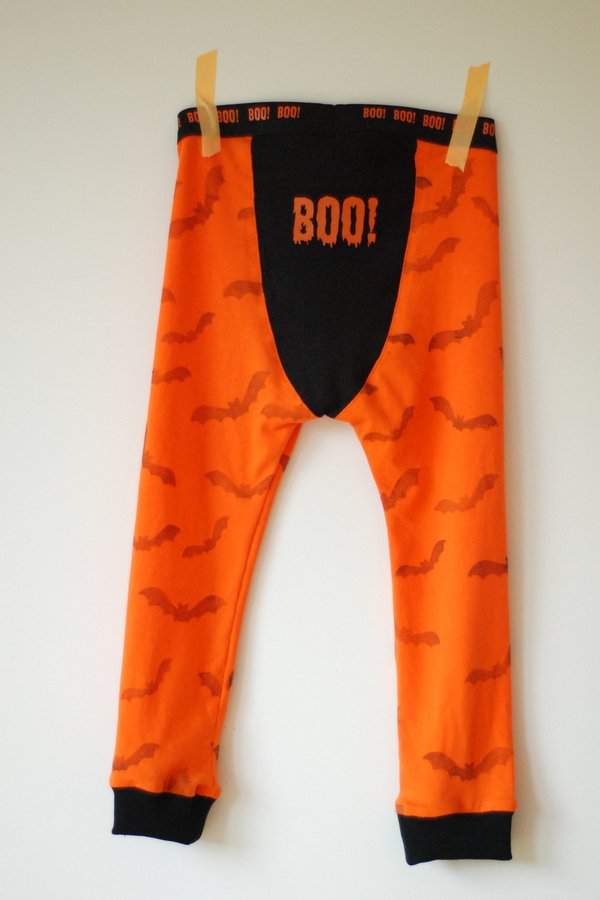 As they're for Halloween I couldn't resist adding Boo! to the bum panel and the elastic, using heat transfer and my digital cutter again.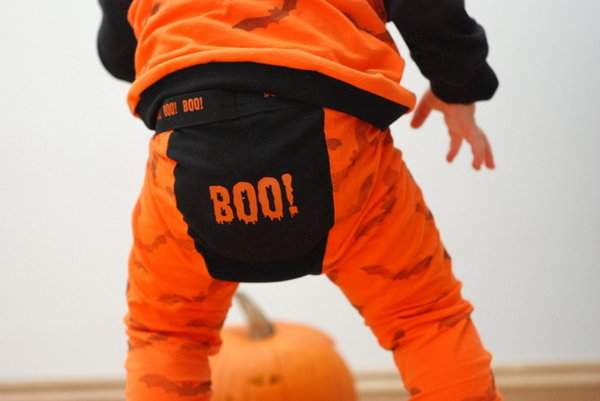 I think these pyjamas might have taken almost as long as sewing costumes would have taken but hopefully they'll get a lot more wear out of them.