One of my best friends was due her second baby just before Christmas and I desperately wanted to make her something gorgeous but also practical as a baby shower gift. I pulled out every sewing book, looked at patterns and trolled the internet for some inspiration for something to make when I came across this blogspot by Sarah Gibby called 'Buzz about baby' and found her car seat canopy tutorial and thought it would make the perfect gift!
I had seen these car seat canopys being used before and thought they were a really good idea. Perfect for keeping your baby sheltered from the elements when moving him/her to and from the car as well as providing some quiet darkness if they're sleeping whilst you are out and about.
Now I knew what I was going to make I went back to my favourite online fabric store 'Fabric Rehab' and found some funky gender neutral fabrics from which I could sew up this delight and here is the finished article.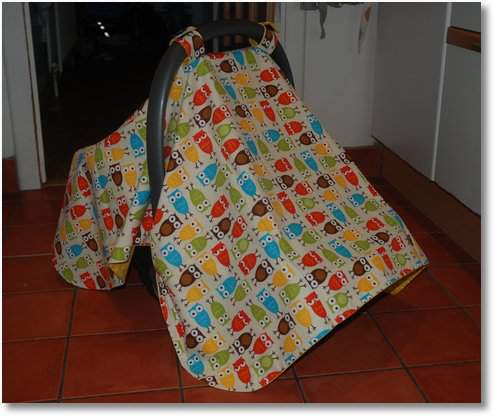 I was so pleased with how it turned out. I totally love the owl print fabric and seeing as at the time I didn't know whether the baby was a boy or a girl I think it worked well for either. I teamed the owl print with a yellow spot print fabric for the reverse side which made the finished canopy bright, fun and perfect for the new addition to our gang.

Thankfully my friend loved her baby shower gift and couldn't wait to use it. Just before Christmas she had a gorgeous, healthy baby girl and the car seat canopy is very much in use.