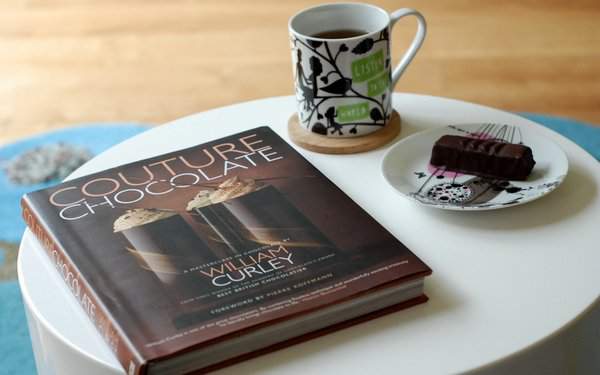 I was very excited when William Curley announced that he was writing a book. His chocolates are of the highest quality with unusual yet delicious flavours that often pair British and Japanese ingredients. He is a highly accomplished pastry chef and chocolatier who, along with his wife Suzue, opened his first boutique in Richmond in 2004. Since then he has been a major contributor to the surge in demand for high quality chocolate in London. He opened a second boutique in Belgravia in 2009 and more recently launched a concession in Harrods. Therefore, I had high expectations for 'Couture Chocolate' and it doesn't disappoint in the slightest.
In the acknowledgements William states that "after years of waiting, I have finally been fortunate enough to find a publisher who shared my vision for this book" and what a vision it was. This is a beautiful book with stunning photography that anyone would enjoy browsing. However, is it far more than just a coffee table book that will never get used. The content is comprehensive and detailed, with 220 pages of recipes split into nine chapters including Truffles, Couture Chocolates, Bouch?es and Patisserie. It contains recipes for many of William's popular products, such as the Orange Teacake (the ultimate Jaffa Cake) and his salted caramel. In fact, if you want to make a caramel, you've got recipes for;
black olive and tomato caramel

ginger caramel

orange and balsamic caramel

salted butter and muscovado caramel

sea salt caramel
The book also includes a step by step walk through many of the techniques required to make the recipes, such as tempering and making a variety of decorations with chocolate. I was really interested to read about his method of flavouring chocolate bars by infusing cocoa butter with natural ingredients rather than adding extracts. William has an easy going style that makes even the more complicated processes seem accessible. I think that there is a good balance between giving enough information without overwhelming the beginner.
I would thoroughly recommend this book to anyone, whether a beginner or someone who already has a large collection of books on chocolate. You can purchase a signed copy of the book direct from William Curley .
Chocolate Coconut bars
This is the only recipe that I have tested so far but there are so many others that I intend to try. Mine (shown below) are not quite as neat as the ones that William sells (shown in the picture at the top of the post) but everyone who has tried them has said how much better they are than a Bounty.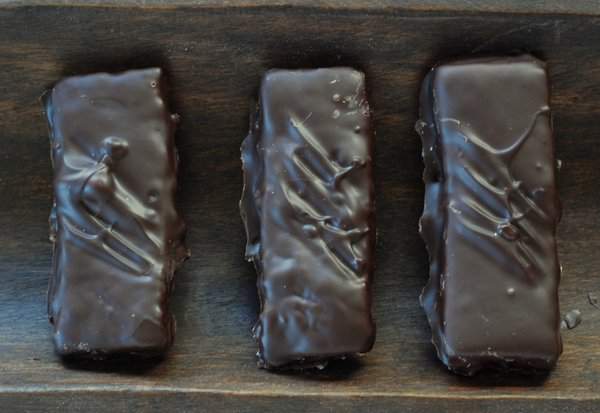 Recipe (published with permission)
Makes about 25 small bars
Ingredients
265ml ready made coconut pur?e or unsweetened coconut milk
60g invert sugar (I used light brown muscovado sugar instead)
450g fine white chocolate finely chopped
225g desiccated coconut, lightly toasted
500g tempered fine dark chocolate, to coat
Method
1. Line a 28 x 35cm deep-sided baking tray with baking paper.
2. Put the coconut pur?e or coconut milk and invert sugar in a saucepan and bring to the boil.
3.. Gradually pour this over the white chocolate in a mixing bowl, stirring continuously to form an emulsion.
4. Mix in the toasted coconut and pour the coconut ganache into the lined baking tray. Leave to set overnight in a cool, dry area.
5. Turn the ganache out and cut into 25 small rectangles (about 7.5cm by 2.5cm each).
6. Use a dipping fork to coat each rectangle in tempered chocolate. Leave to set fully in a cool dry area. Store in an airtight container and consumer within 1 week.