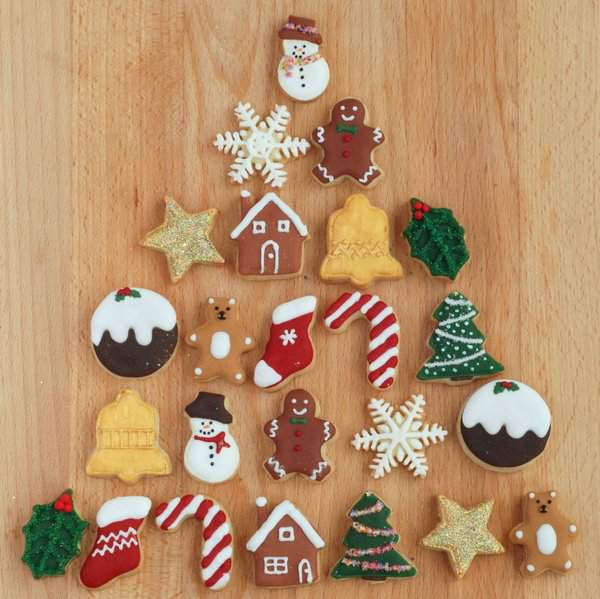 It's been a couple of years since I made any decorated cookies. Last time I was 8 months pregnant with Rowan and it's certainly a lot easier piping without a baby belly. At that stage most people would be nesting like crazy but we were staying with my parents as our extension, that we wisely started when I was 5 months pregnant, had overrun. So instead of nesting I developed a bit of an obsession with decorating cookies. You can see the cookies I made back then on Flickr – here, here and here. Since then I've wanted to make a full set of mini cookies for an advent calendar and I have finally done it, with a few days to spare. In fact I made enough for three sets of advent calendars – one each for my boys and one for my Nan. There's a few left over for me too.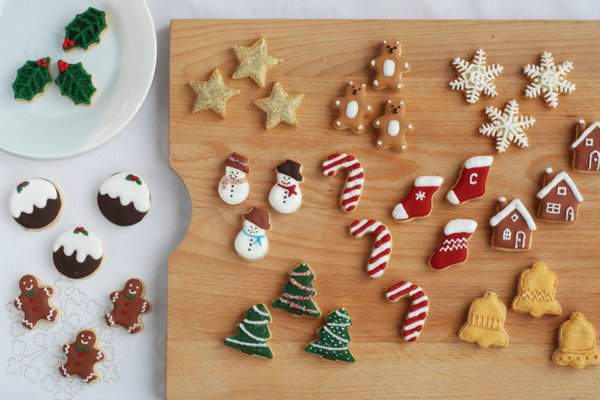 I have quite a few cookie cutters but didn't have enough mini ones to have the variety I wanted in an advent calendar until last week. While looking around Dinghamsnear where I work, I spotted a pack of nine mini Christmas cutters. My mini gingerbread house cutter was a similar size but I had to improvise to get up to twelve different cookies. The snowflakes are made using a press out cutter that is really meant for sugarpaste, it's not ideal as it squashes the cookie dough so it's not perfectly flat. I got away with it as I was only piping detail and not attempting to flood the cookie with icing. The final cookie in the set was the Christmas pudding. I had circular cutters both bigger and smaller than I needed but none the right size so to get around this I used a shot glass.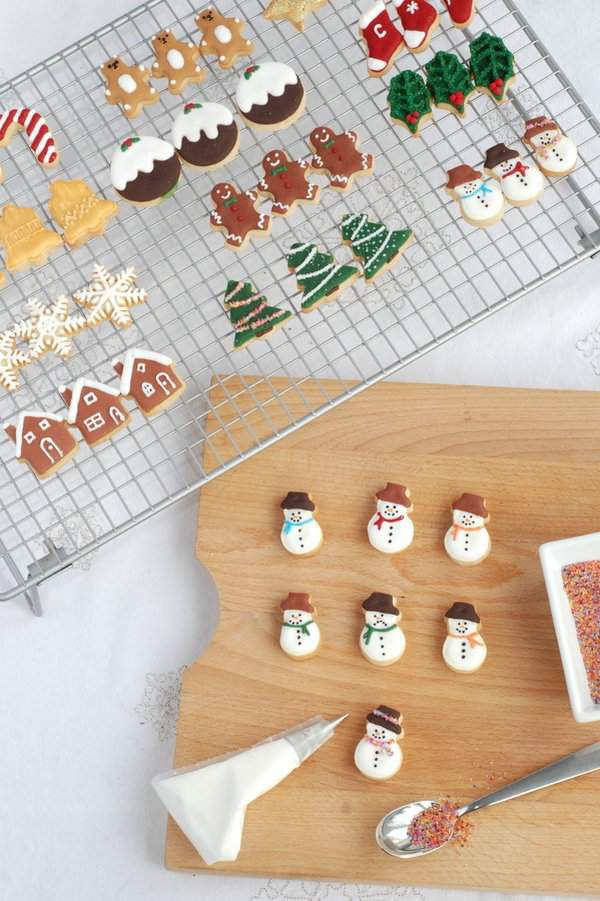 I needed to order some more nozzles last week and picked up some white, green and rainbow coloured sanding sugar at the same time. I absolutely love this stuff, it takes a lot of restraint not to add it everywhere. To put it on I make sure the areas I don't want it to stick to are dry and pipe the detail I want to add. I then hold the cookie over the bowl I've put the sanding sugar on, spoon it on top then turn the cookie upside down and tap gently until all the excess has fallen back into the bowl. You end up hardly using any at all, so even a small bag of it will last for ages.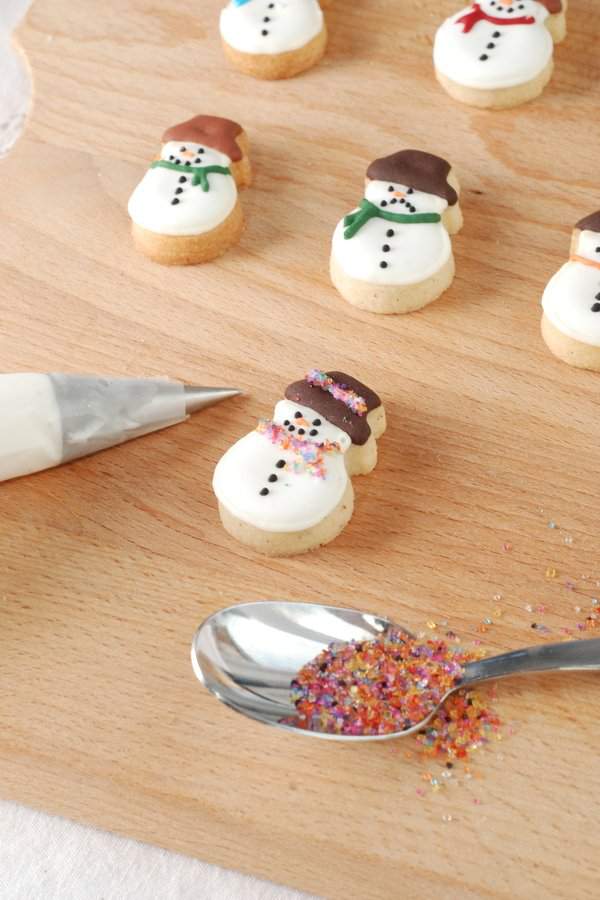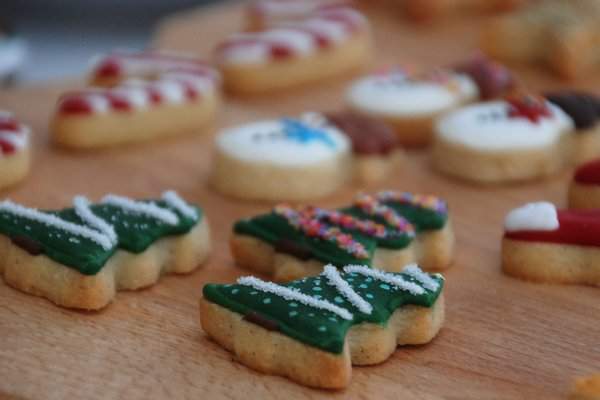 The cookie recipe is the same one I used for my Robot Stamp Sugar Cookies. I always make sure I chill the cut out cookies before baking for at least half an hour to help prevent them from spreading. For the royal icing I just used Tate & Lyle Royal Icing Sugar, one of these days I'll try making it from scratch though. I think my favourite is the classic gingerbread man but I'm not sure I could eat him. I don't think my boys will have the same difficulty.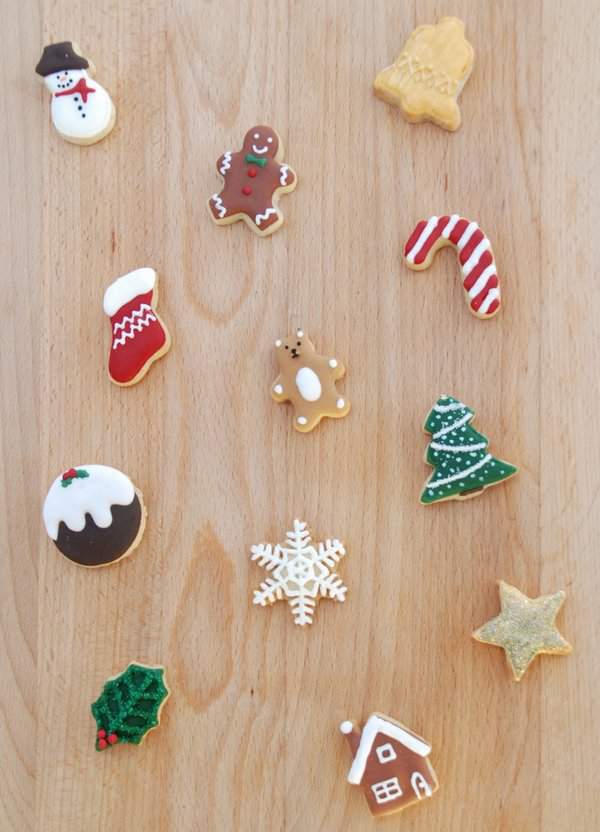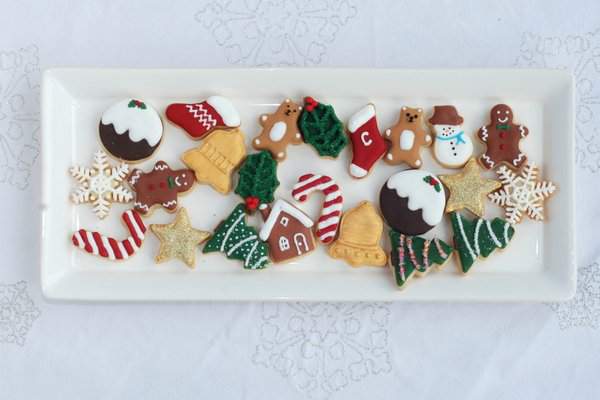 I've put the boys' cookies in this felt nativity advent calendar, which I got for half price from Lakeland in January this year. They're selling them againthis year. The felt pieces have velcro attached to the back so the boys could play with them. I have a feeling I might have to keep this out of Rowan's reach now it's full of cookies though. There's only enough room for one cookie per pocket so I'll have to have another one ready to refill it for whoever picks second.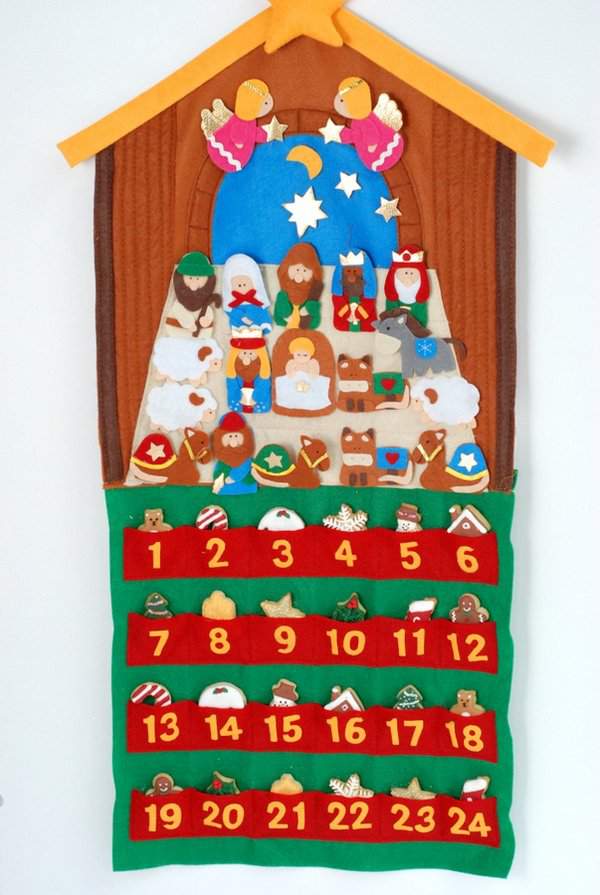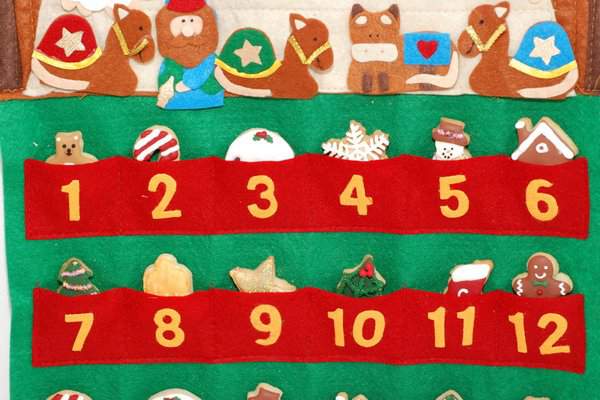 I hope you all like cookies because there's going to be a lot more cookies posts around here during December. I've teamed up with my friend Abby from Things For Boysand we're building up to Christmas with a selection of different cookies. One of us will be posting every other day and Abby will be kicking it all off on Sunday. I'm excited to share all the cookies I'm making with you. Abby has also been posting lots of Christmas craft ideas during November, so head on over now for lots of decorating and wrapping inspiration.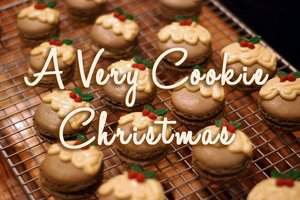 I'm also taking part in 'The Great Food Blogger Cookie Swap 2012'during the month so I will be receiving three different dozens of cookies from other food bloggers. I can think of worse things that making (and eating) lots of cookies, me love cookies!
Linking to;
Tatertots and Jello
Kitchen Fun and Crafty Friday
Sew Can Do Craftastic Monday