All of the details of the Fancy Pants Leggings are shared below. At the bottom of the post is a list of links to all of my the blog posts that include Fancy Pants Leggings. I will update this whenever I make more. If you have the pattern and are blogging about your version then you can link back to this page and I should be notified. I'd love to see any versions you make so you can share them in the Titchy Threads group on Flickr too. You can also like Titchy Threads Facebook page to keep up-to-date with new pattern releases, sales and calls for pattern testers.
The pattern is available to buy here on the Titchy Threads website.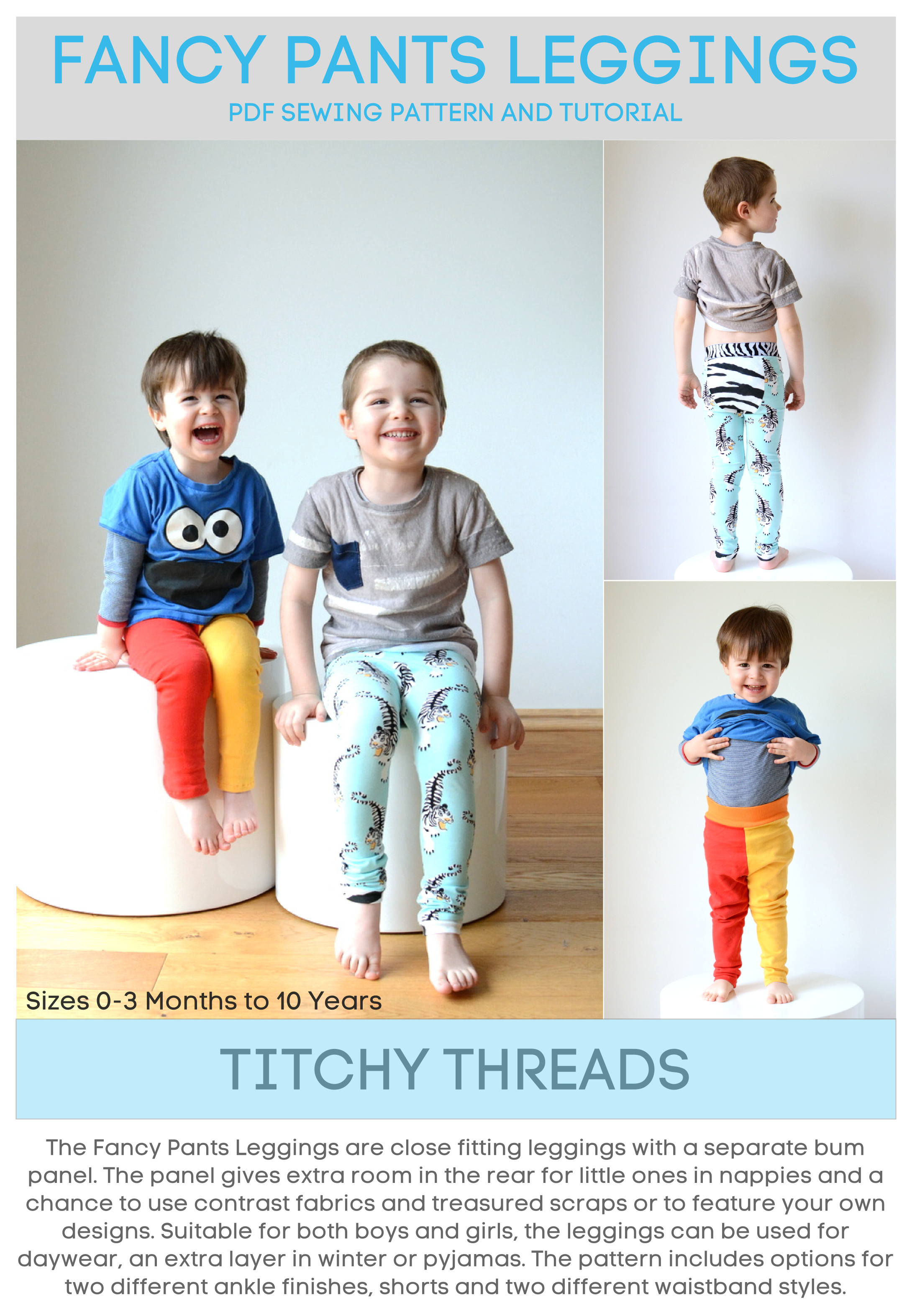 Further details:
47 page PDF document
Full size digitally drafted pattern pieces with seam allowance included.
– 7 pages for ages 0-3 months to 4T
– 12 pages for ages 5 to 10
Age lines vary by colour and line style so they can be printed in colour or black and white
Prints on both Letter and A4 paper
Detailed step by step instructions with full colour photos
Includes lots of tips for sewing with knits. Ideal first knit project.
Width adjustment line gives flexibility to adjust fit.
Serger not required but tips included for those that own one
Metric and imperial measurements included throughout
Terms include right to make to sell on a small scale homemade basis. Refer to FAQ on the Titchy Threads website for further details of terms.
Instantly available to download
Ability to download multiple times when logged into your account. Single owner terms still apply.
Option to receive email updates if a newer version of the pattern is available to download (at no extra cost)
Further details such as fabric requirements, a size chart, example combinations and a sample page view from the pattern can be viewed on the Titchy Threads website here.
I have made a lot of versions of Fancy Pants Leggings now and I have written about several of them in these posts…
http://www.craftstorming.com/2012/06/supercalifrag-elastic-expialidocious – this also includes my tutorial for 'branding' your own elastic
http://www.craftstorming.com/2012/10/hand-stamped-halloween-pjs
http://www.craftstorming.com/2013/02/wearing-his-heart-on-his-bum
http://www.craftstorming.com/2013/04/the-fancy-pants-leggings-coming-soon
http://www.craftstorming.com/2013/04/fancy-patterns-leggings-pattern-available-now
If you have any questions or comments then feel free to contact me at laura@craftstorming.com .