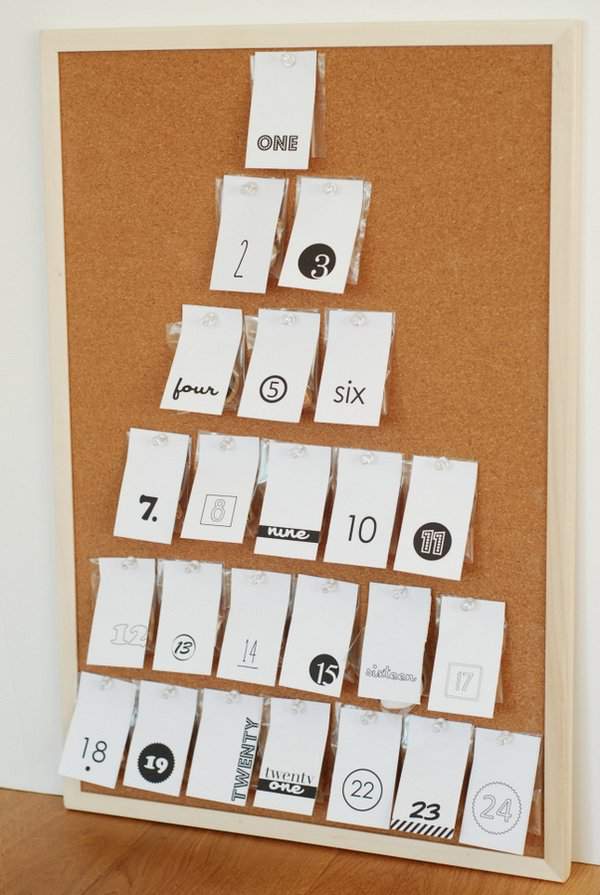 December has seemed like it's been rapidly approaching for a while now and it's finally here. I was hoping to get this post up earlier but I've had a very busy week that included a fantastic visit to the Rococo Chocolates factory – I'll share more about that later. Many of the ideas below could be created quite quickly if you're still in need of an advent calendar. I managed to finish my nan's version of the mini cookie advent calendar a couple of days ago. I didn't have another felt advent calendar like I did for my boys' one so I have been considering several other ways to display them.
I didn't have much time so I was hoping to take advantage of a free printable. Also, my nan is in her nineties now so it was important that all of the numbers were clear and easy to read, which unfortunately counted some of my favourites out. Luckily for me Lisa from The Red Thread had created and generously shared the perfect printable. I arranged them on a pin board (from Ikea) in a Christmas tree formation and pinned the mini cookies behind in small cellophane bags. You can see all the different cookie I made in my previous post here.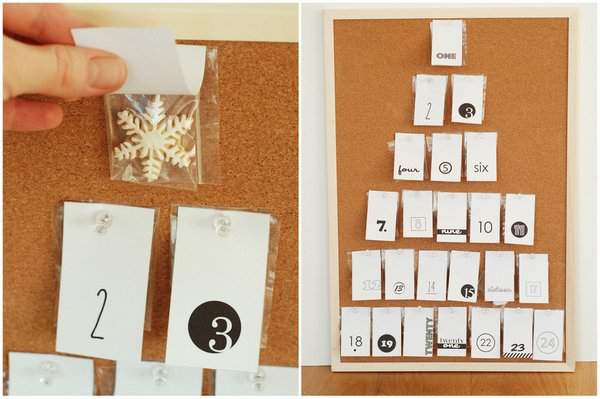 Lisa has displayed hers beautifully on the wall below a spray painted gold Christmas tree, with a fun activity written on the back of each number. You can read the full post and download the free printable here.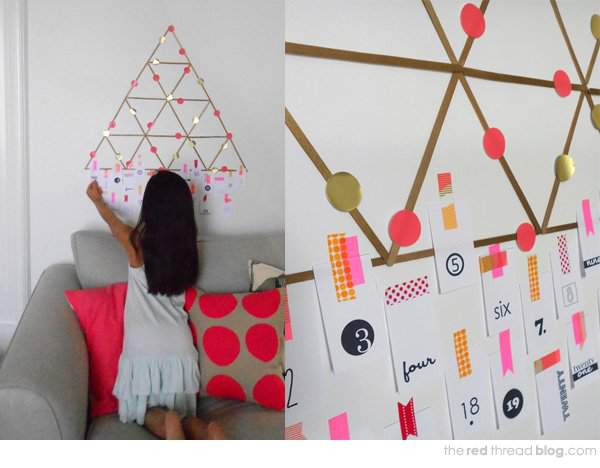 I've seen lots of fantastic modern looking advent calendars while I've been looking for ideas. You can see several of them on my Christmas board on Pinterest. I love how making your own advent calendar allows you to choose the contents so you can add toys or treats that you know your children will love. They can usually be used year after year as well. Here are a few of my favourites. If you would like to pin any of the images below (or the one above) then please go to the original post to do so.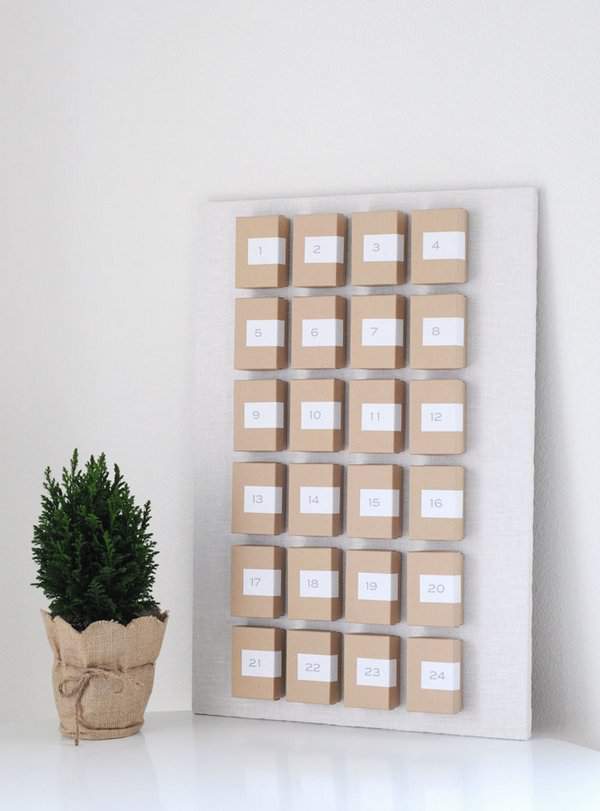 A minimalist Craft Box Advent Calendar by Sally of Sally J Shim would be perfect for a minimalist house.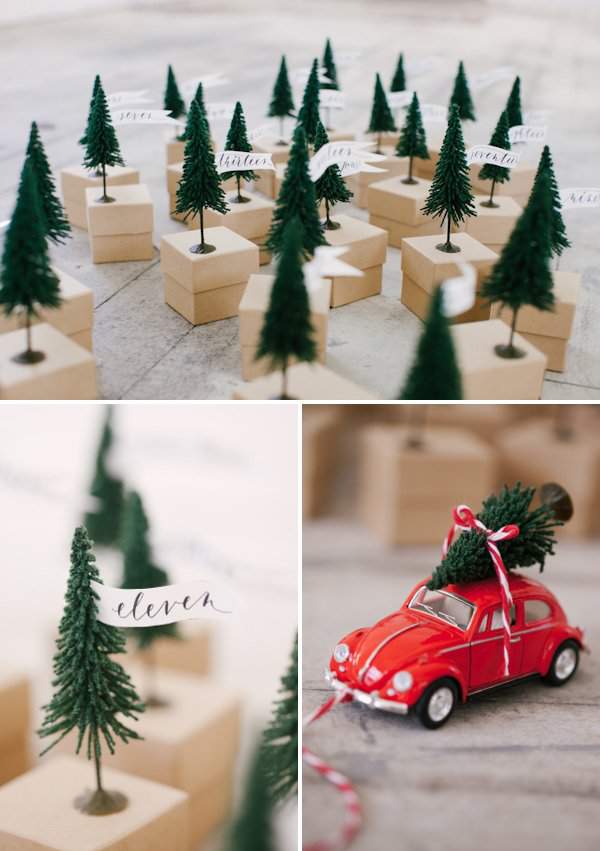 Another one using craft boxes but in a completely different way is this Mini Tree Advent Calendar from Oh Happy Day. The post includes a free printable for the numbers and you can find lots of other great advent calendar ideas from them here.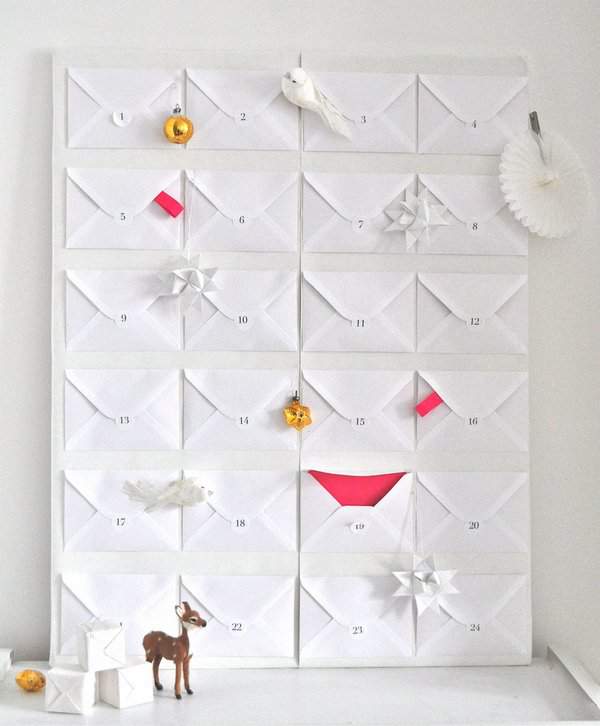 This envelope advent calendar is another simple idea that has been displayed beautifully by Veronika at A Few Things From My Life.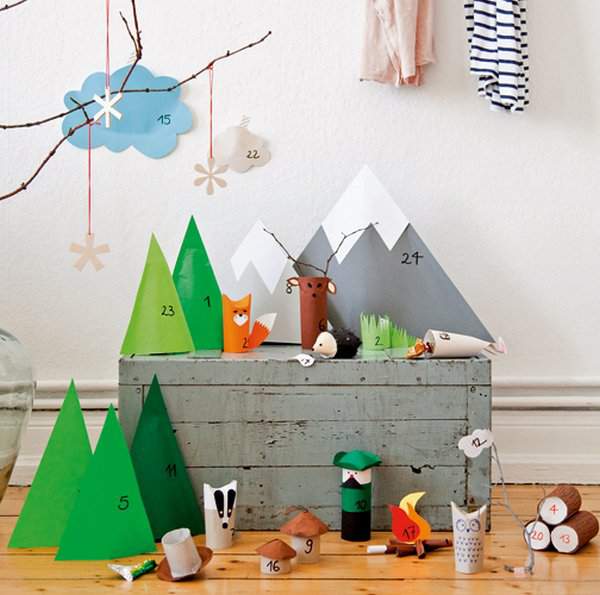 I love the idea for this Forest Advent by Snug Studio for Nido. It's such a fun take on an advent calendar and they designed it to use materials that you could find in any home. There are some other imaginative ideas in the same post.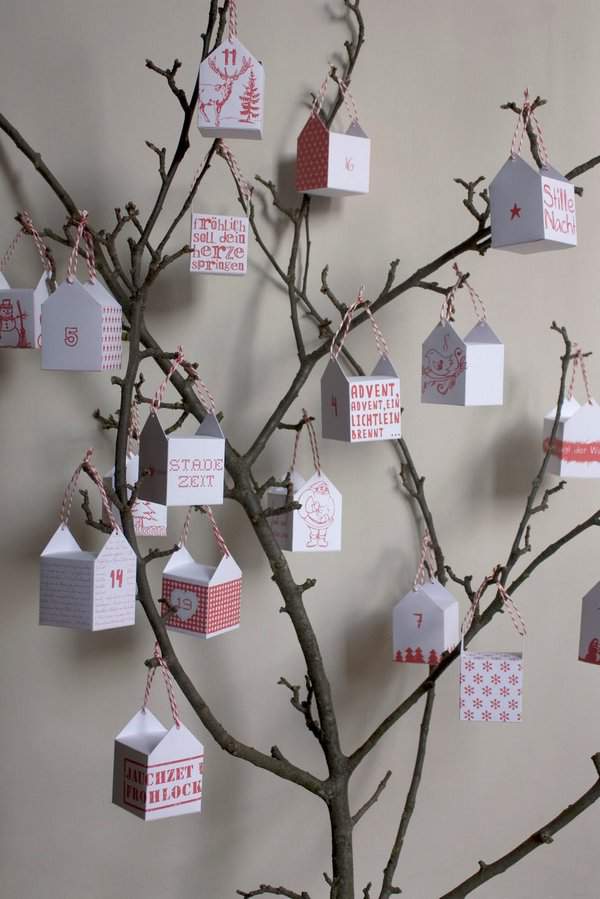 I really like the idea of using a branch to display your advent calendar. This beautiful version includes 24 differently designed boxes. You can download them for free here. It reminds me of this stunning display of clay Christmas decorations by Sania Pell.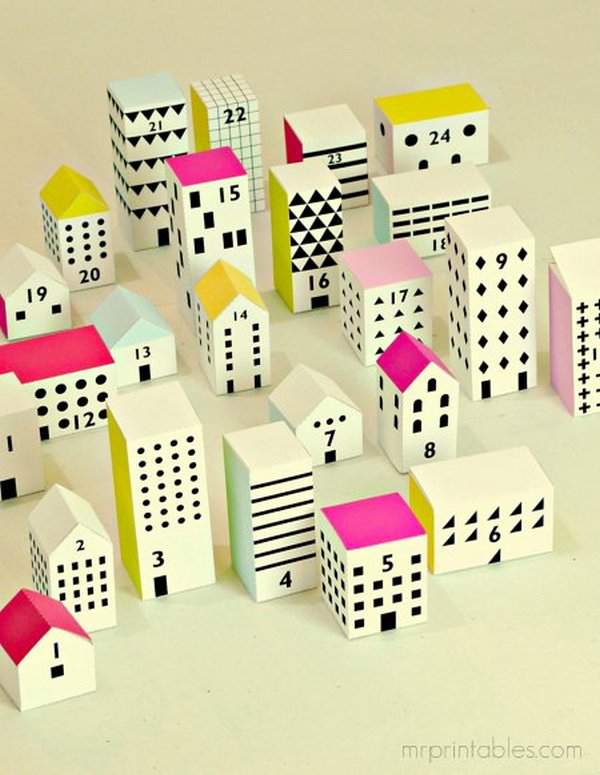 Can you tell me how to get how to get to Christmas Street? Get the free printable and tutorial here, by Mr Printables. There is also a black and white version available that you can let your children unleash their creativity on.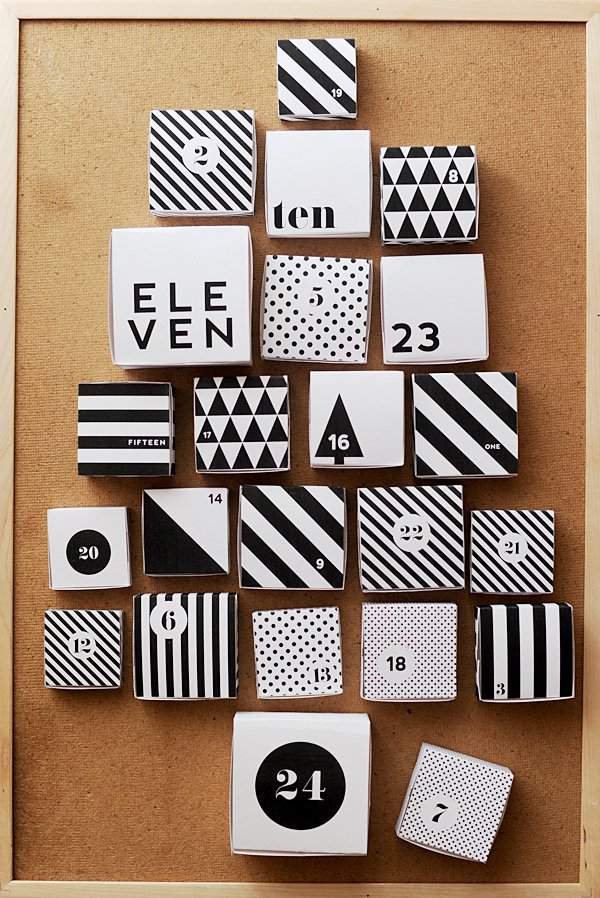 This fantastic modern advent calendar by Hey Look is available as a free printable.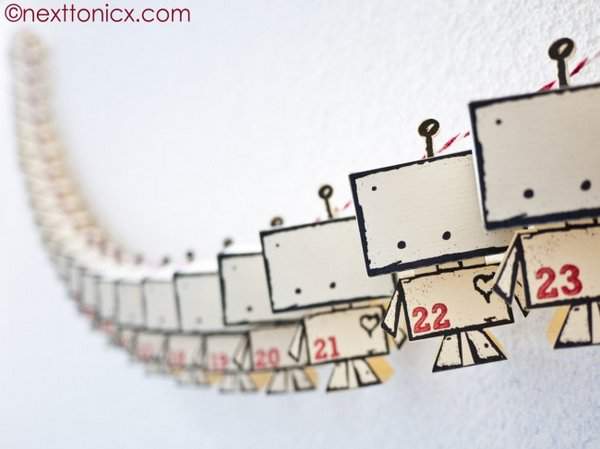 Who could resist a cute robot advent calendar? I love this one and would quite like it for myself. It's available here as a free printable by Nicola from Next to Nicx. If you don't have the time to make them from scratch then she even has a few pre-cut and pre-scored version for sale here.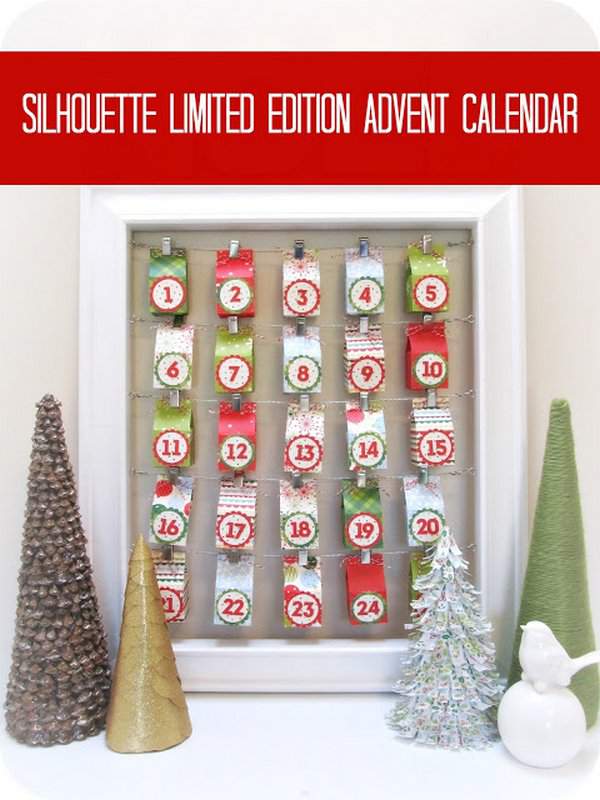 I absolutely love Silhouette's advent calendar kit this year. I really liked their shadowbox last year (Make It and Love It made a lovely one here) but this year's calendar seems more adaptable to year-round use. This version with Milk Boxes from Homemade by Jill is my favourite.

Finally, here's a book advent calendar that I spotted here on Babyccino Kids. I first saw this idea here on made last year but I love how all the books are displayed on the mantel here. Both posts include suggestions for good Christmas books. Casper's favourite Christmas book is Father Christmas Needs A Wee although I stocked up on a few more today so that might change.
We've ended up with a mish mash of several advent calendars as a Lego advent calendar has become a tradition and my nan always likes to buy all her great grandchildren a chocolate one. We also have the cookie one this year and like to read a Christmas book each night as well, although I haven't tried to display our books as a calendar.
So what sort of advent calendar do you prefer? Do you make yours or have great intentions but end up running out of time?
You might also like: