I'm kicking off the 'Sew Yummy' series with a couple of round-up posts.  Although baking and sewing are very different they both allow you to inject so much creativity.  Today's post includes a feast of creative baked goods that have been inspired by sewing.
These button shortbread are relatively simple but very effective.
This idea could be adapted for so many different designs.
These beautiful cookies were created using a confectionery icing called SugarVeil and a stencil mat. They would be perfect for wedding favours.
So many options for fabric designs with this one. There are bow tie cookies too.
These cookies are so sweet and would be perfect for children's birthday parties.
Efficient party planners can use this to provide the food and decoration in one.
There are several lovely ideas on this Vintage Sewing themed dessert table, including these cute embroidered cookies.
I think these cookies would be popular with any seamstress.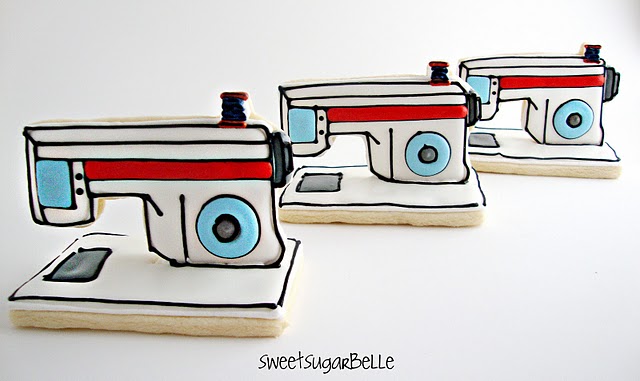 As would these cake pops.
A very realistic serger cake, though we wouldn't expect anything less from the amazing team at
Charm City Cakes
.
A stunning wedding cake designed to co-ordinate with the bunting and jam jar covers. Painting with edible food colours can be a very versatile technique for someone with as much skill as
Natascha Collins
.
Using wedding dresses as inspiration for wedding cakes is fairly common, usually with spectacular results. The idea for this beautiful example came from a Vera Wang dress.
If you want to learn more about some of the techniques used to make these wonderful cakes, and several more besides, then Craftsy have a 'Fashion-Inspired Fondant' course.
Of course, some people just have to take things to extremes. This one made me laugh.
So can you think of any other great ideas that you've spotted or made yourself? Have you got any new ideas? You can find lots more inspiration on my 'Sew Yummy' Pinterest board. I'll be back tomorrow with a round-up of sewing ideas inspired by baking.
You might also like: